'In the Philippines, we celebrate Ramadan as a whole family... Here, I observe Ramadan with just my husband'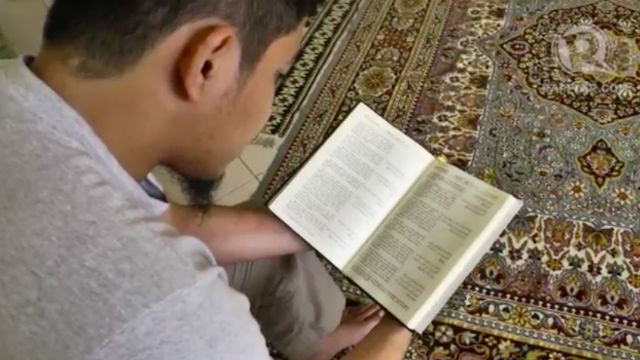 DUBAI – At least 15,000 Filipino Muslims in the United Arab Emirates are celebrating Eid Ul-Fitr, the end of Ramadan.
Filipinos are among those practicing Islamic tradition during the Holy Month of Ramadan.
One of the 5 pillars of Islam and an essential component in the spiritual life of a Muslim, Ramadan is a time for all Muslims to cleanse and enrich their souls.
During this period, all Muslims must fast from dawn until sun down, abstain from food, drink, and intimate relations with their spouses.
In the Arab world, it is common to see a community or group of families break the fast together with a simple meal called Iftar, just after sunset. Later they will have dinner together called Suhoor.
The coming together of families and friends during these times is part of the Muslim Arab tradition during Ramadan. For them, Ramadan is also a time for family and friends as well as for prayer, repentance and purification of one's spirit.
Muslim Filipino expats like Ismael Nicart and his wife Fatima, who came from a country that is predominantly Roman Catholic, find it easier to observe Ramadan in the UAE, an Islamic country. He also cited the differences between Ramadan here and in the Philippines.
"There is indeed a big difference in the observance of Ramadan here and back home. One reason is the abundance in supply and cost of food and beverages that is considered essentials during Ramadan. Ramadan for us Muslims is a major occasion that entails grand preparations. Back home, we really have to save money so we could celebrate Ramadan properly," said Nicart.
"Secondly, Muslims are minorities back home so when it is Ramadan, it's only us who have to fast but our Christian neighbors don't, so it's a struggle for many, because worldly pleasures are still present even during Ramadan. Whereas here, everyone observes it religiously so worldly pleasures are easily avoided," he added.
Nicart, an Amir or Islamic teacher, further explained that Ramadan is more than just abstinence from eating and drinking. It is also a season of abstinence from all worldly pleasures known to man.
"That is why it is a big help when you are in places like this where you have many brothers and sisters around you doing the same things that you do. Back home, it's more difficult because Muslim brothers and sisters are scattered all over the place. You have to travel to the next town if you want to pray or break the fast with family members or with friends," he stressed.
While Nicart prefers to observe Ramadan here in the UAE, another Muslim Filipino, Shaharina Tahir Altamimi, who married an Emarati national, longs to be with her family back home every Ramadan.
"In the Philippines, we celebrate Ramadan as a whole family. We eat together during Iftar and Suhoor. Our home was always busy because of food preparations. During night prayers, I usually go with my close family and relatives," she told The Filipino Times.
"Here, I observe Ramadan with just my husband, since his brothers and sisters do not get together often. We eat our Iftar alone. During Taraweh prayers here in the UAE, I just go with a friend or my husband's niece. Thus, I miss the way I celebrate Ramadan in the Philippines. Next Ramadan, I wish to celebrate it with my family back home," she continued.
A native of Marawi City, Altamimi worked as an accountant for 10 years before meeting her husband. She revealed that even though she is a Filipino, she never felt ostracized by her husband's family as they have accepted and loved her as their own.
"I am very happy with my in-laws. All family members of my husband accepted me as I am. When we got married, my mother-in-law and sister-in-law went with us to the Philippines to meet my mother and relatives because my mother was not able to attend our wedding here in the UAE," Altamimi said.
This Ramadan, Altamimi said she has so many blessings to be thankful for to Allah, especially for giving her Ahmed, the love of her life.
"Being married to a national is such a great blessing because he is the kind of a husband that every woman wishes to have. He treats me lovingly as his wife, his best friend, and companion. We never had any big arguments. We both love to travel and we have traveled a lot," she said. – Rappler.com
This story was republished with permission from The Filipino Times of the United Arab Emirates.