'Walking through the city, after all, is a school itself for spirituality, politics, history and the humanities'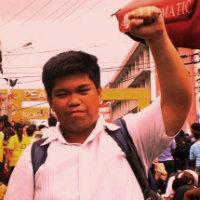 I have not tried to go and survey the holy streets of Manila through Carlos Celdran's witty tour, but ever since I've been (and always am) in the capital city, a sincere reverence for the city is due.
Manila, from a somewhat naïve promdi (from the province) kid, it is a totally different world: the tall buildings, the awesome universities, the streets, the people. In a word, Manila.
Manila is a witness to many significant moments in the country's long history: from Lakandula to Bonifacio to Asiong Salonga and a lot more. I dare say that Manila is the plain reflection of the Filipino nation as it is a home for the Filipino spirit.
The smell of smoke, the noise and pollution from jeepneys, the beautiful women, and the shadows of the urban jungle – Manila is a melting-pot of many, many thoughts of cultural significance past, present or future. It is an ocean (thanks to frequent España floods) of mysticism (the amulets and ascetics of Quiapo) in a merged mixture of the past, modernity, and even the future.
I don't know really if this disenchanted view of mine when I pass through Quiapo and Recto while transporting a jeep (that National Artist Nick Joaquin called as Manila's baroque) before reaching the antique university where I study is shared by young contemporaries and even by old inhabiting folks, because I see the lack of value, from Manila's own children, towards this far eastern Rome of sorts. Or maybe I'm just too naïve enough to have such an ambiguous outlook, because I'm just, you know, another baroque pilgrim.
Okay, my Manila orientation actually is the usual: it's a goddamned, dangerous place. I've witnessed how petty crimes are done while boarding the king of the road (with drivers of monarchic attitude): how expensive gadgets are snatched through Taft Avenue; how youngsters pick pockets and amaze passers-by as they muster they way out of the Quiapo maze; how rugby-boys (and gals) dance to the beat of their dissonant consciousness amidst traffic and rain (which makes you wonder how their parents assemble them); and how to be fooled (not hypnotized) myself by a cheesy-speaking guy to simply surrender my cellphone to him, leaving me sobbing like a little child.
But like a hopeless romantic, I still have this obscure hobby of walking alone like a forsaken hobo – with no agenda whatsoever at all. And my usual venue is, obviously, the city of Manila. It's quite cynical – like Jose Rizal's Placido Penitente in El Filibusterismo – I know, yet I proudly say that what I bring with me in the classrooms of real life is learned through this peculiar pilgrimage through the ancient, often stinky streets of Manila: from Mendiola to Legarda to España to Quiapo to Lawton to Intramuros to Taft to Ermita to Paco to Sta Ana and back again to Quiapo, then Sta Cruz, then Binondo, then Divisoria and finally Tondo.
What did I have in return? A social spirituality, I suppose, which made me inhale the life of the masses where students can derive nuggets of wisdom not taught by social media, textbooks, or terror-professors.
Walking through the city, after all, is a school itself for spirituality, politics, history and the humanities.
Manila is now but a forgotten footnote in the urban cycle dominated by Quezon City and Makati: Avenida is now for the social climbers, while BGC is for the bourgeois and that Luneta and Paco Park (except that the former is emerging as a new protest center) are just troubled lyrics from Rico J. Puno's vintage hit.
But hesitantly still, I still say that no matter what the social ruins say about the filthy side of the city, Manila was and is still a glorious city that is rather deprived of such distinction, thanks to that photo-bombing structure over Rizal's monument in Luneta and to a certainly bigoted czar who threatens the order of pedicabs and vendors with grammatically incorrect marquees on waiting sheds.
Again, I repeat: Manila is a glorious city.
I admire a Facebook friend's collection of vintage Manila pictures (from the 1920s to the early 1990s) and a recent University of Santo Tomas (UST) student article entitled "A Glimpse of Old Manila" – and so do I frequently open Nick Joaquin's Almanac for Manileños.
It's, I guess, a cynical practice to my personal belief that Manila is a vintage universe revolving through the inconsistency of progress.
Take a break from that hip-fattening habit of facing your desktop or from that finger-numbing hobby. Take a trip around Manila, suggestively, on foot. – Rappler.com
Ted Tuvera is a journalism student of the University of Santo Tomas (UST). He is a cultural activist.
Manila City Hall image via Shutterstock