There are 8 Millienium Development Goals that the country can achieve with the help of mothers who breastfeed their children exclusively in the first 6 months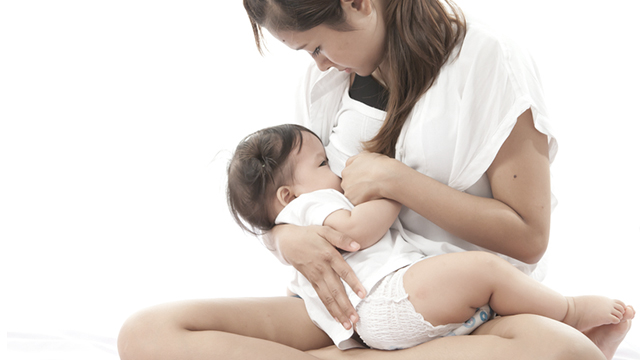 MANILA, Philippines – Did you know that breastfeeding is the single most effective preventive intervention to save children's lives? 
A 2013 study by The Lancet, a renowned medical journal, showed that 6 million children die before the age of 5 globally – 2.7 million or 45% of these deaths were associated with malnutrition.
Breastfeeding could have prevented 800,000 of these deaths.
The Philippines joined more than 120 countries in celebrating World Breastfeeding Week 2014 in August. The country reaffirmed its support for a global commitment to creating an environment that will enable mothers to practice exclusive breastfeeding for the first 6 months of their child's life.
This means an infant is fed only with breast milk and nothing else during the first 6 months after his birth. After that, the mother will continue breastfeeding him, but this time giving him appropriate complementary foods as well.
Improved breastfeeding is critical for the Philippines in attaining the Millennium Development Goals (MDGs) and should be prioritized for the Post-2015 Development Agenda.
Here's how increased practice of breastfeeding can help the Philippines progress more toward reaching the MDGs:
MDG #1: Eradicate extreme poverty and hunger
According to data presented by the Department of Health to the National Anti-Poverty Commission in 2006, a family of 5 living below the poverty line with an average monthly income of P7,500 spends at least P2,000 on infant formula.
In addition to this, the average Filipino family also spends P35 on health care for every P100 spent on formula.
Every peso counts. Instead of spending it on infant formula, low-income families can allocate the money for other priorities, such as food, housing, and education. This can prevent their children from growing up with low learning and earning potential, hence helping them get out of poverty.
MDG #2: Achieve universal primary education
Children from low-income families are often forced to delay studies or stay out of school because their parents cannot afford school-related expenses, such as clothing, transportation, and meals. By not having to buy infant formula, Filipino parents can spend more on their children's education.
Here's another interesting fact: Children who are breastfed also have high potential to perform better in school. Evidence shows that breastfed children have 3-5 times more IQ points. Their learning competency improves the longer they are breastfed.
MDG #3: Promote gender equality and empower women
Supporting breastfeeding also demands that we pay attention to the health, nutrition, and overall wellbeing of mothers.
Conditions that promote gender equality also support women by enabling them to practice exclusive and continued breastfeeding. (INFOGRAPHIC: Breastfeeding at work)
MDG #4: Reduce child mortality
Globally, 13% of deaths among children under 5 years old can be prevented through improved breastfeeding alone. Suboptimal breastfeeding results in more than 800,000 deaths annually.
A 1996 study in the American Journal of Epidemiology revealed that mothers in Cebu who failed to initiate or stopped breastfeeding resulted in an eight-to-tenfold increase in deaths caused by diarrhea.
MDG #5: Improve maternal health
Exclusive and continued breastfeeding has many health benefits for mothers. It helps maintain birth spacing; reduces bleeding after delivery; and reduces obesity and chronic diseases such as diabetes, osteoporosis, breast and ovarian cancer.
MDG #6: Combat HIV/AIDS, malaria, and other diseases
According to a 2010 study published in the Journal of Human Lactation, Filipino infants fed with infant formula were more likely to be hospitalized for infection, pneumonia, and diarrhea compared to exclusively breastfed infants.
Why diarrhea? A 1990 study in the Pediatrics journal concluded that the "addition to the breast-milk diet of even water, tea, and other non-nutritive liquids doubled or tripled the likelihood of diarrhea" and that "the supplementation of breastfeeding with additional nutritive foods or liquids further increased significant risk of diarrhea."
MDG #7: Ensure environmental sustainability
Unlike infant formula, the mother's milk is an environmentally sustainable source of nutrition for infants and young children.
In the Philippines, increased breastfeeding practice will save an estimated 37 million formula milk containers every year – and that's counting only what's consumed during the first 6 months of a child's life.
MDG #8: Develop a global partnership for development
The Infant and Young Child Global Strategy, developed by the World Health Organization and UNICEF, clearly defines roles for all stakeholders in the health and non-health sectors at the international and national levels in its implementation.
This includes support for exclusive breastfeeding during the first 6 months of a child's life, and continued breastfeeding with appropriate complementary feeding up to 2 years old and beyond.
The Philippines has committed to building partnerships across sectors in its call to creating an enabling environment for breastfeeding.
How can we help promote breastfeeding?
So what can we do to support, promote, and protect breastfeeding in the Philippines?
Ensure that every mother and newborn will be assisted and supported to initiate early and successful exclusive breastfeeding during the first 6 months of a child's life.
Ensure that all breastfeeding mothers receive support from all sectors of society – including their families, the health care system, and their employers.
Be an advocate for breastfeeding by spreading information, and increasing awareness on the benefits of exclusive and continued breastfeeding, and the inherent risks of using infant formula.
Ensure full compliance to and enforcement of the Milk Code. By increasing awareness and engaging with professional societies, regulatory bodies, PhilHealth, and the Civil Service Commission, we can help enforce and maintain standards to prevent health professionals from accepting milk industry sponsorships and support. – Rappler.com
This article was written by Dr. Willibald Zeck, Chief Health and Nutrition Specialist; Dr. Aashima Garg, Nutrition Specialist; Dr. Rene Galera, Nutrition in Emergencies Specialist; and Alessandro Iellamo, Infant and Young Child Feeding Expert.
For more information, contact the authors at alessandro.iellamo@gmail.com.
What are the other ways we can help achieve the MDGs? Send your stories and ideas to move.ph@rappler.com. Be part of the #HungerProject.