For a blind woman like Hannah, going out of her way to find a romantic partner and explore her sexual orientation is no small feat. Hannah's courage not only helped her come to terms with herself, it also helped her find love.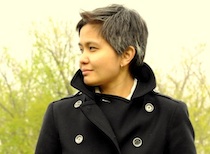 Most love stories start out by seeing a beautiful person across a room, an accidental stare, or even a handwritten love letter. A meeting progresses into furtive glances, sizing up physical features, mannerisms and gestures. It goes without saying that romantic relationships are composed of prolonged periods of staring into each other's eyes.
Now subtract vision from the equation. If you were blind, how would you manage to meet the love of your life?  
Hannah Mae Aldeza is 27 years old. Blind since birth, Hannah has never let her disability get in the way of having a complete life. She earned her degree, landed a good job, and is considerably independent. She even recently moved out of her childhood home (and away from her parents for the first time), because she fell in love and moved in with her partner.
The popular standards of love have always been for the sighted, so speaking with Hannah was an eye-opener (no pun intended) on what it's like to fall in love when one is blind. How do the blind meet? How do they know if they are attracted to someone?
The real blind date
Hannah met her partners in one of two ways – offline and online. She met her first boyfriend during a summer camp for blind teens and began talking to him over the phone after that. They started a relationship after Hannah started going to his school, but it didn't work out for various reasons.
Being a computer science graduate, Hannah makes full use of the internet to meet other blind people. A few years ago, she met a woman on Twitter and started communicating with her until their feelings for each other developed from friendship into something romantic and she became Hannah's first girlfriend.
If sighted people experience "love at first sight," Hannah said that for the blind it's more like "love at first voice." A person's speaking voice is what she first notices, as well as their command of the English language. She is also attracted to how they smell and how emotionally expressive they are. Their ability to play a musical instrument is also a plus, although she has never personally fallen in love at the first meeting.
Hannah only decides to enter a romantic relationship with someone after communicating for a certain period of time.
Hannah met her current partner after she realized that she was looking for a long-term relationship with a woman. Not knowing where to find one, she bravely posted an ad on Craigslist, part of which said, "I am looking to have a deep connection with a woman who knows how it feels to be attracted to another woman."
In another part of Metro Manila, a reader became curious about the innocence of Hannah's ad in the sea of sex ads Craigslist is known for, so she replied to it. A conversation began over email, progressed to the phone, and then the two ladies decided to meet. Hannah's new friend (who is sighted) turned out to also be named Hannah, and an attraction between them was evident. After several months of dating, the Hannahs moved in together and now share a home.
The same love 'seen' differently
"There is no difference between the love shared by sighted people and that shared by blind people," says Hannah. What is different are the things that they share with each other. 
Unable to see pictures, colors, or printed text, blind people aren't able to do things that are typical on romantic dates such as going to museums, attending photography and art exhibits, watching movies, or reading printed books and love letters without the assistance of a sighted guide.
Blind people are able to "watch" movies not just by listening to the sounds and dialogue, but by narrated descriptions provided by some organizations for movies and TV shows. Now that Hannah is with a sighted partner, she relies on her partner's descriptions for movies, photos, and other non-text or non-audio items.
Hannah makes full use of adaptive technology in her day-to-day life. She uses a screen reader on her phone and computer to read text to her and to be able to type. Using technology, Hannah is also an independently-functioning employee who only requires screen-reading software to perform her required tasks.
With her sighted partner, Hannah has been able to experience more things, like eating different kinds of food, meeting new people, and going to new places. She even recently went to a dance party, attended a book launch, and even decided she wants to travel soon.
Of course, there will always be limitations. Independent living programs are not common in the Philippines as they are in the US and Canada, so for the blind getting around will probably always require the assistance of a sighted person. There will be certain things that Hannah will be dependent on her partner to do, but for the most part she can take care of herself and even help with chores around the house. For one, Hannah has a good job so she will not be financially dependent on her partner. She stressed that dating a blind person shouldn't be considered a burden because many blind people are independent and also do not want to be another person's weight to bear.
"There is no difference between the love shared by sighted people and that shared by blind people."
Don't be limited
Hannah says that many blind people are limited by their own families who are uncomfortable with the idea of their children exploring and making new friends. It's difficult for blind people to meet prospective partners when they are sheltered and confined to a box their parents designed for them. She recommends that blind people be well-versed in adaptive technology and learn how to network online so they can meet others like them who can talk about independent living, technology for the blind, or even for friendships and dating.
Hannah believes she is fortunate to have friends and colleagues who believe in her abilities. She hopes other people find the same supportive network to encourage them to move beyond their comfort zone. For a blind woman like Hannah, going out of her way to find a romantic partner and explore her sexual orientation is no small feat. Hannah's courage not only helped her come to terms with herself, it also helped her find love.
A vision beyond our eyes
In a recent Rappler feature on Hannah, she said that she used to wish she could see a little bit, but that desire has since dissipated. I asked her if this has changed since she is now in love and in a committed relationship. Does she ever wish that she could see her partner, even just for a little while?
Hannah said that it has been fun to learn about her Hannah using her other senses, but that sometimes she longs to see the person she loves, especially in the way that person sees her. Hannah says it would also be great if they saw the beauty of the world together, where she doesn't have to rely on her partner's descriptions (which are naturally from a sighted person's point of view).
"Sometimes we rely on vision too much," I said, and Hannah agreed. She said that her partner has now learned to observe things without seeing them, and is amazed at the little details Hannah has noticed about her even without sight.
I understood. In one of our previous conversations, I asked Hannah how she learned about colors, and she said she was taught to associate a color with a feeling. For example, she learned to associate the color yellow with the feeling of the sun on her face. Colors are a concept of the sighted, but blind people are able to translate them into non-visual feelings. 
So I asked Hannah, knowing what she knows about colors, what color did she think love was? Was it red as the burning of one's chest, or blue like an endless sky? Was it white like the weightlessness of knowing one is loved and accounted for? 
"Love has no color," Hannah said, and I couldn't agree more. Love is, after all, a non-visual concept. We partake of the best parts of our relationships with our eyes closed. The emotions of love, romance, caring, and thoughtfulness are all concepts of the heart.
One only needs to take one look at the two Hannahs to know that in love, vision is a non-essential part. – Rappler.com
Shakira Andrea Sison is a two-time Palanca-winning essayist. She currently works in finance and spends her non-working hours exploring her non-visual world. She is a veterinarian by education and was managing a retail corporation in Manila before relocating to New York in 2002. Her column appears on Thursdays. Follow her on Twitter: @shakirasison and on Facebook.com/sisonshakira.