Press Release: The International Labour Organization reports about 6 million people lost their livelihood when Super Typhoon Yolanda (Haiyan) ravaged Visayas in November 2013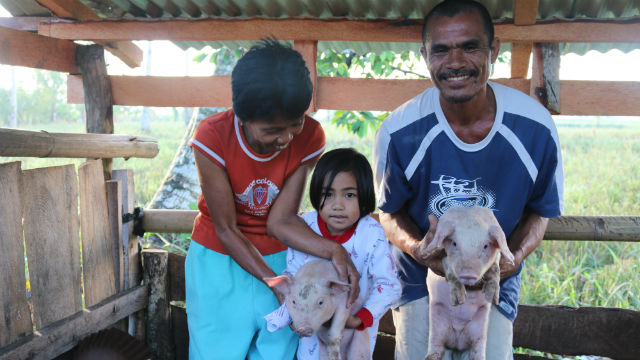 This is a press release form World Vision.
MATAG-OB, Leyte – The International Labour Organization reported that almost 6 million people lost their livelihood when Super Typhoon Yolanda (Haiyan) ravaged the Visayan region in November 2013.
Almost a year later, the survivors are still struggling to recover from the disaster. 
One of the most affected was the agriculture sector. In a region that depends highly  on farming and livestock, the P20-billion ($446.67 million*) damage was a big loss to the farmers and workers. 
Farm laborer Julius Intal, 51, is just one of the many residents of Barangay Balagtas in Matag-ob, Leyte, who lost his source of income after the typhoon. 
"It's still hard to find work," said Intal, sharing how difficult it has been for farmers and even land owners to get back on their feet.
The typhoon did not spare anyone. Young and old, rich and poor – everyone felt like it was the end. Even when they survived, they had to start from scratch again.
Julius and his wife, Julie, have been raising hogs since 1982 to augment their income. Their neighbors would buy piglets and the couple will tend them. Once sold, money will be divided equally.
When Yolanda hit Visayas, the house they painstakingly built throughout the years was reduced to debris, and their prized pig pen was flattened. Only the pregnant mother pig survived, their only source of hope at the time. 
"When the pig gives birth, we'll have the money for house repair," Julius recalled telling her wife after the typhoon.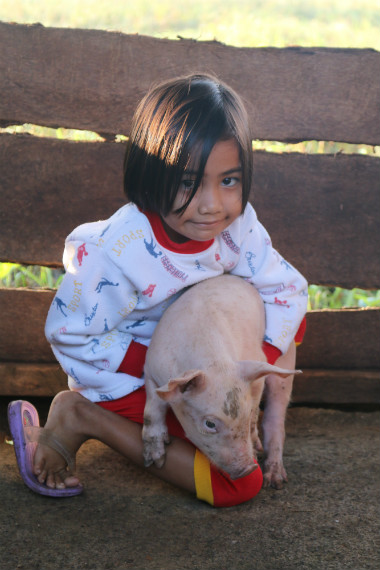 But things took a different turn. The pig died together with the piglets. In an instant, their only ticket to recovery was snatched away from them. 
"She wouldn't eat and move, and the veterinarian said she was infected by a disease that was incurable," Julie said in a soft voice. 
"Our only hope was taken from us," she lamented.
A surprise double replacement
Just recently, the Intals found another opportunity to get back on their feet – they were among the qualified beneficiaries of the livelihood program of World Vision.
Under this program, the Intal family received a pair of piglets to jumpstart their new piggery. They were also given feeds and other supplies that will contribute to their livelihood.
"We received what we need. What is left for us to do is nurture the piglets," Julius said. 
Training on livestock-raising and management was given to the beneficiaries prior to the distribution.
"The knowledge they acquire is priceless. If the livestock are properly cared for, the families' efforts will be rewarded," World Vision coordinator Emilia Lasquites said.
"They will have other sources of income," Lasquites added.
World Vision continues to provide livelihood assistance to 8,413 families in the towns of Matag-ob, Merida, Villaba, and Ormoc City in the western part of Leyte province. – Rappler.com 
Leoniza O. Morales is the Communications Officer of World Vision's Haiyan Emergency Response based in Tacloban City.
*$1 = P44.6