How can we make sure that Filipinos get the right and healthy amount of food?
MANILA, Philippines – The Philippines' food consumption can be placed on the opposite sides of the spectrum: too much and too little.
On World Food Day, October 16, let us look back at the stories which paint the picture of how Filipinos are faring in terms of food access:
1. Three days: A docu on hunger
Rappler's Patricia Evangelista produced this 5-minute documentary following a day in the life of the Buenaflor family. For them, food is not a basic right, but a luxury. The family of 5 shares a packet of noodles, served every 3 days. 
For those who want to help families like the Buenaflors, here's one way you can reach out.
2. The problem with unlimited rice 
The latest trend in restaurants in the Philippines is more than what meets the eye – it can compromise the health of many Filipinos.
On World Food Day, let us remember that quality matters as much as quantity when it comes to access to food. 
3. What a 'Pinggang Pinoy' should look like 
The unhealthy situation of food consumption in the Philippines has become evident in the latest National Nutritional Survey of the Food and Nutrition Research Institute (FNRI).
One in every 10 Filipino adults is chronic energy deficient, while 3 in every 10 adults are obese. Can a diverse diet food guide fix this problem?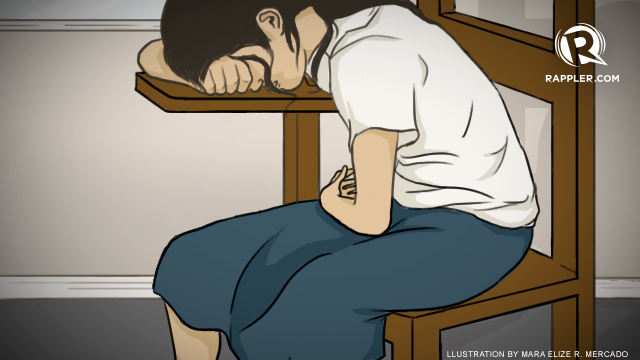 4. Learning on an empty stomach
What happens to children who go to school hungry?  We may not see the immediate effects of poor nutrition on children, but both their minds and bodies are actually being corrupted. What will happen to the country's future work force and economy then?
Meanwhile, the Department of Education is calling on parents to support the school feeding programs conducted by the government. Find out how parents get involved here.
One man's trash is another man's treasure.
In a country where over 8 million are food-poor, food scavenging has sadly become a norm for many families. Others call it trash, but for them, it's their "meal of the day." Filipino filmmaker Giselle Santos produced an 8-minute documentary following the lives of Filipinos who get by each day by finding, cooking, and selling leftover meals or "pagpag."
While several families have nothing to eat, some of us tend to waste food. What happens if each of us wastes a bit of our meals? – Rappler.com
October 16 is World Food Day. Are you aware of initiatives against hunger in your area? Is your local government doing enough? Send us your stories at move.ph@rappler.com