'Why should his metamorphosis be characterized as a reflection of everything that is wrong about the Filipino? There is a little Manny Pacquiao in all of us, telling us that we too can adapt to any situation as needed.'
"Metamorphosis: a major change in the appearance or character of someone or something."
So Manny "Pacman" Pacquiao, who boxed his way into the hearts of legions of fans all over the world, has transformed again. This time he is a playing basketball coach a la Robert Jaworski of Barangay Ginebra back then.
Why should anyone be surprised? And why should this be taken against Manny? He is just being true to himself, who seems destined to play the lead role, not just a bit player, in everything he does or is asked to do in this world. And why too should Manny's never-ending metamorphosis be characterized as a reflection of everything that is wrong about the Filipino, as another writer had boldly claimed?
Manny's ability to change from boxer to movie actor to politician to preacher to game show host and, now, basketball player in fact exemplifies the Filipino's extreme – some call it endearing – ability to adapt to and excel in any environment he finds himself in, whether in the Philippines or abroad.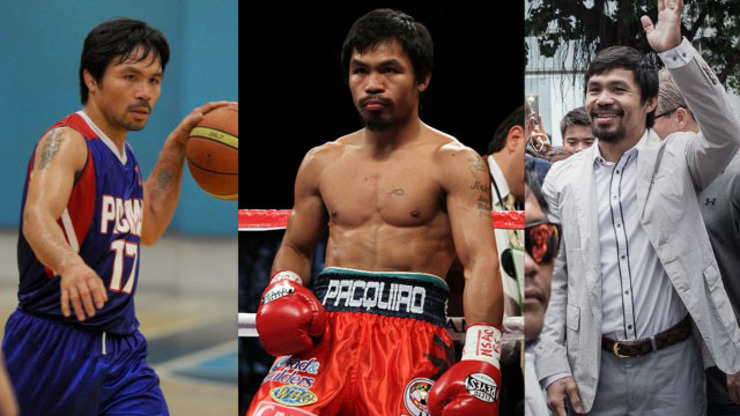 Pacman in all of us
This brings me to my contention that Manny may be a rare breed, but he is not alone.
There is actually a little Manny Pacquiao in all of us, telling us that we too can adapt to any situation as needed, or out of whim for the more vainglorious among us.
In my case, I once dreamt of becoming an architect. As high school graduation day approached, however, reality set in. With 5 other siblings in the family, my late father holding only a low-paying job in a mid-size local hardware shop and my late mother being a plain housewife, a degree in architecture was beyond my parents' financial capacity. Thus, my youthful dream of becoming an architect got sidelined to be replaced with more modest ambitions.
Although I never got to fulfill my childhood dream, I have become one among many other draftsmen supporting the President as chief architect of Philippine foreign policy. I do not think I deserve criticism for dreaming to be somebody but becoming another.
Ronald Reagan was not even an A-list celebrity before conquering the White House. Arnold Schwarzenegger morphed from body-builder to Conan to Terminator to governor before going back to doing movies. Madonna Louise Veronica Ciccone reinvented herself several times before becoming the Madonna without the need for a surname (or a husband, for that matter). The late President Ramon Magsaysay was an automotive mechanic before becoming our country's 7th commander-in-chief.
So who are we to denigrate Manny Pacquiao for wanting to become not just one but several persona in one lifetime? Who are we to say that Manny's latest career shift represents everything that is wrong about the Philippines and the Filipino? (READ: President Manny Pacquiao)
Like any other creature in this world, Manny is only acting upon this primal need to change or evolve in response to the needs of the times or demands of his environment.
The truth of the matter is that, during our lifetime, there will be times when change is inevitable for a variety of reasons. And whatever the reason may be, we must welcome change – to resist it would be swimming against the tide that will only make the journey toward our goal more difficult than necessary.
Not the last
I am sure that Manny's latest incarnation is not the last.
There will be more.
Best pound-for-pound boxer in the world once, not if he defeats Floyd Mayweather, Jr in the ring? Sure. Explore the bottom of Mariana Trench? Why not? He once ploughed the depths of poverty and survived to become a multi-billionaire. Climb Mount Everest? It should be easy.
Mayor? He will wing it. Governor? His wife is already a vice governor, he should have no problem winning the top provincial elective post if he suddenly decides to run for it.
A distinguished gentleman in the Senate? Even a senator who only knocked out make-believe tough guys in the movies made it to that august chamber. President of the Republic? It is not a crime to dream.
You name it, Manny, with his seemingly bottomless reserve of talents, can, in all probability, do or become whatever he wills himself to undertake or be.
Because we are neither Mommy Dionisia nor Vice Governor Jinky, we will, perhaps, never know what really motivated Manny Pacquiao to transform yet again.
One thing is certain though: Manny will not be Manny if he did not continue to evolve from one role to another. This never-ending metamorphosis seems to be what completes the man.
I am suddenly reminded of the adult butterfly which must undergo its own transformation – from egg to caterpillar to chrysalis – before it becomes the beautiful garden creature that it is. – Rappler.com
Edgar Badajos is Minister and Consul General at the Philippine Embassy in Bangkok, Thailand. He is also Deputy Philippine Permanent Representative to the United Nations Economic and Social Commission for Asia and the Pacific (UNESCAP).
iSpeak is Rappler's platform for sharing ideas, sparking discussions, and taking action! Share your iSpeak articles with us: move.ph@rappler.com.
Tell us what you think about this iSpeak article in the comments section below.