An open letter to Reception and Action Center-Manila chief Gloria Antonio and the officials of Manila's department of social welfare
Editor's note: The following is an open letter sent by a reader in response to the story of 'Frederico' which we ran on October 30, 2014. We are publishing the full letter and will send a copy of the letter to the Rescue and Action Center Manila and the Mayor's Office.
---
I was an on-the-job social work trainee in the Rescue and Action Center (RAC) Manila for one semester in 2004. I participated in rescue operations and helped transfer children to other care-giving institutions. My experience in RAC was painful – for with the stench of leaking sewage, the attempts to not get sick at the sight of children suffering from scabies and eating with bare hands from plastic bowls – I saw what being a vagrant in our country looks like.
(READ: Finding 'Frederico')
Can't forget
Do you know what it's like when, as a student, you are forced to accept these occurrences as "realities?"
Do you know what it's like when, at barely 18 years of age, you were taught the best the system can do is to treat these people worse than you would treat your dogs? To hear house parents and social workers call young girls "martilyo (hammer)" because they sell their bodies for scraps of food and "mongoloid" just because they don't seem normal?
The image of Frederico has triggered in me memories that I have chosen to forget. Do you know why? Because I don't want to lose faith in the social work profession. Because I am a social worker, and to be a social worker means empowering the disadvantaged so they don't end up like Frederico.
[To acting chief Gloria Antonio,] I would like to respond to your defense point by point:
'Our capacity is 50 clients; however, we reach 250 clients sometimes.'
The City of Manila holds regular rescue operations. This explains the need to accommodate more than the center's capacity. But this is not an excuse for the unsanitary conditions of the facilities. You can assign groups of clients to attend to most housekeeping duties. Molave Youth Home, a detention center for minors, occupies a very small space in the second floor of the Quezon City Social Service Departmen, but the facilities are very clean and well-maintained.
'Children are given sleeping mats, but they choose to sleep on floors….'
Virlanie Foundation caters to street children. Why are they not sleeping on the floors? Why do they eat with utensils? Why do they wear decent clothes? Because there are very few sleeping mats, there are no utensils, and no decent set of clothes in RAC.
Do they still use the blue plastic containers that look like old ice cream containers as plates? I once saw an inmate washing her food inside a drum full of dirty water. I asked her, "Ate, bakit mo ginagawa yan sa pagkain mo (Sister, why are you washing your food that way)?" She answered, "Kasi madumi ang pagkain dito sa RAC (Because the food is not clean here at RAC)." Perhaps, she is insane, but at the very least she got the sense that her food was nonpalatable.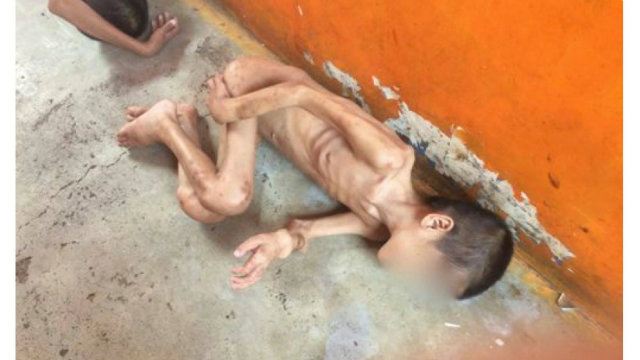 Do you know that an old man died in the RAC because he tried to feed himself with a house rat? The old man was starving because there was no food. My best friend held that man. My best friend witnessed his death. My best friend has avoided the social work profession after she graduated. And now, after 9 years and 3 mayors, the situation remains the same.
'We have limitations in resources, house parents, and facilities. But we're doing our best….'
We once "rescued" an old man in the streets in 2004. The Center Head at that time saw that he was sick. She asked us – students – to pretend to be concerned citizens and bring the old man to the Home for the Aged in Tayuman, Manila.
She was avoiding the responsibility and we were too naïve to refuse.
When the administrators of the Home refused to accept him because they had no beds, the staff who accompanied us left him outside the gate. My classmates and I appealed to the social worker in charge to bring him to the hospital. Instead, she told us that it's already 5 pm and she needs to go home. Is this "doing your best?" You may not have been the person-in-charge during that time, but you obviously didn't do your best in Frederico's case.
RAC is operated by the Government of Manila. You have access to Ospital ng Maynila. Why was it so difficult to bring the child there?  
'But the picture depicted Frederico like a vegetable. The FB post is below the belt.'
Did someone ask Frederico to lie on the floor and pretend that he's sick? Did Frederico starve himself just so Bahay Tuluyan would get this photo as an evidence of mismanagement?
'They're dictating on the government too much.'
Ms Antonio, I would like to remind you that standards for residential facilities are not dictated by any foreign government but are set by the DSWD. Do you think that you would gain support by calling on a misplaced patriotic sentiment? We're not talking about foreign encroachment here; or them versus us. We're talking about humanity. We're talking about a child being grossly maltreated by the very institution that should have offered him protection.
You're saying that they (foreign aid workers) should've helped. French volunteers from Virlanie Foundation regularly provide psychosocial support and first aid treatment to the children in the Center. Is this support not enough? What would you have them do (and not do)? To just donate funds to our institutions and not care how these funds are managed?    
I have many more things to say; so many instances to cite. I had a client with mental retardation who was in the Center for several months. It was fortunate that I was able to trace his home address; and only then did I find out that the parents had been making rounds among the district offices of the Manila Department of Social Welfare (MDSW) for their assistance. All the while, the child was in RAC.
I had a 10-year-old client who, one day, told me that he was sexually molested by one of the house parents in the Center. I had to accompany the child to the Child Protection Unity of the Philippine General Hospital alone.
I was just a student then, learning the ropes. We were often told to accompany lost children back to their own homes without even a house parent for assistance and at our personal expense.
While fund limitations are stark realities for most facilities like RAC, the primary challenge lies in improper management; in the total absence of compassion to a fellow human being; in the numbness to the dismal condition of people in the margins of poverty. We cannot accept that just because we lack "washing machines and electric fans," we cannot allow our clients to be treated in a subhuman manner.
If not, then why are we still here? Why are you still here? – Rappler.com
Joe-Anna Abelinde is a licensed social worker. She graduated from the Pamantasan ng Lungsod ng Maynila, where she also taught social work from 2009 up to the first semester of 2014. She was hired for a year as consultant in a project of the Department of Agrarian Reform. She presently works from home as the National Reporting Officer for the UN Food and Agricultural Organization. 
Want to do something to help? Join the Nov 10 peaceful day of action
Carousel photo taken from Bahay Tuluyan Facebook Page and Virlanie.org