The internet is abuzz with netizens reading and sharing critical typhoon-related information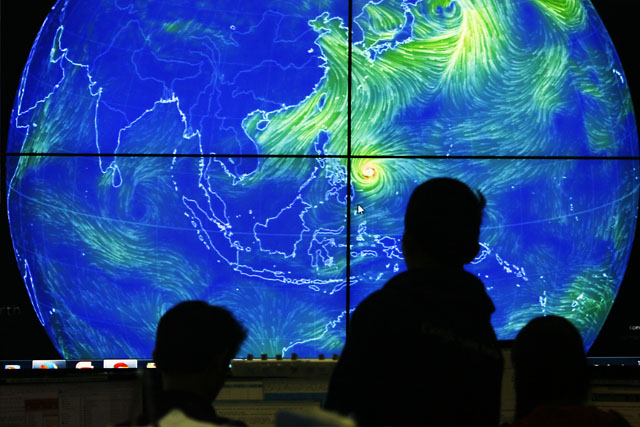 MANILA, Philippines – With typhoon Ruby (international name: Hagupit) threatening the Philippines, Filipino netizens are turning to the Internet to read and share information on typhoon preparations and the latest weather updates. 
Social media sites like Facebook and Twitter are alive with activity as tech-savy Filipinos post photos and status updates and use hashtags, like #RubyPH or #Hagupit, that facilitate the sharing of typhoon-related posts online.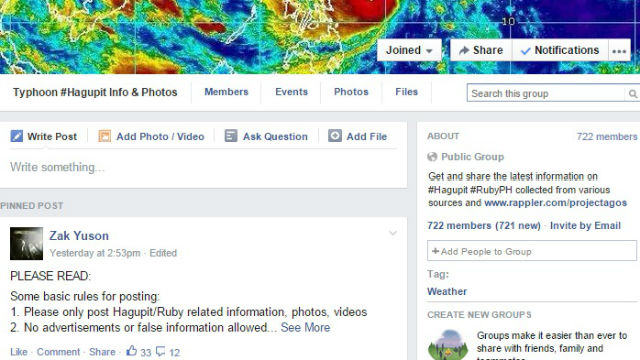 A Facebook group, Typhoon #Hagupit Info & Photos, has become a virtual meeting ground for typhoon watchers and people who want to share what's happening on the ground. As of this posting, the group has more than 700 members. 
Rappler's Project Agos Alert Map crowdsources realtime reports from the public and Twitter, giving viewers a snap shot of the situation on the ground. 
Netizens can report critical information directly on the map. Local government responders, the National Disaster Risk Reduction and Management Council (NDRRMC), and civic action groups monitor and act on the Alert Map reports.
(READ: Pregnant woman trapped on roof is saved with the help of social media)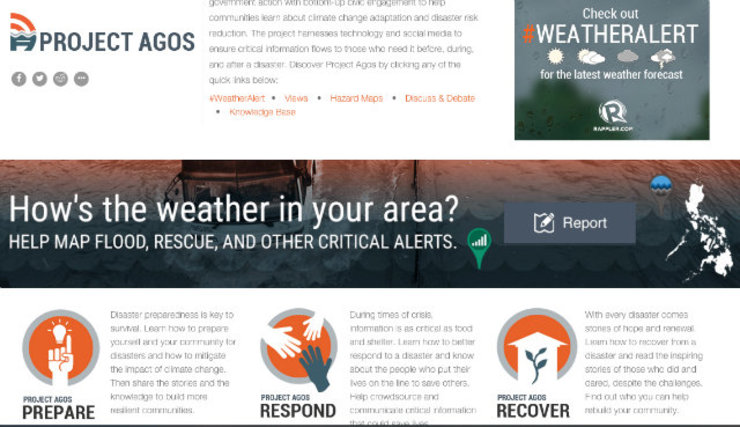 The Project Agos website also features stories of resilience by showing how communities affected by past disasters are rebuilding.
The Philippine Government's online gazette has a dedicated page for Typhoon Ruby updates with news reports from local government units and regional agencies. It also has a feature for the public to give feedback to the government about #RubyPH-related concerns.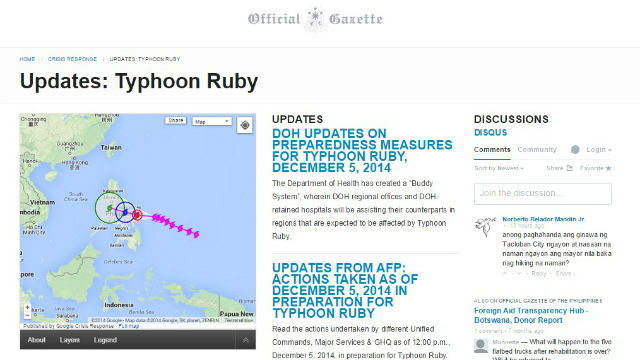 The Department of Science and Technology's Project NOAH provides accurate and comprehensive weather and geo-hazard information. People can learn about high-risk areas in the Philippines and get the latest satellite weather information from PAGASA and other agencies. 
State weather bureau PAGASA's website delivers regular updates and weather forecasts. When the site goes down due to high web traffic, you can check out PAGASA's Facebook page or Twitter account for the latest updates. 
And the National Disaster Risk Reduction and Management Council's Batingaw app provides the latest information sourced from various government and news websites, including Rappler.com. 
These are just some of the numerous websites and initiatives online in a country that prides itself as being the social media capital of the world. – Rappler.com
Do you know any Typhoon Ruby-related website or social media platform. Place the URL in the comments section below together with a brief description. 
Get the latest #WeatherAlert and typhoon updates on Project Agos.