Scientists from Project NOAH are predicting storm surge heights of up to 4.6 meters in several municipalities in Samar province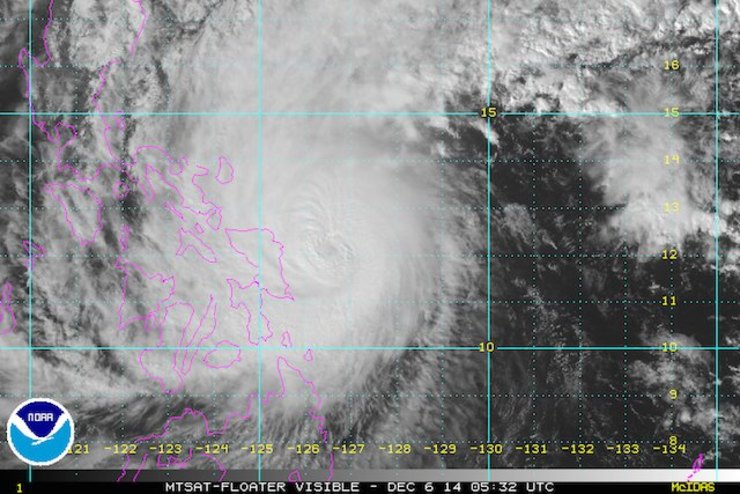 MANILA, Philippines – Storm surges as high as almost 5 meters – or as high as most rooftops of single-story structures – are now predicted for areas in Samar as Typhoon Ruby (Hagupit) bears down, state scientists forecast Saturday, December 6.
As of 2 pm, scientists from the National Operational Assessment of Hazards (NOAH) are predicting storm surge heights of up to 4.6 meters in these places in Samar province:
Tarangnan

Sta Margarita

Gandara

Catbalogan City
Watch a video of storm surges in Pambujan, Northern Samar below.
These places are now under Storm Surge Advisor 4, the highest in a 4-step warning system. (READ: How to know if storm surge threatens your area)
Meanwhile, the towns of Uson and Mobo in Masbate are forecast to experience storm surges between 3.4 to 4.4 meters high, NOAH said.
NOAH lists areas in Samar, Leyte, Camarines Sur, Biliran, Cebu, Masbate, Iloilo, Quezon, Guimaras, Albay, Capiz, Negros Occidental, Aklan, and Palawan in the latest bulletin (see list below).
The agency, however, insists that residents in low-lying coastal areas under typhoon signals should all be on alert against possible storm surges.
Residents are also encouraged to evacuate as soon as possible – and not when the typhoon strikes – to avoid being hit by flying debris caused by strong winds.
Here is the list of places where the forecast storm surges are highest, according to NOAH.
| | | |
| --- | --- | --- |
| MUNICIPALITY | SURGE HEIGHT (meters) | STORM SURGE ADVISORY(SSA) |
| Tarangnan, Samar | 3.6 – 4.6 | 4 |
| Sta. Margarita, Samar | 3.6 – 4.6 | 4 |
| Gandara, Samar | 3.6 – 4.6 | 4 |
| Catbalogan, Samar | 3.6 – 4.6 | 4 |
| Uson, Masbate | 3.4 – 4.4 | 3 |
| Mobo, Masbate | 3.4 – 4.4 | 3 |
| Dimasalang, Masbate | 2.9 – 3.9 | 3 |
| Batuan, Masbate | 2.9 – 3.9 | 3 |
| Placer, Masbate | 2.6 – 3.6 | 3 |
| Daram, Samar | 2.6 – 3.6 | 3 |
| Cawayan, Masbate | 2.6 – 3.6 | 3 |
| Palanas, Masbate | 2.5 – 3.5 | 3 |
| Esperanza, Masbate | 2.4 – 3.4 | 2 |
| Zumarraga, Samar | 2.3 – 3.3 | 2 |
| Jiabong, Samar | 2.3 – 3.3 | 2 |
| San Remigio, Cebu | 2.1 – 3.1 | 2 |
| Ormoc, Leyte | 2.1 – 3.1 | 2 |
| Merida, Leyte | 2.1 – 3.1 | 2 |
| Medellin, Cebu | 2.1 – 3.1 | 2 |
| San Sebastian, Samar | 2.0 – 3.0 | 2 |
| Pinabacdao, Samar | 2.0 – 3.0 | 2 |
| Motiong, Samar | 2.0 – 3.0 | 2 |
| Masbate, Masbate | 2.0 – 3.0 | 2 |
| Calbiga, Samar | 2.0 – 3.0 | 2 |
| Albuera, Leyte | 2.0 – 3.0 | 2 |
| Talalora, Samar | 1.9 – 2.9 | 2 |
| Sta. Rita, Samar | 1.9 – 2.9 | 2 |
| Paranas, Samar | 1.9 – 2.9 | 2 |
| Baybay, Leyte | 1.9 – 2.9 | 2 |
| Babatngon, Leyte | 1.9 – 2.9 | 2 |
| Cataingan, Masbate | 1.8 – 2.8 | 2 |
| Villareal, Samar | 1.7 – 2.7 | 2 |
| Tigaon, Camarines Sur | 1.7 – 2.7 | 2 |
| Taft, Eastern Samar | 1.7 – 2.7 | 2 |
| Tabuelan, Cebu | 1.7 – 2.7 | 2 |
| Sta. Fe, Cebu | 1.7 – 2.7 | 2 |
| San Jose, Camarines Sur | 1.7 – 2.7 | 2 |
| San Fernando, Romblon | 1.7 – 2.7 | 2 |
| Sagnay, Camarines Sur | 1.7 – 2.7 | 2 |
| Pilar, Cebu | 1.7 – 2.7 | 2 |
| Can-Avid, Eastern Samar | 1.7 – 2.7 | 2 |
| Cajidiocan, Romblon | 1.7 – 2.7 | 2 |
| Bantayan, Cebu | 1.7 – 2.7 | 2 |
| Santo Domingo, Albay | 1.6 – 2.6 | 2 |
| Manito, Albay | 1.6 – 2.6 | 2 |
| Kawayan, Biliran | 1.6 – 2.6 | 2 |
| Balud, Masbate | 1.6 – 2.6 | 2 |
| Bacacay, Albay | 1.6 – 2.6 | 2 |
| Almeria, Biliran | 1.6 – 2.6 | 2 |
| San Narciso, Quezon | 1.5 – 2.5 | 2 |
| Naval, Biliran | 1.5 – 2.5 | 2 |
| Milagros, Masbate | 1.5 – 2.5 | 2 |
| Maripipi, Biliran | 1.5 – 2.5 | 2 |
| Isabel, Leyte | 1.5 – 2.5 | 2 |
| Gumaca, Quezon | 1.5 – 2.5 | 2 |
| Calubian, Leyte | 1.5 – 2.5 | 2 |
– Rappler.com