Online volunteers from all over the world help crowdsource information on typhoon damage and other critical needs
MANILA, Philippines – Volunteers from all over the world are once again stepping up to help Filipinos affected by Typhoon Ruby (Hagupit), and many of them are doing it without even stepping foot in the country. 
Online volunteers from the Standby Task Force (SBTF) mobilized as early as Friday, December 5, to help crowdsource information on typhoon damage and other critical needs. Using Micromapping and Verily technology, the SBTF volunteers analyzed and geo-located social media reports posted on Twitter, Facebook and other social media sites. 
In partnership with Rappler, SBTF volunteers plotted these reports on the Project Agos Alert Map, which gathers and visualizes crowdsourced critical information in real-time. The end goal is to produce a snapshot of the post-disaster needs of communities affected by Typhoon Ruby for disaster coordination agencies such as the United Nations Office for the Coordination of Humanitarian Affairs (UNOCHA). 
Project Agos is Rappler's online platform for fostering disaster-resilient communities. Through stories, workshops, and crowdsourcing, Project Agos empowers local communities to adapt social media as a tool to communicate and educate disaster preparedness. Agos also connects the government disaster response agencies directly with the public in real-time before, during and after a disaster.  
The SBTF has deployed in many disasters around the world to crowdsource critical needs and damaged infrastructure, such as in the aftermath of the 2010 Haiti earthquake and, most recently, to map healthcare facilities for the treatment of Ebola in west Africa this year.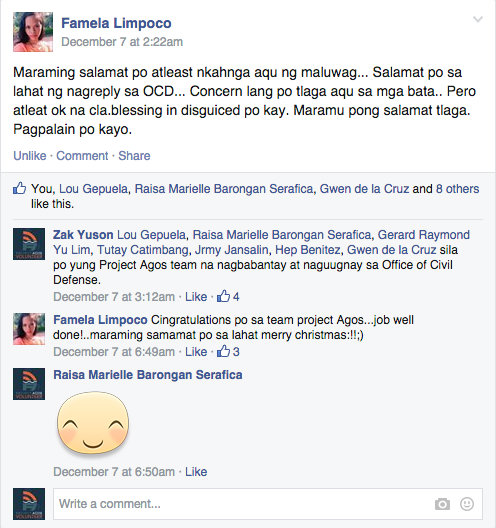 Similarly, Project Agos volunteers scanned social media reports and coordinated with the Philippines' Office of Civil Defense (OCD) to respond to appeals for assistance and requests for information online. Volunteers worked from home or at the satellite operations center at the OCD.
Thanks to Project Agos volunteers, Filipinos online were able to link up and get the latest news from those on the ground via Facebook groups or on Twitter.  
Global team
The collaboration between Rappler and SBTF for Project Agos brings greater synergy to two proven crowdsourcing platforms, ensuring there would be no duplication of efforts. Rappler also provided crucial local knowledge and up-to-date news reports to the SBTF team, whose 2,000 volunteers come from 70 different countries.  
Having a local and an international group of volunteers work closely together also had an added benefit. 
"When our volunteers in the Philippines need to sleep after working long days, Standby Task Force volunteers on the other side of the planet are up and active, so we get things done faster," said Zak Yuson, director of Move, the citizen engagement arm of Rappler. 
Yuson added that Rappler looks forward to working with SBTF on future deployments. – Rappler.com
Visit the Standby Task Force website for more information. 
Be a Project Agos volunteer today! Click here to find out how.