On Monday, January 5, commuters riding the Metro Rail Transit (MRT) and Light Rail Transit (LRT) to go to work shell out more in fares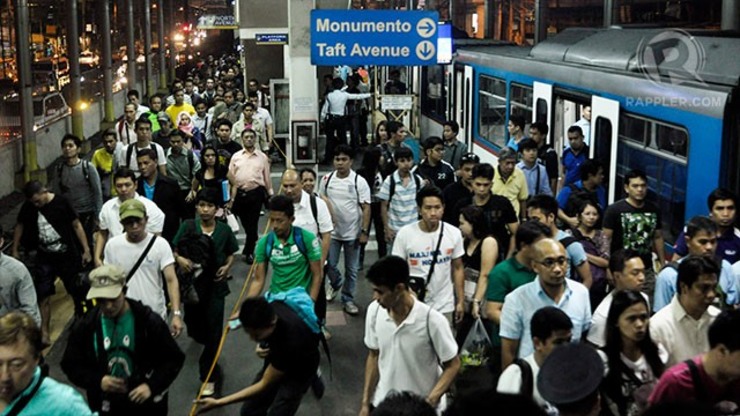 MANILA, Philippines — Commuters voiced out their concerns on the newly implemented Light Rail Transit (LRT) and Metro Rail Transit (MRT) fare hike. 
After a long holiday, Filipinos went back to work on Monday, January 5. Despite the fare increase, many Filipinos still rode the MRT and LRT.
The Department of Transportation and Communications (DOTC) implemented the following new fares on Sunday, January 4:
LRT1 (Monumento to Baclaran): P30 ($0.67) for single journey tickets and P29 for stored value tickets, from the current P20 ($0.45)

LRT2 (Recto to Santolan): P25 ($0.56) for single journey tickets and P24 ($0.54) for stored value tickets, from the current P15 ($0.33)

MRT3 (North Avenue to Taft Avenue): P28 ($0.63) for single journey and stored value tickets, from the current P15 ($0.33)
"While 2015 will see increased fares, it will also see marked improvements in our LRT and MRT services," DOTC Secretary Jun Abaya earlier said in justifying the increases.

The fare hike, however, was met with opposing views.
Reasonable or unreasonable?
Some netizens favored the increase but demanded for improvements in rail system's services.
@MovePH in the long run I think the #farehike is fair. But the increase should have been staggered a long time ago

— Krista Garcia (@kristamgarcia) January 5, 2015
@MovePH @rapplerdotcom @KRBisaguirre Well if the fair hike is reasonable enough and if people would want a good service then its fine.

— Gabiee (@princessiyelita) January 4, 2015
@MovePH I'm ok for fare hike if it means improving service, it's just us citizens are not sure the money's going where it's sup to go.

— Kokay (@im_kokay) January 4, 2015
@rapplerdotcom @MovePH if the fare hike reduces the subsidy that the tax payers are paying for – YES TO INCREASING THE MRT FARE!

— Rupert Ambil II (@rupert_ambil) January 5, 2015 
Meanwhile, others argued the fare hike only adds burden to the commuters.
@moveph @rapplerdotcom #FareHike is not at all fair because public transpo should be more affordable to the masses not a burden

— IAmRasaGrafikaMNL (@ar_em_ey_dos) January 4, 2015
@MovePH @rapplerdotcom dapat gradual increase lang muna, hindi ung super taas agad.

— Karen Ray Isaguirre (@KRBisaguirre) January 4, 2015
@MovePH @rapplerdotcom @KRBisaguirre tama naman! Or improve muna sa serbisyo bago magtaas.

— I am kalbo™ (@kissmycrazyass) January 4, 2015
Some netizens also argued the fare hike will only benefit the private sector. 
@actemena @MovePH Abaya himself admitted that revenue from the fare hike will only go to the private contractors running and owning the MRT

— Donna Miranda (@donnamirandais) January 5, 2015
@MovePH MRT/LRT #FareHike outright unjustifiable because we only have assurance that it goes to the private operators not for maintenance.

— Jeremiah Guevarra ♐️ (@jerembutido) January 4, 2015
Activist youth groups argued the hike will not result in the improvement of services as the revenue will be used to pay the private concessionaire.
Various groups protested on Monday and asked the Supreme Court to block the fare hike.
The DOTC, however, said it plans to purchase new light rail vehicles, rail replacements, facility and signaling system upgrades, tap-and-go ticketing systems, and radio communications systems.
Train overhauling for MRT3 line is set to be completed in 2016.
Meanwhile, some were offended by the arguments made by fellow netizens, asking commuters to ditch the train if they cannot afford it. 
@MovePH OK yan. Kaya naman nasisira yung train dahil ang daming sumasakay. Pag mahal na pamasahe, konti na lang makakasakay. #FareHike #Fair

— ⓙⓞⓢⓗ ٿ (@_joshXYZ) January 5, 2015
@VoltaireTupaz @MovePH we think mobility is private need, not imbued w/ public interest (hence,"if you find MRT fare pricey, take the bus")

— jonas bagas (@jonasbagas) January 5, 2015

 
But other netizens argued public transportation should be accessible to all regardless of social class.
Activist blogger Arnold Padilla asserted the government should fund social services including the mass transport system. 
LRT/MRT fare hike and the Aquino admin's irrational, baseless claims http://t.co/XfuH7KMuxq @VoltaireTupaz

— arnold padilla (@arnoldpadilla) January 4, 2015
Recommendations 
Netizens also shared suggestions on how the government can improve the mass transit system. 
One problem observed by commuters is how much time is wasted over ticket queues. Netizens suggested having reloadable transit cards sold not only in train stations but also in convenience stores, bookstores, and malls.
Netizens also suggested installing automated machines to speed up the process. 
@MovePH let people buy no-time-limit MRT/LRT tickets-cards at malls, bookstores, etc. to decongest MRT/LRT ticket counter

— Vip Malixi (@vipmalixi) January 5, 2015
This system is being adopted in other countries like Japan, Hong Kong, and Singapore. Some countries also have special promos for tourists going about the city via train.  
Netizens urged the government to acquire not only "bigger, faster, and more trains," but also well-maintained and better-connected train stations. In the Philippines, stations are usually connected through malls or narrow streets, making it hard for commuters to move around. 
Commuters also urged the government to look into train safety. In August, an MRT3 train derailed, calling the attention of lawmakers. 
@VoltaireTupaz @MovePH effective public transpo is premised on the notion that freedom of movement & one's safety are basic human rights.

— jonas bagas (@jonasbagas) January 5, 2015
Netizens also asked the government to make the transit system more accessible for people with disabilities (PWDs).
@MovePH Hindi rin PWD and elderly-friendly ang LRT/MRT. Would the current #FareHike even be enough to fix broken elevators and escalators?

— Kristina Misajon (@kristinamisajon) January 5, 2015
Aside from improving facilities and services, netizens asked Filipinos to respect fellow commuters by simply falling in line, letting passengers alight before boarding, and prioritizing the elderly, pregnant, and PWDs.
@dencio30 @kristinamisajon @MovePH then they need to add more train… that's the only viable solution for now.. plus syempre disiplina din.

— ♌ Eufer Pasion (@datahunter84) January 4, 2015
While many netizens spoke of the many issues surrounding the country's public transportation system, others chose to look at the bigger picture.  
@MovePH raise the minimum wage, lower prices of goods and services, and people will stop complaining about the #FareHike

— Dennis Blancaflor (@dencio30) January 4, 2015
@VoltaireTupaz @MovePH but we need to look beyond bits & pieces of the problem. IMHO, our main public transpo framework is problematic.

— jonas bagas (@jonasbagas) January 5, 2015
Aside from the MRT and LRT, netizens also asked the government to tackle other transport issues like the condition of the Philippine National Railways (PNR), regulation of buses and jeepneys, and other alternatives such as the Pasig River Ferry Service and biking. 
As commuters, what other ideas do you have in mind that could help improve the country's public transportation system? Join the ongoing discussion. – Rappler.com
Share your stories and ideas with us, email us at move.ph@rappler.com