Remember Frederico? The center where his infamous photo was taken might soon close, says DSWD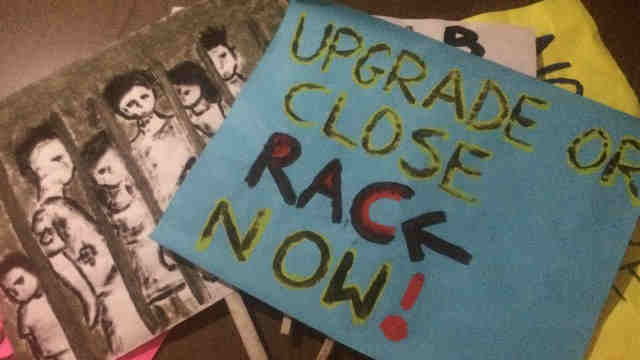 MANILA, Philippines (UPDATED) – Remember Frederico? 
In October 2014, a picture of him lying naked on the floor of the Manila Reception and Action Center (RAC) – a government-run facility for street children – went viral. The emaciated boy's ribcage was protruding so much it seemed as if it was ripping out of his skin.
Three months later, Social Welfare Secretary Corazon Soliman announced that the Department of Social Welfare and Development (DSWD) is "in the process of closing RAC."
"We are now transferring the children-residents to other DSWD-licensed NGOs and DSWD-managed facilities," Soliman explained in a statement on Thursday, January 15.
Some of the DSWD facilities are the Jose Fabella Center, Nayon ng Kabataan, and Haven for Children. Some children are also returned to their families, who are monitored closely by district social workers. The transfer of children is expected to finish by the end of January 2015.
The decision came after the DSWD's investigation on RAC, and coordination with the city of Manila.
Frederico's photo not only served as an eye-opener for netizens, but also nudged the media to look deeper into the situation of abandoned children.
Bahay Tuluyan, a non-governmental organization (NGO), exposed several problems within RAC; including cases of abuse, poor facilities, budget and management issues, and appalling experiences of children.
Media reports were followed by a slew of angry reactions, a protest, a dialogue with Manila Mayor Joseph Estrada, and most recently, two Senate resolutions calling for an investigation on all centers for street children.
Now Frederico is almost unrecognizable. His health is
continuously improving under the care of an NGO. Soliman shared that the DSWD has already located Frederico's mother.
"We are currently doing case work management with the mother," she said.
Although Frederico's story ended nicely, many others like him are still living in dire conditions whether out on the streets or while inside faulty facilities that are supposed to help them.
"Bahay Tuluyan is very relieved to hear that action is being taken to respond to the concerns we have raised, and we praise Secretary Soliman and the DSWD for being responsive and proactive," Catherine Scerri, Bahay Tuluyan Deputy Director, told Rappler.  
Scerri added: "We look forward to hearing what actions and alternative programs will be set up to address the needs of children on the street. We also wait for news about how people involved in the death of an unnamed child in RAC in 2013, confirmed by Dr Lacuna-Pangan, and the abuse of Frederico and other children in that institution will be brought to justice."  
RAC 
During the temporary closure, RAC is given 6 to 12 months to reform itself. "During the temporary closure, we will work closely with MSWD to provide technical assistance for compliance to standards," said Alicia Bonoan, DSWD-NCR Director. "We are not putting them down, consultations with MSWD's Lacuna is continuous."
Bonoan streessed that RAC should only be a temporary center for children, "Turn-over of children should be fast, one to two days. Children with curfew violations should no longer be held, counseling is enough," she added.
A RAC social worker told Rappler that they have not have been advised on the DSWD's decision as of Friday, January 16.
"Wala kaming idea about that. Usapang pang-mataas 'yan e. Wala pang na-disseminate na information," said Girl Ornido, a RAC social worker. "Di ko lang alam if na-discuss na isyu na yan with my boss, 'di pa na-disseminate sa level namin."
(We have no idea about that. That's an issue for the higher-ups. No information has been disseminated. I don't know if the issue has been discussed with my boss; it hasn't been disseminated on our level.)
Ornido said that RAC head Gloria Antonio, has not yet discussed the issue with the center's staff. Rappler tried to get in touch with Antonio and Honey Lacuna, Manila Social Welfare Department (MSWD) head, but their offices are closed during the duration of Pope Francis' 5-day visit.
RAC and MSWD refused to release any more information until next week when their offices resume regular operations.
Ornido admitted, however, that the DSWD and the Commission on Human Rights  frequented RAC following media reports on Frederico's plight.
"CHR, DSWD national, and DSWD NCR investigated, looked at our records, interviewed kids, checked facilities," she added. "Yung results ifo-forward pa sa Office of the Mayor. Wala pa kaming alam sa findings (The results will be forwarded to the Office of the Mayor. We don't know the findings yet)."
Papal visit, street kids
Aside from shelters for street chidlren, NGOs also criticized LGU-run centers catering to children in conflict with the law (CICL), stressing the same problems observed in RAC. 
On the day British tabloid The Daily Mail published a story accusing the government of "caging" street children in time for the papal visit, the DSWD conducted an investigation on the Pasay Jail, Pasay Youth Home, and Pasay Police Station.  (READ: Gov't denies 'caging' of street kids)
The investigation yielded negative results, Soliman said. DSWD found no children detained with adult prisoners.
"I would like to reiterate that we do not jail children. We jail abusers," Soliman said. She added that reach-out activities for street children are conducted weekly by a task force composed of the DSWD, LGUs, NGOs, and the police .
The task force brings the kids to local social welfare offices for assessment and interventions like feeding and temporary shelter. The Department, through its Comprehensive Program for Street Children, assists children's education and their parents' livelihood.
Meanwhile, street families under DSWD's Modified Conditional Cash Transfer Program are given cash assistance for house rental, and the children's school and health needs.
Scerri also clarified that the Daily Mail had misquoted her. "I am 98% sure that I did not say that we have noticed an increase in rescues in recent weeks. I cannot confirm there was an increase in rescues, but would not be surprised." 
"I did say that we have experienced an increase in rescues in the past in the lead up to visits from dignitaries. This is also what our research 'Sagip or Huli' showed. I did say about there being children rescued in relation to Obama's visit."    
"In our discussions with people on the street [in Malate area] yesterday, people had definitely been told that the street had to be 'clean' and they were hiding or on alert in case they were rescued," Scerri shared. "Various families told us that their possessions had been taken or that they had themselves hidden them so they would not be taken or rescued. It seemed that most of the messages they were receiving had come from the barangay level."
While many Filipinos are excited about the papal visit, critics are questioning the government's preparations, noting how street vendors were evicted from Rizal Park and how poverty was intentionally "hidden" from the Pope's view – a similar scenario during the Marcos regime when slums were fenced in white-painted walls whenever foreign dignitaries visited. – Rappler.com