The fellows - Cristina Liamzon, Ines Fernandez, John Paul Maunes, and Kevin Lee - work for different sectors, from urban poor mothers and migrants to beneficiaries of water sanitation and people with disabilities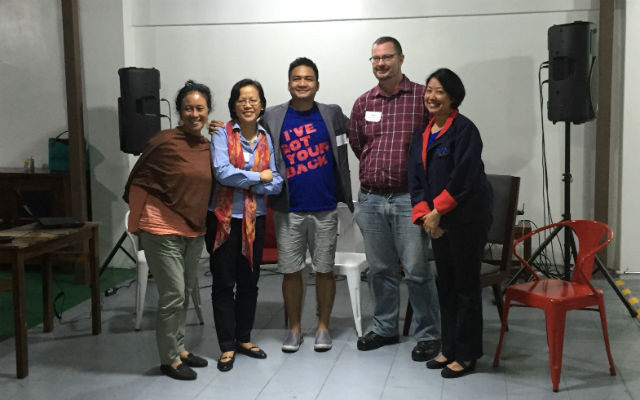 MANILA, Philippines – For their work in social development in the Philippines, 4 Filipinos were named Ashoka Fellows Tuesday, January 27, joining the global network of more than 3,000 leaders called Changemakers.
The 4 fellows – Cristina Liamzon, Ines Fernandez, John Paul Maunes, and Kevin Lee – were selected based on 5 criteria: 
Clear pattern-changing idea

The social impact of their implemented idea

Creativity behind the innovative solution

Entrepreneurial quality of the individual

Unquestionable ethical fiber of the individual
According to Ashoka country manager Terri Jayme-Mora, being a fellow and social entrepreneur requires more than applying business for social good. 
"Social entrepreneurs understand that they cannot solve our world's problems alone. (They) break down barriers. They know that the only way we will survive is if all of us, each person regardless of age or background, is empowered and equipped to shape the future," Mora added.
Meet the fellows
The 4 fellows work in different aspects of development in the Philippines – from urban poor mothers, and migrants to water sanitation, and persons with disabilities (PWDs).
Cristina Liamzon – A former migrant, Liamzon works for the Leadership and Social Entrepreneurship Program for overseas Filipino workers (OFWs) and their families. "This program is about capacity building but not just of technical skills but teaching people how to budget, how to save, and instilling a confidence in them to be responsible for themselves and their finances," Liamzon said.
Kevin Lee – A former Peace Corps member, Lee started "A Single Drop for Safe Water," bringing low-cost technology for residential water treatment. He said: "We found out the whole government in this country really want to solve the problem and so they've been very supportive. When you're able to mesh that with the resources of the community, it's a very powerful thing," he said.
Ines Fernandez – For Fernandez, breastfeeding and childcare is as much a global issue like migration. She works in Arugaan, an organisation that trains urban poor and disaster-stricken mothers on the right ways to breastfeed and prepare indigenous food for children.
John Paul Maunes – A co-founder of Gualandi Volunteer Service Program (GSVP), Maunes has been working toward building multiple platforms where the deaf and the hearing can interact with one another. (READ: Can PH become a 'deaf-inclusive' country?)
The fellows join Girlie Lorenzo, the first Ashoka fellow elected in the Philippines in 2014. Lorenzo is the founder of Kythe Inc., an organization that addresses the psycho-social needs of paediatric cancer patients.
Lorenzo told Rappler how the Ashoka Fellowship is both a challenge and a privilege. 
"It's been challenging because I had to walk the talk, breathe my advocacy. But because you love what you're doing, it's not hard. I'm now becoming a systems changer, not just a service provider," she said.
Ashoka in the Philippines
Ashoka was founded in 1980 by Bill Drayton. and was officially launched in the Philippines in 2014, headed by Dr Tony La Vina and Jayme-Mora. 
The fellowship is named after an Indian leader who unified the subcontinent in the 3rd century BC. 
Aside from receiving a living stipend for an average of 3 years – allowing them to focus full-time on building their institutions – the fellows also become part of a global support network of peers and strategic partners from whom they will benefit for life. – Rappler.com