'Because I am a Filipino citizen who speaks Filipino, my own authenticity doesn't seem contingent upon balut'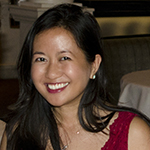 My American boyfriend tried balut (fertilized duck egg) for the first time almost 4 years ago with my best friend's husband Buddy in Dumaguete. With 18-day balut and rock salt in his right hand, and a San Miguel beer by his knee, he chewed it as if he were eating a hot dog. Buddy high-fived him and they clinked beers.
I think I fell more in love with him that night, though I wouldn't kiss him afterwards. I am sure that the ease with which he ate it played some small part in his becoming my husband.
You see, the only times I had seen foreigners try balut, it was always presented as something disgusting on shows like "Fear Factor" and Andrew Zimmern's "Bizarre Foods."
Part of balut's appeal is its I-double-dare-you exoticism. Even in Pateros, balut-making capital of the Philippines, I've seen Filipinos hold up the delicacy to their balut-virgin friends, waving it in their faces like a horror-movie prop. It is used to test foreigners and Filipino Americans. If you eat it and keep it down, you're in, though it's unclear what club that is exactly.
So much of a visitor's reputation rides on a fertilized duck egg. If you won't try it, you're not adventurous. However, if you can stomach it, you get warm pats on the back and you're part of permanent family lore. ("Yeah, can you believe it? He had bagoong [fermented shrimp paste] with breakfast and tried balut like a champ.") If you're Fil-Am, balut is the litmus test that checks your Philippine levels: are you down-to-earth or are you a snob?
My friends have teased me into trying it, but that's as far as it goes. Because I am a Filipino citizen who speaks Filipino, my own authenticity doesn't seem contingent upon balut. Though I don't eat it, I am protective of balut because it is as much a part of the Filipino culinary landscape as ube (purple yam) ice cream, and sinigang.
A part of our culture, for many Filipino transplants, balut is a vestige of home. It reminds me of men, who, in good weather and downpours, walked down my street, announcing their wares late into the night.

I remember my aunts and uncles, who made off-color jokes about sore knees and balut's aphrodisiacal powers. I think of my dad who, growing up poor in Manila, remembers how balut, like ice cream, was a rare treat. It's a delicacy, but it's not in the same family as shark fin or turtle soup. Eating balut does not endanger the duck population and it doesn't hurt the environment the way cattle raising does.  
More than week ago, the story about Gabrielle Hardy's petition to remove balut from New York's Maharlika menu showed up on my mini-feed. (READ: Should a New York City restaurant stop serving balut?) 

Though it irked me that she used the phrases "strangest food" and "disgusting," her superlatives have little significance in a city where breast milk cheese is sold and foie gras is still legal.

Her petition and the 5,000 signatures are neither a symbol for US racism (though it exists) or a launching pad for dialogue about abortion. (Both attempts at connecting them to balut strike me as irrelevant and hyperbolic.) I shrugged off her petition as nothing more than an annoyance, equivalent to a rude tourist who visits someone's home and says, while pinching her nostrils shut, "Yuck."
She needs an Anthony Bourdain to take her out for a meal and give her lessons on grace and etiquette. Hardy's petition reflects her ignorance of Philippine culture as well as of the paucity of Filipino restaurants on the East coast. Filipino restaurants, even in cosmopolitan New York, are only beginning to make their big collective mark. In fact, the Washington Post published an article about Filipino restaurants and cuisine – "At long last, Filipino food arrives. What took it so long?" – on April 21. 
Hardy's petition is unremarkable but the vitriol with which Filipinos came to balut's defense is important. The humble balut brought out Filipinos' nationalism and pride and "Leave the balut alone!" became the rallying cry. I get it: just watch the Buzzfeed video of Americans trying our chichirya (snacks) and street food and their reactions make me wince. It's unsettling to watch foreigners react histrionically to food memories as poignant to me as madeleines were to Proust. (READ: Balut controversy: A clash of cultures? Netizens react) 
Though Americans have had Filipino food before, only in recent years have they had a taste of the stuff people eat back in the motherland.
Chinese food take-out stateside is as ubiquitous as pizza. But, as I learned from my Chinese-American friends who introduced me to "real" Chinese food that wasn't modified for American palates, one can order "off the menu." I've been to a few Filipino restaurants here and, while they are good, diners leave having enjoyed lumpia (spring roll), pansit (stir-fry noodles), and leche flan (milk flan).

They are some of my favorites, but they are similar to dishes found in other Asian restaurants. Everyone makes a beeline for lumpia but it doesn't challenge the diner or give much insight into the Philippines' distinct flavors or its unique regional cultures.
The Washington Post article cited "hiya (shame)" of our food as one of the reasons that Filipino cuisine has been slow to make it into American dining rooms, a theme which cartoonist Lynda Barry, whose mother was Irish and Filipino, writes about in her autobiographical comic Common Scents.

In a couple of frames, a friend says, "My mom says your people fry weird food and save the grease and also that you boil pigs' blood which is the reason for the smell….That's why I'm not sposta come over 'cause the smell gets on my clothes, makes my mom sick."
At the end of the story, she says, "Our house smelled like grease and fish and cigs, like Jade East and pork and dogs, like all the wild food my grandma boiled and fried. And if they could get that into a spray can, I'd buy it."
For Barry, recognizing those smells and owning her love of them are part of her identity. Filipinos' and Fil-Ams' passionate defense of balut, whether they eat it or not, is part of our own national evolution as well. Instead of tucking the balut away, we are putting it out there, quite literally.
The popularity of New York restaurants like Jeepney and Maharlika and, yes, even Hardy's petition illustrate that Filipino food is here in the US in its diverse tastes and forms. Balut on Maharlika's menu, though unsavory to some people, is evidence of a sea change. It's taking what was once "off the menu" and hidden, and serving it on the communal table. It is secret love made public. Balut is our way of asserting our place, saying, "We are here and we are proud."
It's enough to stir a Filipino's soul, really. – Rappler.com 
Read previous articles from this author