The Festival of Fireflies promotes the use of bicycles in the daily lives of Filipinos to help the environment
QUEZON CITY, Philippines – The Quezon Memorial Circle was filled with an unusual number of bikers with equally unusual bikes as people across the region participated in the inaugural Summer Cycling Convergence: Festival of Fireflies on Saturday, April 25.
The bikers' gathering was in line with the Earth Day celebration of the Firefly Brigade, a special interest group for bikers who promote the use of the bicycle for clean air and sustainable communities.
More than a costume contest
Bikers' pimped their rides, not just to win the costume contest event, but to send a message and promote their advocacies.
The event became a platform for anyone to push forward their campaigns – especially for Mother Earth.
Ignacio Magtibay, a civil engineer by profession, rode his bike from Santa Maria Bulacan all the way to Quezon Memorial Circle.
He said he chose to ride his bike to decongest the roads of Metro Manila and his advocacy goes beyond winning the costume contest.
"My third place finish is just a bonus, what's important is that I get my message across. I don't want to add to traffic here in Manila," he said in Filipino. "I biked from my house in Bulacan to here to send a message to everyone who will see me that we need to take care of our environment. Birds should continue to fly while fishes should continue to swim in clean seas."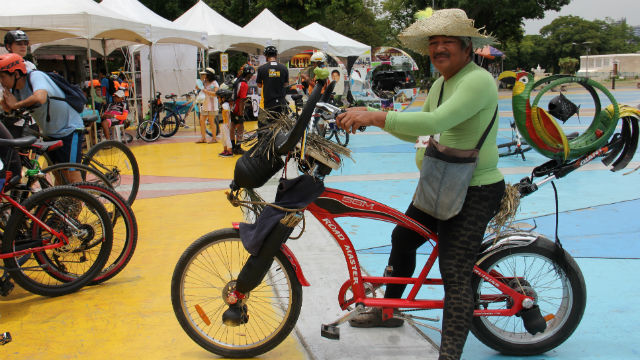 Meanwhile, Larry Herrera of Marikina paraded his Terminator-inspired ride which was made out of recycled parts of old bicycles and other materials. The Pinoy Adventure Rider insisted that recycling is one of the best things to do in life.
"When we recycle, we contribute a lot to save Earth," Herrera explained. "I want to inspire the youth to also make similiar bicycles so they realize that it's fun to ride bikes. I want them to know that they will feel proud, famous, and hip when you own a bike made from junk"
Herrera's bike was eye-catching as each part, according to him, is a symbol of something in society, like how he wants to fight climate change.
"Let's all wage war against climate change since that's my war and I fight against it," the blogger and web designer emphasized. "We are the first generation to experience climate change. I want to let everyone know that we are the only generation that can do something about it since the next generation will be too late."
Ella Padayao, whose bike featured a solar panel with two light bulbs plugged in, also shared Herrera's sentiment.
Her group, the Tiklop Society Philippines, which advocates the use of bi-modal transport, shouts for the utilization of alternative sources of renewable energy such as solar energy.
"The theme of my bike is solar energy because we fight to go green because it's for the environment," Padayao emphasized. "Solar energy is one of the most sustainable sources of energy and it is good for the environment."
For Mother Earth
The event was a precursor to the Tour of the Fireflies, a biking event later this year where more than 15,000 bikers are expected to participate.
The organizers hope that the event will also highlight the importance of bikes in the daily lives of Filipinos.
The group, however, does not only see the use of bicycles as a way to improve the air quality in urban areas.
"Our members also see (cycling) as means of sustainable transporation," the group said. "With the traffic in Metro Manila only getting worse by the day, the bicycle may just be the most sensible, environmentally-sound vehicle for getting around." – Rappler.com
Alain Fusana is a student at the Colegio de San Juan de Letran and a Rappler intern.