'I want him to win so badly, but I don't want to see his body bruise and his face bleed. I can't stand seeing his eyes puff up.'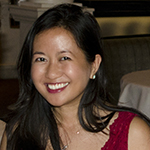 The Pay Per View commercial begins: "It's time. Two legends. One destiny. All roads end here."
On Saturday night, many friends and family will be sitting around a TV. They will probably be wearing the Philippine flag around their shoulders and Manny's face on their T-shirts.

A Fil-Am friend Rex C. wrote that for Filipinos, the Pacquiao-Mayweather fight is as big as Christmas. To prepare for Saturday night, he's been playing the national anthem, "Lupang Hinirang" on repeat.
Full-disclosure here: I am ambivalent about Manny Pacquiao. I disagree with Pacman's politics (e.g. his anti-gay marriage and anti-RH bill positions, his love of cockfighting, his rumored presidential run someday) and I am unsettled by how much power he has (e.g. he became a 5'6" professional basketball player because it had been his dream, running for and winning a seat in Congress where he consistently has the worst attendance record).
Still,  I admit, too, that when I see Manny Pacquiao's face in a store window or see clips of him on the American TV program 60 Minutes, my heart smiles. For foreigners, his name is synonymous with the Philippines and, for many Filipinos, he is the great brown hope.

I am grateful for how he's raised the Philippines' spirits, but I am not going to watch the fight on Saturday night.
I thought I was ready for it. My sisters and I were, at one time in our childhood, obsessed with Rocky Balboa and, in college, I took a senior seminar on boxing movies where I watched Raging Bull and The Contender without flinching.

I've studied Hemingway and read up on Muhammad Ali and George Foreman.  I thought I would watch the Pacquiao-Mayweather fight, in solidarity with the rest of the Filipino world, but something's shifted in me and now, I won't. I can't.
Part of my reason is Mayweather and the other, Pacquiao.
An American friend, Matt H., said, "I am rooting for Pacquiao for the sake of further proof that you don't have to be a world-class jerk to be a world-class athlete." My student Tom S. said, shaking his head: "Mayweather is a terrible, horrible person. Everyone wants to see him lose." Their comments about Mayweather are not just about his ridiculously supercilious statements about wealth, race, and power but also, more importantly, about his consistent record of abuse against women since 2001.
Though British heavyweight Frank Bruno once joked that "boxing is showbusiness with blood," ESPN writer and radio personality Sarah Spain reminded us in September 2014, "[W]e should have a visceral reaction when a convicted abuser asks us to pay $78 apiece to watch him fight."
A childhood friend Dustin D. wrote, "My pride is for Manny but my money is on Floyd," and he's not alone. As recently as this afternoon at a grocery store, the cashier said he liked Pacman but he bet on Mayweather.

Another friend Reginald J. said: "If Pacquiao wins, the sport of boxing wins. This is a fight that should have taken place 4 years ago when both men were at their peak. In my opinion, the fight was delayed because Floyd would rather protect his perfect record than face the best talent. Floyd is also a huge [jerk] whom nearly everyone wants to see get beat down."
Just watch the audience punching the air and it's obvious that Manny has become our own "Player 1" avatar: we vicariously wield our punches through him.
I don't even want to imagine the possibility of his holding the belt above his head, all the lights going off in the stadium like a summer meteor shower.

When we place our bets on Mayweather, willfully separating him, the boxer, from his convictions, what are we choosing to overlook for entertainment and for money? Mayweather's misogyny and well-documented violence makes Pacman look saintly  in this boxing morality play.
And then there's Manny Pacquiao. With his moustache and earnest smile, he could be my uncle singing "My Way" at his karaoke machine or the friend next door, who shows up when my mom makes chicken tinola. His face looks familiar to me, his story, the reality for many Filipinos. When host Jimmy Kimmel and Pacman sang "Lalaban Ako Para Sa Pilipino (I Will Fight for the Filipino)," I teared up a bit.
I know he means it when he sings that he fights on our behalf. Pacman speaks with a Filipino accent and, yet, he has a voice on American primetime TV. Particularly in the US where Asian men are often presented in the media as emasculated and weak, Manny shakes things up, as a version of Asian assertiveness different from, say, Bruce Lee.
I want him to win so badly, but I don't want to see his body bruise and his face bleed. I can't stand seeing his eyes puff up. His mother watches his fights but I don't have that steel-lined stomach.

Of boxing, filmmaker Martin Scorsese said, "[Boxing is] an allegory for the theater of life….You get in the ring and you try to survive or you're on the attack, you're on the defensive, you're on the offensive, to many people in life…life is that struggle and there's struggle in one way or another."

His success is such stuff as dreams are made on: a poor boy from a small town fights his way out and up. Manny's standing back up after a match is an easy symbol for Filipino resilience. From despairing poverty to widespread corruption to Typhoon Haiyan, the Philippines, too, has been knocked down and, yet, as Chumbawamba sings, we get up again. But that's about as far as I am able to stretch the analogy.
In a movie theater, I can pretend that after the bruises disappear, their brains bounce back, too. But nonfiction boxing is real violence, real pain. Which is what this sport is essentially: it's watching two grown men give each other a rapid succession of concussions, and when there's enough, this series leads to a KO. The goal is to give each other brain damage. To watch Manny, who represents the Philippines, get beat up cuts too close to real life. The metaphor is heartbreaking, the long-term physical damage, horrific.
The allegory is romantic only in the movies.
But I also understand how this fight brings out and allows for the most distilled version of nationalism. There's nothing wrong with rooting for a member of your tribe. For me, even if Pacman wins, even with his incredible, lucrative-beyond-my-dreams contract, he pays the ultimate price for our pride and enjoyment. Whatever nationalism I feel pales in comparison to my worry.  This fight's on, even without people like me, but I don't want to be there while it happens.
I hope Manny wins. But what I want, even more than his victory, is that he comes out ok.
So – on Saturday night, I'll go out to dinner with my husband. Maybe I'll see The Avengers. I usually turn in early. But whatever I end up doing, I'll say a quiet prayer first, cross my fingers, and wish them both good health.  
I'll keep my phone by my bedside table and check the final results the moment I get up Sunday morning. – Rappler.com 


Read previous articles from this author