The Toothbrush Movement brand is sold at a premium for P199. But every purchase offers an eco-friendly alternative to plastic toothbrushes and an opportunity to support an important cause.
An average person may use up to 156 toothbrushes in his lifetime, according to the National Geographic documentary Human Footprint. Multiply that with an estimated 4.5 billion toothbrush owners (Makes you wonder what the other 1.5 billion use) and it's no surprise why this toiletry item is partly to blame for the Great Pacific Garbage Patch. The latter is a floating landfill in the world's largest ocean the size of the United States.
From a humble thin twig with a frayed end rubbed between the teeth, the "chew stick" as members of ancient civilization called it, the toothbrush has gone through much iteration. In 2014 we saw the arrival of the first Internet-connected toothbrush and in a report by the UK's Daily Express, there could come a day when it can warn you if you have cancer or Alzheimer's, through a Nano-size silicon microchip 80,000 times thinner than human hair embedded on it.  
In the Philippines, the company Minka MXN Inc, also known as Minka, has produced an eco-friendly toothbrush, that's not only environmentally friendly but also makes you – the user – a contributor to a social cause. The word "Minka" is a South American term that means collaborating for a common purpose.
Minka founder Mark Rivera, a 29-year-old Filipino-American entrepreneur started the company with some long-time friends. "I'm always thinking, always trying to be creative with my ideas," he describes himself in sharing his business' story and its first product.
The Toothbrush Movement is actually the offshoot of a non-profit he wanted to start. Mark's initial goal was to raise funds to build a dental facility in areas of the Philippines that need it most. "The toothbrush would be used as a supplementary item, where if a person or company donates a certain amount of funds, they will get the toothbrush as a token." The fundraising didn't work out though, and he decided to keep the idea in the backburner.
Though his non-profit idea didn't materialize, Mark was still intent on doing something to make a difference in the Philippines. An experience in one of his trips rekindled the toothbrush idea.
For-purpose business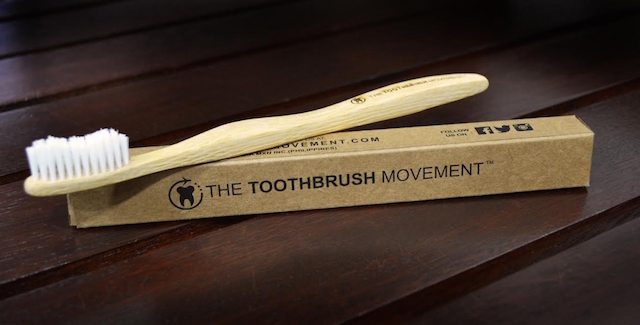 While in Coffee Bay, South Africa he was approached by kids who were asking for a dollar. He asked one of them why he wanted the money, and the kid answered, "I want to buy sweets." There were no dental facilities nearby and he knew that "giving sweets, money, and their demand leads to the increase of poor oral hygiene and tooth decay." Mark decided at that moment to go for what he soon called a for-purpose business, with the toothbrush as the product.
Some close friends in the Philippines became his business partners for the venture and in March of 2014, Minka Ventures was born with the Toothbrush Movement as its flagship item. The handle of the toothbrush is made of biodegradable bamboo, which is water-resistant and naturally anti-microbial. The raw materials of the toothbrush make it environmentally friendly.
"It was a challenge to bring it out at first," Mark said, referring to their early marketing push. They had an initial boost in sales when a local blog featured the item. But it was Healthy Options' decision to carry the brand that gave the Toothbrush Movement much needed nationwide exposure and distribution.
The Toothbrush Movement brand is sold at a premium for P199. But every purchase offers an eco-friendly alternative to plastic toothbrushes and an opportunity to support an important cause.  
Minka's initial strategy was to allocate 10% of sales to save funds for a dental clinic, and another 5% will be donated to a "Charity of the Month." They've stuck with the idea for 60 days but found it to be too costly and hard to operate. They shifted strategy and decided to partner instead with an organization already serving poor communities in the Philippines.
Contribution to society
Mark and his team picked Habitat for Humanity Philippines as a beneficiary, with Minka donating 10% of sales to the organization's WASH program. The acronym stands for – Water, Sanitation, and Hygiene. The non-profit works with communities to add clean water supplies and sanitary toilets, and trains families living on poverty on good hygiene practices to prevent the spread of waterborne disease. These programs address the lack of clean water and proper sanitation facilities in impoverished communities, a pressing need that has claimed the lives of millions worldwide.   
"Around 1.1 billion people globally do not have access to improved water supply sources, whereas 2.4 billion people do not have access to any type of improved sanitation facility. About 2 million people die every year due to diarrheal diseases, most of them children less than 5 years of age," noted a World Health Organization statement on the issue in 2013.
In a 2014 Rappler story, Fritzie Rodriguez noted that 16% of Filipino households lacked access to clean and potable water, citing a report of the National Statistical Coordination Board. Pia Ranada also reported on this news outlet that in 2013, 55 people in the Philippines die daily from lack of proper sewerage.
Brushing our teeth is a mundane experience. The same goes when replacing it – it's routine. But Minka Ventures and its Toothbrush Movement give everyone an opportunity to make a little contribution to society with every purchase. Even if you're halfway through the 156 toothbrushes you'll use in this life, you still have 78 chances to make a difference. – Rappler.com
Caleb Galaraga is a freelance writer currently based in Metro Manila, Philippines, his homeland. He worked as copywriter, marketing staff, tech reporter, and content manager for 5years in New York City.