Lumad leaders are worried the exclusion of their rights to ancestral lands may result in the loss of their agricultural resources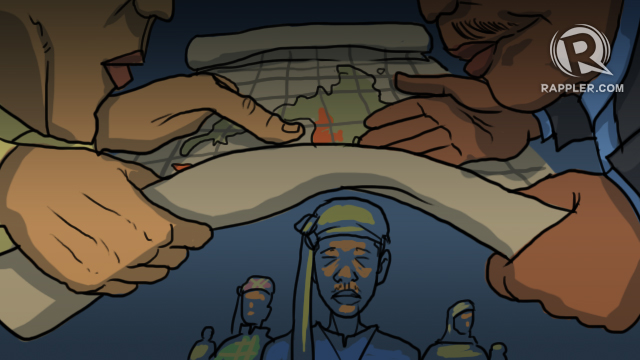 MANILA, Philippines – The Bangsamoro Basic Law (BBL) is seen as the "only viable solution" to the conflict in Mindanao but its implementation – if not properly done – might result in a food security problem among indigenous peoples (IPs).
One of the biggest concerns of the non-Moro IPs is their right to ancestral lands. They claim that they weren't given right representation during the peace process negotiations and drafting of the BBL – making them vulnerable to discrimination. (WATCH: Rappler Talk: Are the Lumad victims in war and peace?)
The BBL "recognizes, promotes, and protects the rights" of Mindanao Lumad. Unfortunately, according to IP leaders, it does not mention the Indigenous Peoples' Rights (IPRA) passed in 1997 but which has yet to be implemented in the Autonomous Region in Muslim Mindanao (ARMM).
Lumad groups are afraid that once the BBL is implemented sans provisions respecting their rights, their lands will be more vulnerable to destruction, or worse, forced reclamation. (READ: Spell out indigenous peoples' rights in BBL – peace council)
"Magiging malaki ang epekto ng BBL kapag napasa ito kasi may focus sa malalaking investment," Timuay Santos Unsad of the Teduray tribe told Rappler. "Ang problema ay iyong papasok sa mga lupain kasi baka ma-displace ang mga katutubo at iyong sustainable agriculture ay mawawala."
(The BBL will have a big effect once it is passed since it focuses on big investments. The problem is those who will enter our ancestral lands and displace us, threatening sustainable agriculture.)
The Mindanao Development Authority sees an increase in investments not just in agriculture but also in the mining industry.
But for Datu Roldan Babelon of Erumanen ne Menuvu, this may do more harm than good for the IPs.
"Paano iyong mga lupaing katutubo? Miminahin ang resources doon. Kapag kami nagtanim ng mga crops, masisira sila," he emphasized. "Nanganganib na mawalan ng lugar ang mga katutubo at matalo kami sa resources."
(How about our ancestral lands? People will mine our resources. When we plant our crops, they will be destroyed. We are in danger of losing our lands and even our resources.)
Sustainable farming
The patches of land that are the subject of controversy are not only their homes – they also serve as source of food and nutrients.
The Lumad of Mindanao employ a traditional agricultural system. This type of sustainable farming relies only on organic fertilizers with the harvested products being used only for the consumption of the community, and not for commercial use.
The decades-long conflict in the region has caused families to flee from their lands – leaving  their homes, including all planted indigenous vegetables. 
World Food Programme (WFP) data meanwhile show that in Central Mindanao between 2000 and 2010, over 40% of families have been displaced at least once. One in every 10 families has relocated at least 5 times within one year.
When gunfire and conflict subside – even for a short while – they will either have no more land to go back to or their farms are destroyed.
"Ang mga gulo na nangyayari ay may malaking epekto kasi nga naiiwan ang mga lupain," he told Rappler. "Ang problema, pagbalik mo sa lupain mo, hindi na sa 'yo ito kasi inangkin na ng ibang tao. Masuwerte na lang kung ang dadatnan mo lang ay nasirang mga pananim lamang."
(The conflict has a big effect since lands are left behind. The problem is, when you return to your land, it's no longer yours because it's been claimed by someone else already. You're lucky if the only thing you come back to are ruined vegetable gardens.)
At the height of then President Joseph Estrada's "all-out war," food insecurity and hunger increased. Data from the Social Weather Stations (SWS) showed a huge spike in hunger in 2000. (READ: How conflict can lead to food insecurity and hunger)
In 2014, hunger prevalence in Mindanao was at 19.2%, equivalent to an estimated 900,000 families.
The non-Moro IPs are afraid that this trend will continue if their rights are not acknowledged in the existing BBL.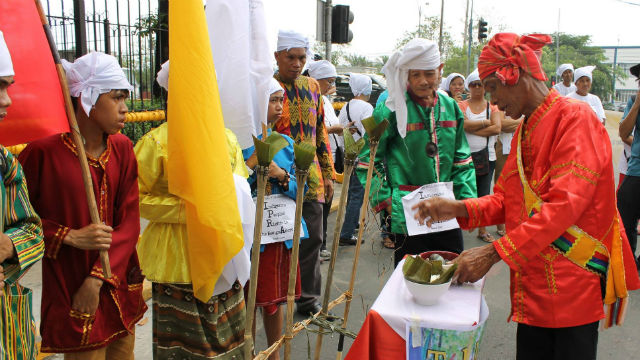 Their food supply will be cut off and they will be forced to work for others outside their domain.
"Ang mga katutubo ay magiging trabahante na lamang ng ibang mga hindi katutubo kasi sila naman yung may kaya, mga mayayaman," Unsad explained.  "Kaya doon sila namamasukan at nagtatrabaho na lamang sila para sa iba kaysa para sa kanilang pamilya't tribo."
(IPs will become workers for other non-IPs since they have the money and the resources. They will work for others instead of for their own family and tribe.)
In addition, Lumad groups fear that malnutrition rates will rise since there is a chance they will discontinue their consumption of indigenous vegetables – their source of nutrients. (READ: Indigenous vegetables and the Filipino diet)
"Ang mga katutubo kasi, hindi na kasi namin kailangang bumili ng bitamina," Unsad said. "Kumukuha mismo sila sa mga kinakain nila kaya kapag nasisira, wala na, kasi wala naman kaming pambili ng mga bitamina."
(IPs do not need to buy vitamins as we get them from the vegetables we eat. When the plants are destroyed, we won't have any anymore since we don't have the money to buy them.)
In the whole of ARMM during the all-out war, 30% to 40% of preschool children suffered from moderate to severe malnutrition, according to the Internal Displacement Monitoring Center (IDMC).
'We are for peace'
Lumad groups like the Teduray, Lambangian, Dulangan-Manobo, and Erumanen ne Menuvu have long been caught in the conflict.  
There is no question that they are for peace, Babelon said, as the ongoing peace process has been very helpful in reducing violence in the region.
"Noong 2001-2005, hindi ka makatulog ng walong oras sapagka't baka mamaya ay may putukan at kailangan mo pumunta sa damuhan," he said.  "Ngayon naman, humupa ang tension dahil sa peace process."
(Back in 2001-2005, no one could sleep for 8 hours since you're worried there will be gunfire in the next hours and you would need to hide in the grass. Now the tension has somehow subsided because of the peace process.)
Unsad also narrated how 56 families from one of their settlements were "forcibly" evacuated since they would be caught in the crossfire between the Bangsamoro Islamic Freedom Fighters (BIFF) and government forces.
"Hanggang ngayon hindi pa sila nakakabalik kaya iyong mga pananim nila, wala na," he said. "Nakatira sila sa mga lumang mosque at tents, at kami na rin ang nagbibigay ng mga makakain nila."
(Until now, they have not been able to return so their crops are gone. They now live in old mosques and tents, and we're the ones giving them what they could eat.)
They know the effects of unresolved conflict, especially armed ones, as they've suffered the consequences long enough already. For them, the BBL is the solution but it should be the type of law that will be for all.
"Hindi naman namin gusto na hindi matuloy ang BBL," Babelon said. "Gusto lang namin na iyong dapat rights ng katutubo ay mailagay sa batas na yan para maging inclusive, kasi kung hindi, magiging malabo ang karapatan namin at maiiwan kami sa ere."
(It's not that we don't want the BBL to be passed. We just want IPs' rights to be part of the law so it becomes inclusive. If not, we will be left in mid-air.)
Enlightened Congress
On May 10, indigenous leaders from Mindanao did a ritual called Tulak Bungkas Itungan to seek enlightenment for members of the House of Representatives. (READ: Mindanao tribes hold ritual to 'enlighten' Congress on BBL)
Cagayan de Oro Representative Rufus Rodriguez gave assurances the BBL "will not diminish IP rights."
As the House panel prepares to vote on the proposed BBL, members of the IP community are hoping they will no longer be victims, whether it be during war or peace. – Rappler.com