People's Survival Fund to help vulnerable communities adapt to impacts of climate change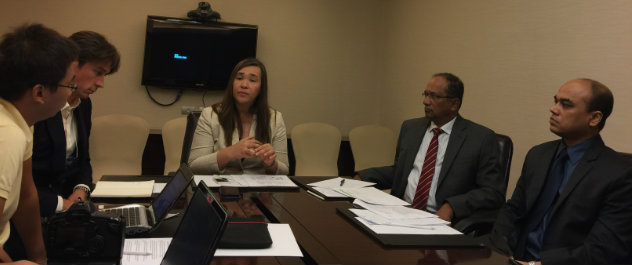 MANILA, Philippines – The Philippines has strong climate change policies, a United Nations Development Program (UNDP) climate change expert said on Wednesday, May 20.
UNDP's senior adviser on climate vulnerability Matthew McKinnon said the country's governance mechanism on climate change is able look at the issue from the national agencies down to local government units. (READ: Defining resilience to climate change)
For McKinnon, this is how mainstreaming of climate change should be.
Speaking during the press briefing of the two-day Climate Vulnerability Regional Forum in Manila, McKinnon also said climate change is already affecting various aspects of life including food security, labor, and migration.
"We cannot do business as usual anymore, climate change is affecting us in various fronts – environmental, social, economic and even cultural," he stressed.   
Hosted by the Philippines, the workshop was attended by participants from Maldives, Tajikistan, Vietnam, Pakistan, Cambodia, Papua New Guinea, Afghanistan, Myanmar, Timor Leste, and Mongolia.

People's Survival Fund 
One of the Philippine policies cited during the workshop was Republic Act 10171, or the People's Survival Fund law. The law amended the Climate Change Act of 2009 to provide the special funding and create the 9-member PSF board tasked to oversee policy and strategy on how the funds will be used.
In a press briefing during the workshop, Secretary Lucille Sering of the Climate Change Commission (CCC) stressed the need for a thorough vulnerability assessment of communities which will benefit from the PSF by implementing their local climate adaptation plans. (READ: 300 PH towns to get climate change funds by 2016) 
The law mandated to allocate P 1 billion for the PSF in the annual national budget to help vulnerable communities, Sering said. But Sering clarified that for the 2014 national budget, P500 million was alloted but was unfunded.
"The Climate Change Commission would like to ensure that the communities' adaptive plans will reach its maximum impact, thus, the need to fully capacitate these LGUs before they submit proposals which the Fund can provide," Sering said.
Sering explained that for the 2015 national budget, PSF is already funded . However, the CCC is still waiting for the Housing and Land Use Regulatory Board (HLURB) guidelines on land use planning which need to be shared with LGUs.
"We want the LGUs to fully integrate these land use planning planning guidelines into their adaptation plans and financial proposals before the PSF board approves these." – Rappler.com