Once roaming the streets of Metro Manila, ballet dancers from Tuloy Foundation talk about their dreams in the performing arts
MANILA, Philippines – What future do street children face?
Tuloy sa Don Bosco Foundation, an institution that caters to poor children and abandoned orphans, goes beyond providing the basic needs of its sector. The organization believes holistic care is key for kids with troubled backgrounds to be successfully reintegrated back to society.
A former street kid talks about the lessons he learned from ballet.
David Lozada files this report.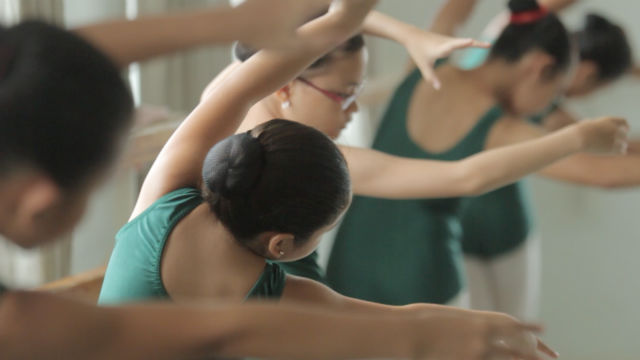 Edmar Sumera is mastering ballet like many other kids on summer break.
But Edmar and his peers are different. They were once street children roaming Metro Manila. He says dance teaches him valuable life lessons.
EDMAR SUMERA, BALLET DANCER: Mahirap siya lalo na sa una. Siyempre, marami silang pinapagawa na hindi mo kayang gawin. Siyempre sa ballet, hindi mo maiiwasan na magkamali. Kapag nagkamali ka siyempre mapapagalitan ka. Tsaka sa ballet magkakaroon ka ng discipline na kapag ginawa mo ito kailangan tapusin mo.
(Ballet is very difficult especially at the start. You are asked to do very difficult dance moves. You can't help but commit mistakes and the coaches will often scold you. But ballet teaches me discipline – that when I start something, I should finish it.)
Because of his talent and hard work, Edmar was selected for a summer program in White Lodge London, run by the Royal Ballet School in England.
Edmar is only one of the hundreds of children housed in Tuloy sa Don Bosco Foundation, an institution that takes care of poor and abandoned children.
Founder and president Fr Rocky Evangelista says it's important for groups working with children to go beyond the basic needs. He says it's important for kids to learn about sports and the arts.
FR ROCKY EVANGELISTA, TULOY FOUNDATION PRESIDENT: But a human person should be someone who's so confident, so complete. Therefore, we are not only here to fill up the stomach, and put a shirt on the back but to develop he totality of the person so that they can face the totality of circumstances and realities in the world. This is where Tuloy is so brave in putting the sports and now the arts not as an additional component but as a necessary component. Why? A child naturally likes to play, likes to move, likes to act, likes to sing.
For the past 22 years, a lot of children from the institution became professionals. Those who have high paying jobs are now paying it forward.
This is what Edmar also plans to do in the future.
EDMAR SUMERA, BALLET DANCER: Gusto ko makatulong sa mga batang gusto sumayaw kapag meron na akong sariling school, kukuha ako ng scholars tapos pagaaralin ko sila ng libre.
(I want to help disadvantaged kids who want to learn how to dance. When I have my own school, I'll get scholars and help them study for free.)
DAVID LOZADA, REPORTING: With the support of the government and the private sector, Tuloy Foundation continues to give hope of a bright future to street children. From the streets of Manila to the world's premier ballet studios, the institution proves that with the right push, kids with the most hopeless backgrounds can succeed in one of the most noblest forms of art. David Lozada/ Rappler Muntinlupa
– Rappler.com