Filipino doctors, nurses and rescuers share experiences on their time in Nepal with Canadian Ambassador Neil Reeder.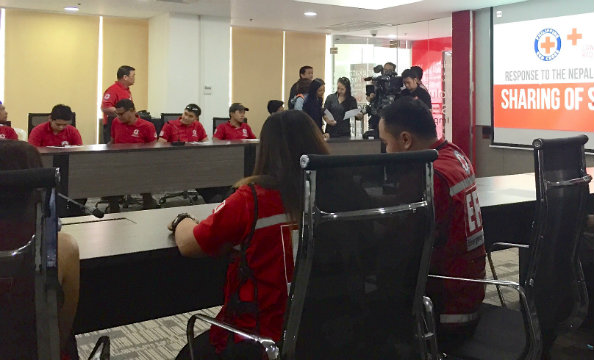 MANILA, Philippines – Red Cross teams from Canada and the Philippines gathered on July 8 to share their experience providing assistance in earthquake-stricken Nepal and celebrate the cooperation between the two humanitarian groups.
The event brought together the Canadian Ambassador to the Philippines Neil Reeder and representatives of the Canadian Embassy, the Canadian Red Cross (CRC), the Department of Foreign Affairs and executives of the Philippine Red Cross (PRC)—including Chairman and CEO Richard Gordon and Secretary General Dr. Gwendolyn Pang—to receive a personal account of the experiences of the Philippine team deployed to Nepal after it was hit by two earthquakes earlier this year. (READ: Key facts about the Nepal quake)
Canadian-Philippine partnership
The mission in Nepal was the first joint deployment from the PRC and the CRC in a third country. They also worked in cooperation with delegations from the Japanese Red Cross and the Hong Kong Red Cross in the emergency field hospital set up to support the relief response of the International Red Cross and Red Crescent Movement. (READ: The Nepal earthquake and its economic, poverty impacts) 
Ambassador Neil Reeder commended the parties involved and expressed that it is very significant to see Canada and the Philippines working in tandem to assist others in need.
"The deployment shows how both countries can share resources and expertise, not only domestically but in third countries," said Reeder.
Approximately 15 Canadian delegates joined the first rotation of five Philippine delegates from the PRC and the Makati Medical Center. They returned last May 28 from a one-month deployment where they were based in Tatopani and Dhunche in Nepal.
"Today is a great day for all of us. We have gone beyond our reach," stated Chairman Richard Gordon. He expressed that it is his hope this cooperation grows and becomes a model for other societies and future disasters.
Chairman Gordon also noted that Canadians and Filipinos have worked together in the past, most notably when Typhoon Yolanda struck in November 2013. However, the Nepal mission is an important hallmark as it is the first time the PRC and CRC have operated together outside their respective countries.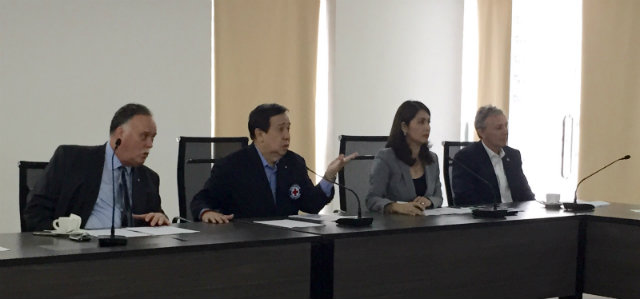 Unprecedented Philippine participation
Chairman Gordon also highlighted that this is also the first time the PRC has ever deployed volunteers outside the country. 
"Although we may be short in resources, we are not short in talent," said Gordon.
Roughly 25 Filipino personnel in the fields of medicine, health and sanitation, administration and emergency rescue were deployed to Nepal in recent months. (READ: PH Red Cross deploy search and rescue team to Nepal)
A delegate deployed during the first rotation, Florianne Adlawan, told Rappler that she was very proud to be part of a Filipino team. "Filipinos are very well-rounded," Florianne mentioned. "I handled all the logistics and administrative work, but I'm also a nurse. My colleague Spencer is a nurse by training, but he can handle plumbing as well. He was able to connect the water system of the hospital by himself."
"People were astounded our doctors could perform so many procedures in such a difficult landscape," said Gordon.
The PRC's medical team assisted in maternity health care such as childbirth and caesarean operations for high-risk pregnancies. They also performed other life-saving surgeries and emergency medical procedures to respond to injuries from the earthquakes that struck first on April 25 and again on May 12. (READ: Second quake part of chain reaction)
Firsthand accounts
The delegates themselves gave insight into what their experiences were like in Nepal.
Leonardo Ebajo, the overall leader of the search and rescue team, recalled how they conducted rapid assessments alongside the American Red Cross in order to gather information on the immediate needs of affected populations. They also built 3 Rubb Halls, or large tent structures, near the national headquarters of the Nepalese Red Cross and next to the airport. Finally, the team facilitated loading non-food items to be distributed to areas in dire need.
Dr. Ranvier Martinez, an emergency medical doctor, described her experience being stationed in Tatopani, an isolated village in the Himalayan Mountains. Her Philippine-Canadian contingent was made up of 4 nurses, 3 doctors, 2 technicians and 2 interpreters. Within 2 days, her team was able to set up a small basic healthcare unit. Patients began to flock from neighboring villages. "On average, we treated between 50-60 patients a day," Dr. Martinez tells Rappler.
On May 12, only days after establishing the healthcare unit, a second earthquake struck. The tremor caused panic in the area and more and more patients poured in. "The area was very unstable. After the earthquake, there were sandstorms and rockslides," Dr. Martinez recounts. "The roads were impassable. The satellite phone wasn't working. We had no idea if we could be rescued." The team leader told them to pack their belongings into their bags and take only what they could carry. "We slept with our shoes on that night so that anytime the rocks might fall on us, anytime another earthquake might happen, we could run."
Dr. Martinez and her team were rescued the following day via helicopter.
Building back
Adlawan says that the overall experience has allowed her to realize that she can make a real impact on people lives. By training local staff and building local capacity, she says, she empowers the Nepalese to build back better.
Ambassador Reeder commented that the experiences of the PRC delegates are a "heartwarming and important testimony to hear." Just as many countries reached out to help the Philippines in its moment of need, "it is very important to see the Philippines also reach out in that spirit of bayanihan (community) to those abroad who are suffering" said the Ambassador. – Rappler.com
Rina Laurel is a Rappler intern.