'Ayuda' has now come to mean a 'glimmer of hope' for students during this pandemic
What started out as a Facebook group comprised of a small network of friends has become a thriving platform for students to share their needs as the country shifts to distance learning.
Put up on August 1, the Ayuda Pang Eskwela Facebook group has raised P1,005,644 after just 9 days.
The group, which seeks to connect students from disadvantaged sectors with Filipinos who are willing and able to give financial assistance, has already helped 229 students reach their target amount of donations.
After seeing the rise of efforts such as the #PisoParaSaLaptop campaign and #PasokMgaSuki Facebook group, 30-year-old Diane Reyes founded Ayuda Pang Eskwela to create a more organized platform for students to seek financial support.
Through the group, donors seeking to help students in need can simply browse through the posts for possible beneficiaries.
Originally, the pool of donors came from Reyes' own network of friends and colleagues. Over time, the group gained traction on social media and became a community of concerned individuals who wanted to help Filipino students prepare for the upcoming school year.
Trust and transparency
What sets Ayuda Pang Eskwela apart, according to Reyes, is the transparent relationship among the donors, moderators, and beneficiaries.
To ensure that the donors' ayuda (aid) will go to real students in need, the moderators follow strict criteria for admitting students into the private Facebook group and approving their posts.
Students must be 18 years old and above to be admitted to Ayuda Pang Eskwela. If they are under 18, their parent must be the one to join the group.
The group's moderators approve the posts of only 20-30 beneficiaries per batch, so that each post has an equal opportunity of being viewed by the donors. Those who want their calls for donations to be amplified should include a photo of their student ID and their GCash number in their post for approval.
Reyes shared that she personally talks to each student to assess their needs and inquire about their financial situation.
"After getting to know them, we set targets together," she said. "I ask them what gadgets they're eyeing and suggest secondhand laptops that are around P8,000-10,000, so that their goal will be more achievable."
"When they say that they've raised P2,000 out of their P10,000 target, I try to shift their perspective by telling them that that's already 20% of their goal!" Reyes added.
The group's moderators only proceed with the next batch of beneficiaries if 95% of the students from the previous batch have reached their target amount of donations.
Paying it forward
19-year-old Daniel Fincalero was one of the students who was able to purchase a laptop after receiving financial assistance from donors in the group.
A 2nd year nursing student at National University-Manila, Fincalero had been looking for ways to help his mother, who has had no stable job since the start of the lockdown.
After Fincalero's post was approved in the Ayuda Pang Eskwela group, not only was he able to receive P8,000 in cash donations, but he was also given a prepaid WiFi unit by a donor.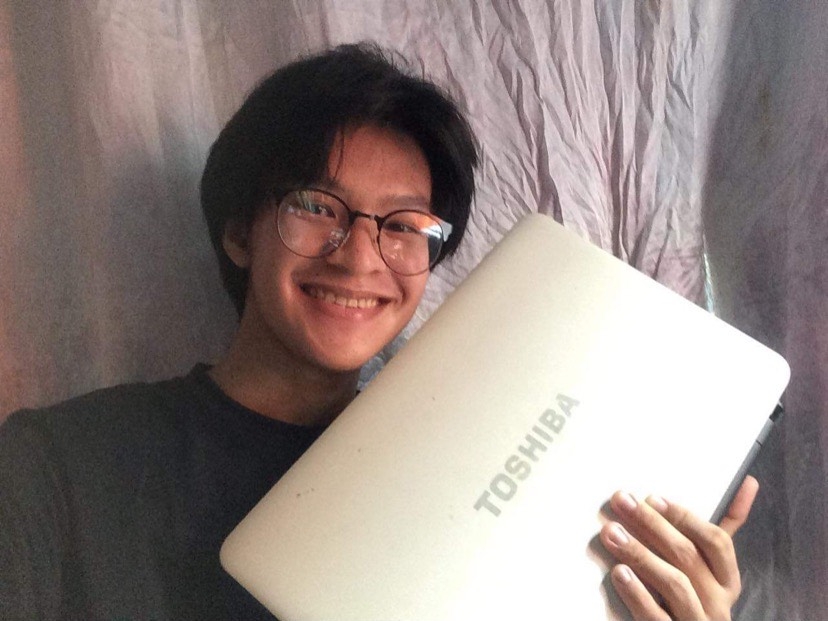 Overwhelmed by the outpouring of donations, Fincalero sought to pay it forward by joining the "Ayuda Pang Eskwela Kabataan," which was organized by Reyes for students who have already reached their target but want to help out other students in need.
The Ayuda Pang Eskwela Kabataan helps moderate the Facebook group by verifying students who wish to join and bumping up the posts of those who have not yet received aid from donors.
Fincalero shared that he enjoys taking part in work that is "not just transactional, but transformational" because he is able to interact with his "classmates" and help them reach their goals.
Pulling in donors
As the opening of classes looms closer, more and more students are seeking financial support for gadgets and internet connection.
"The cost of the new schooling necessities are proving too constrictive, driving families to the edge and putting the continuing education of their children at risk," Reyes said.
After personally interacting with these students, Reyes observed that they are not willing to give up on their education, because "that's the only way they know for them to have a better future."
Even for the parents, the shift to distance learning is a heavy burden to carry. "Gagawan nila ng paraan para lang makapag-aral yung mga anak nila (Parents do everything they can to give their children an education)," Reyes said.
With the influx of students joining the Ayuda Pang Eskwela group, Reyes shared that they are looking for more donors who are willing to support the cause.
Although the group was only shared organically from Reyes' network of friends when it was first put up, it has since gained over 5,000 members, majority of whom are students in need.
To pull in donors and promote the group, Reyes has been reaching out to media outlets and content creators who can make promotional materials for Ayuda Pang Eskwela.
Not just a 'one-time project'
The platform has not only helped a number of students prepare for the shift to distance learning but it has also provide opportunities for donors to give back.
"I'm refusing to believe that this is just a one-time project," Reyes said. "Eventually, pag nakatulong tayo, sila naman someday 'yung tutulong sa iba, once they reach success."
(Eventually, when we've helped them, they'll be able to help out others as well, once they reach success.)
Reyes added that many have reached out to share that they have been looking for ways to help out students in need, and are grateful for a platform to finally do so.
"Ayuda is a Spanish word that means help, but in this group, Ayuda means a glimmer of hope for students that despite the challenges they're experiencing, there's still a chance to succeed because there are people willing to help," Reyes said. — Rappler.com