A farmer-CEO, scientist, and a mayor, despite sometimes getting belittled for their gender, make important strides in the fight against COVID-19
In many ways, the coronavirus pandemic has affected women more than men. Reports of gender-based violence shared alarming results, sexual and reproductive health services were difficult to access, and President Rodrigo Duterte continued to make sexist remarks in his public addresses.
The pandemic has also shown that many women continue to be underestimated when it comes to leadership roles.
But that hasn't stopped women from choosing to excel in their fields, and making the best out of their skills to help their communities survive. In a March 11 webinar, girl bosses Cherrie Atilano, Dr Joann Diray Arce, Mayor Trina Fabic, and Ambassador Anke Reiffenstuel showed how large an impact a woman can make in these difficult times.
The webinar was organized by Oxfam Philippines in partnership with Rappler's civic engagement arm MovePH.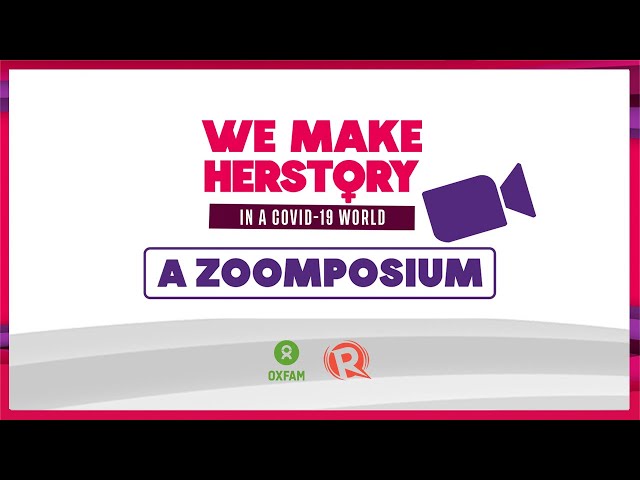 Cultivating human beings
When most people think of farmers, they think of men. Cherrie Atilano, however, is a proponent of women in agriculture in the Philippines. A farmer herself, she founded Agrea, an agri-business founded on sustainable agriculture and fair trade.
Atilano said that Agrea centers not on the cultivation of land or crops alone, but the "cultivation of human beings." Food producers in the Philippines, she said, are often left behind.
"It's a crime against humanity that the food producers – the farmers and the fisherfolk – are always the hungriest and the poorest," she said.
Of the industries that crashed in the pandemic-induced recession, agriculture is one that continued to thrive. People stopped buying everything except food. Atilano saw that as an opportunity.
Agrea's vision is to create the first one-island economy – starting with Marinduque and Siargao. Atilano noted that in Siargao, the influx of tourists caused the depletion of resources and the importation of food. Similarly, most of the food in Boracay is imported, "which should not be done," Atilano said. Instead, we should be making the most out of our resources.
They are also working to uplift the lives of their farmer communities, particularly female farmers. Part of how they do this is through zero-waste initiatives.
During the pandemic, Agrea also delivered grow kits to almost 1,000 women to plant and grow their own food.
Encouraging volunteerism
Mayor Trina Fabic of Odiongan, Romblon ran a simple, inexpensive, yet effective and engaging response against COVID-19 in her municipality. But she refused to be the star – by encouraging volunteerism, her community was front and center.
As a relatively young woman in politics, Fabic described being belittled simply because of her gender. She had experienced stereotyping and misogyny from male co-workers, but she didn't allow the underestimation to get ahead of her.
In Odiongan, Fabic was able to keep the people fed through numerous programs, including a market on wheels, and an e-palengke (e-market) app. The local government also established a program where they bought produce directly from farmers and fisherfolk for food packs.
The local government got creative in the many ways services could be contactless. They created an e-prescription system for high-risk individuals, digital consultations, a laboratory on wheels for the elderly, and a library on the go for children. 
"The pandemic has shown us that we need more compassion and we need more purpose in our leadership, both from men and women," said Fabic.
Scientist by day, mom by night
US-based scientist Dr Joann Diray Arce is not only living in the country hardest hit by the coronavirus, she was also part of the team of experts who did research on coronavirus vaccines at a time when the pandemic's end was nowhere in sight.
She's a great mom, too.
Arce's team was selected to do research about the disease under the direction of Dr Anthony Fauci after the World Health Organization declared the COVID-19 outbreak a pandemic on March 11, 2020. 
Individually, she was assigned to be the immunoassay and computing lead for the clinical and data coordinating center of the project. For this kind of project, scientists usually prepare for 8 to 9 months, but this time, they compressed the set-up to 6 weeks and had to start from scratch.
The situation started to compound – borders were closing, schools were moving online, and she had to absorb all of this in both her roles as a scientist and a mother. She was burned out.
"Science is my passion, but being a mother is my life calling and my most sacred responsibility…. Being a mother during a pandemic makes me feel like a very protective hen gathering her chicks under her wings, but now, the enemy is an unseen one," she said.
Arce and her husband worked as partners to manage the household and take care of their kids, aged 8, 5, and 1. She did the cooking while her husband did the cleaning. The kids also had their own responsibilities at home. Somehow, the family was able to make it work, all while Arce excelled in her research.
"You are replaceable at work, but not at home," said Arce.
Pandemic response through a gender lens
In the first months of the pandemic, Germany emerged as one of the countries applauded for its crisis response. Under the watch of Chancellor Angela Merkel, the country kept its death rate relatively low for most of 2020.
Research has shown that countries led by women have been doing better in their pandemic responses.
When flu season began in late 2020, Germany started to face its second wave of infections. According to German Ambassador to the Philippines Anke Reiffenstuel, Merkel imposed new lockdowns and tighter regulations, but the "inclusive" approach they have been taking since the beginning of the pandemic has not changed.
The German government understands that the pandemic, as a public health crisis, spills over to all sectors of life, including people's personal lives.
"The imbalance of usually having two jobs for women, office and family, is not new, but the situation has been fueled further by the pandemic. [It] has increasingly raised the attention on the necessity of fairness and gender equality," said Reiffenstuel.
One way they promoted gender equality in their crisis response is by pushing for flexibility for work from home arrangements. They also promote the inclusion of women in leadership roles. International Women's Day, March 8, is also a public holiday in the country.
Germany has also pledged at least 2.1 billion euros to support global COVID-19 vaccination efforts, including the COVAX Facility.
"We support recommendations from international studies that came to the conclusion that societies where equal rights for women are provided, and societies in which women have an equal share in decision-making and leadership, that such societies provide an adequate environment that promote stability, security, and peace," said Reiffenstuel. – Rappler.com