Since the beginning of the pandemic, the Pachamama Art Studio extended help to hospitals and other community projects by providing free handmade face masks to municipal workers, farmers, and care workers
Hoping to raise enough funds to help rescue and rehome stray pets in her home province, Cebuano artist Babad Rodriguez-Cortes made it her mission to sell her specially designed face masks.
Babad, a certified fur-mum, established the Melbourne-based Pachamama Art Studio in late 2019 as a creative endeavor to help her practice her art.
In this studio, Babad would paint "whimsical" acrylic art on canvas, largely inspired by Mexican folk art, Van Gogh, and Klimt, to name a few.
It wasn't until 2020 that Pachamama Art Studio would expand to help her transform her artworks into face masks, tote bags, indoor slippers, and other products that are manufactured in the Philippines to support the rural economy.
"We use local materials. The products are hand-made, reusable, and we prioritize charity missions," said Babad. (READ: Artists raise more than P1 million to produce free face masks for all in Iloilo City)
Since the beginning of the pandemic, the Pachamama Art Studio has donated to Cebu Doctor's Hospital, Vicente Sotto Memorial Medical Center, Ginatilan Municipal Health Office, and various other community projects by providing free handmade face masks to municipal workers, farmers, and aged care workers.
Fur-parenthood and supporting the 'furry-cause'
Babad takes care of 3 rescue dogs with her family in Australia.
"I have two Siberian Huskies and one Alaskan Malamute. One of them was rescued from a breeder, while the other two were private surrenders in need of a new home," she said.
Given her reputation as a fur-mom on her Facebook page, she strongly believes that people have to adopt rather than shop for pets.
"Even here in Australia, there are so many dogs in need of a good home. We seriously have to stop supporting breeders," she added.
In an effort to also help rescue strays in the Philippines, Babad's Pachamama Art Studio initiated a charity mission with Happy Tails Philippines – a nonprofit dedicated to rescuing and protecting pets from abuse.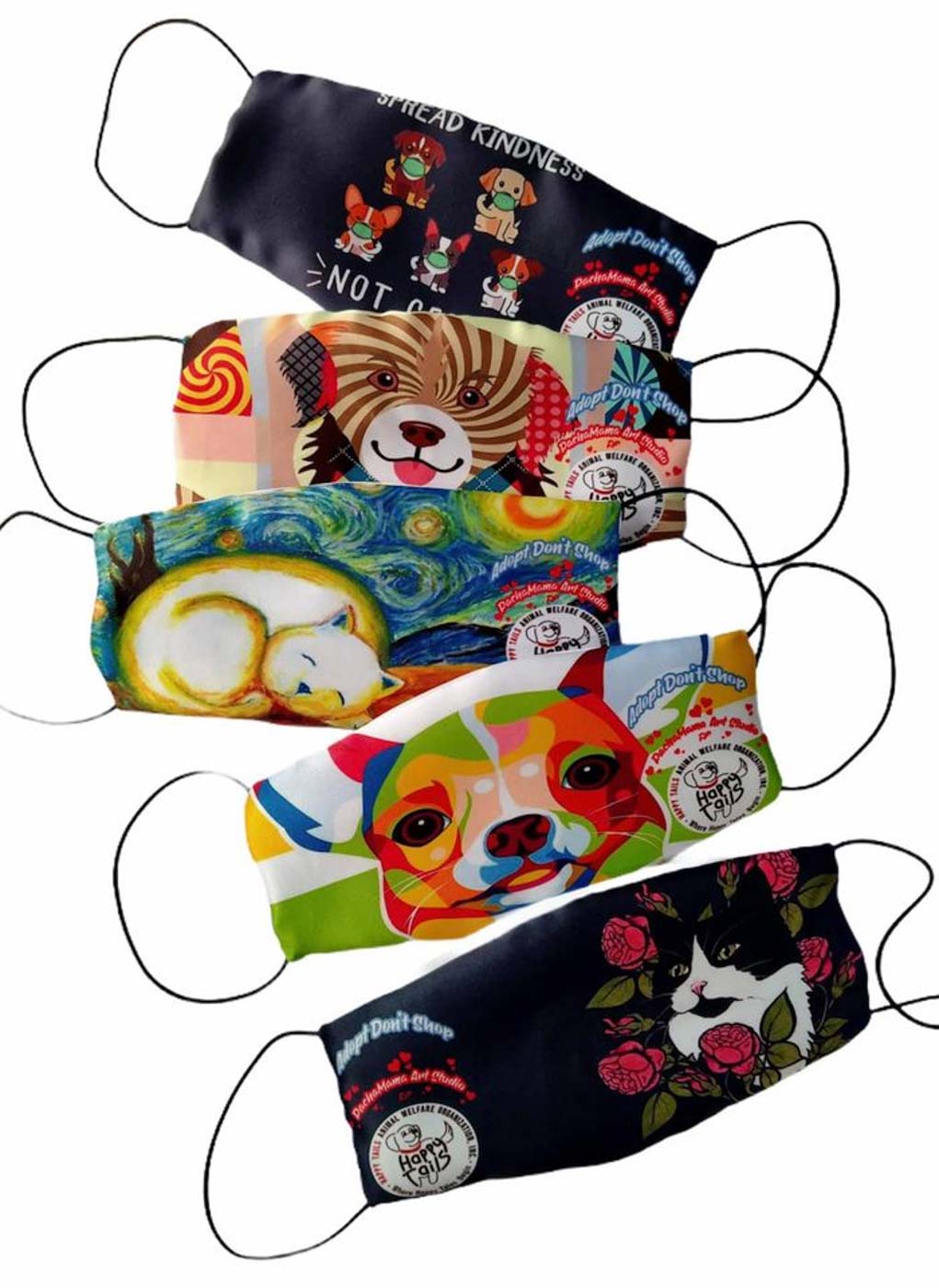 The projects involves creating a series of specially designed face masks to be sold to fund rescues and rehoming stray cats and dogs in Cebu City.
"I want my art to always convey a message of kindness and inclusivity and that includes our furry friends – especially the ones out on the streets," said Babad.
True to her message, these handmade face masks have colorful designs with adorable images of cats and dogs.
Hoping to inspiring others, most of the designs on the face masks carried a central and consistent slogan: "Adopt Don't Shop."
Art with meaning
Just like most artists, Babad yearns to find inspiration to create more art and to have meaning in every piece she creates, especially when it comes to her studio.
For Babad, Pachamama – a South-American term that means "Mother Earth" – is the muse for her art and is also why the studio is designed and named after her. This made it obvious then that Babad would need her art to be reusable, and more importantly, sustainable.
"I want people to know that my products are loud and proud – Filipino made," Babad said.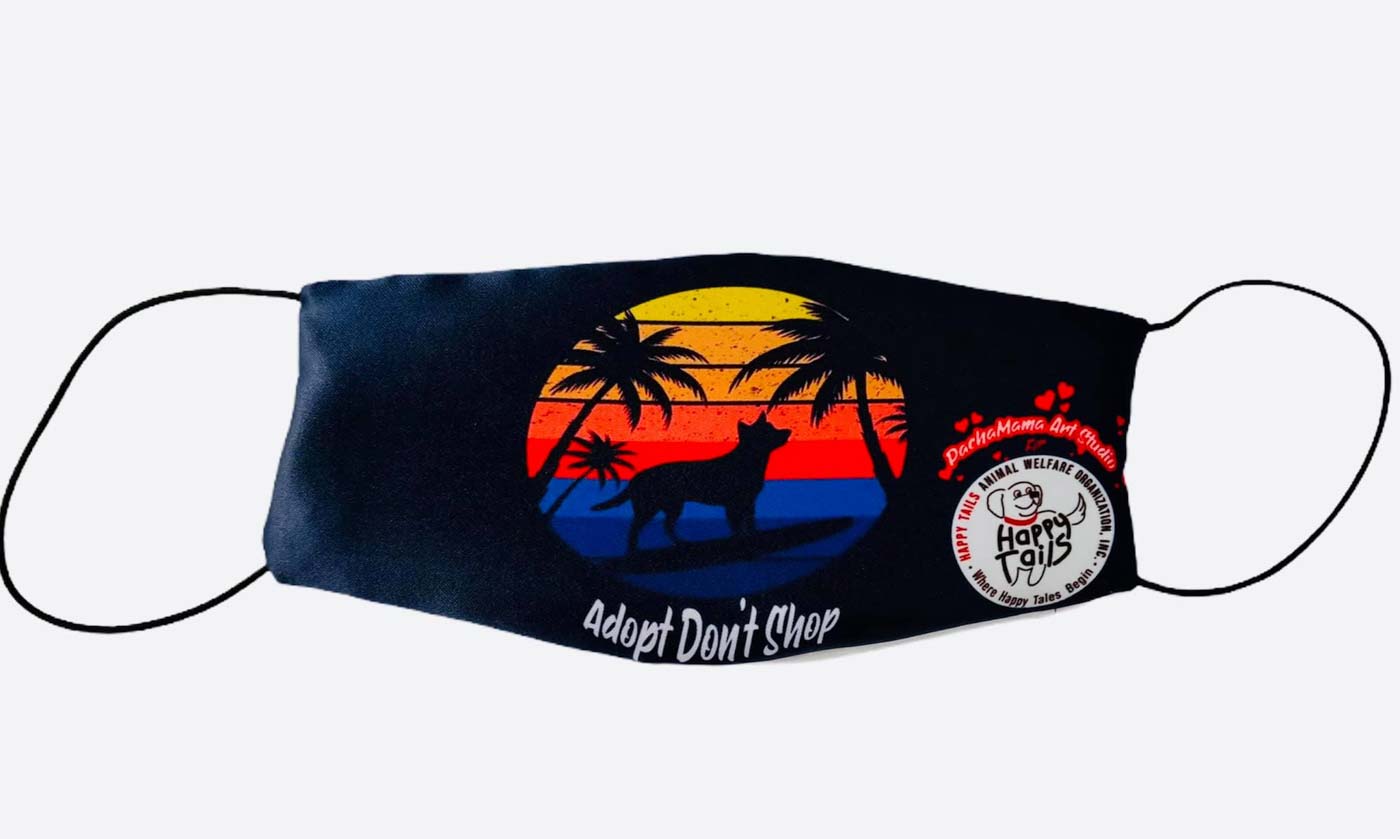 Without looking too far, Babad decided to employ a team of 3 to 5 people based in her father's hometown in Bogo City, Cebu, where she spent most of her summers, growing up.
The team – her "Pachamama Fairies" – would lay the handiwork by taking the designs from artworks in her Melbourne studio and incorporate them into the fabric of bags and other wearable products that they had made in Cebu.
This, to her, is art with meaning.
"It's sort of not only a way for me to see my art transformed into usable and wearable products, but it's also my way of giving back to my local community by helping skilled young people earn a living and be self-sufficient," she explained.
"It's high time we tap into our local skilled workers and keep the economy in our communities," she said. (READ: Pinukpok designer in Albay makes face masks, protective gear for frontliners)
At the end of the day, Babad's drive to create art with meaning would later prove to be beneficial to not just local workers in rural areas, but to frontliners in need of reusable face masks, and even stray fur-babies in need of better care.
For those who want to show support for the cause, they can purchase the handmade face masks for P80 each. This would go a long way in funding Happy Tails Philippines in their efforts to provide shelter and food for the animals in their care.
Orders can be made online by contacting Happy Tails Philippines' official Facebook page.
You may also visit Happy Tails Philippines rescue shelter which is located in Barangay Lahug, along Sanson Road. – Rappler.com