While Tacloban City is threatened by the COVID-19 pandemic, the lessons learned and applied from Super Typhoon Yolanda 7 years ago help them manage both the health crisis and any impeding typhoons
So much has changed in Tacloban City after it suffered destruction from the onslaught of Super Typhoon Yolanda, the most devastating disaster to hit the Philippines in recent history.
Tacloban City, known as Yolanda's "ground zero," was the most devastated city. The super typhoon left more than 6,000 people dead and brought massive damage when it battered Eastern Visayas on November 8, 2013.
The city has since learned its lesson, having refined its disaster preparedness practices in a bid to stop the city from buckling, even from future super typhoons.
Now the city is facing typhoon season on top of the COVID-19 pandemic, which has posed challenges in its disaster response.
Importance of evacuation
Among its lessons from Super Typhoon Yolanda was the importance of early evacuation.
Back in 2013, many left their evacuation centers just to secure their things at home. They ended up getting caught in the middle of the super typhoon's onslaught.
Since then, residents now voluntarily evacuate even before the barangay makes the announcement whenever a typhoon is forecasted to hit the province.
While the city's residents have learned their lesson, evacuation in the middle of the pandemic has become especially difficult as 4 of Tacloban's 71 evacuation centers have been converted to quarantine and isolation facilities.
The government has rented separate hotels as quarantine facilities for medical and non-medical frontliners, returning locals whose residences do not comply with home quarantine requirements, and those vulnerable to COVID-19.
Still, the city has had to allot some of their evacuation centers as additional quarantine and isolation facilities.
"We had to convert it to the point that we had to construct cubicles and accommodate one person for quarantine," city disaster risk reduction and management office (CDRMMO) head Ildebrando Bernadas said.
"Hindi namin magagamit kasi may tao pa, compromised na yan. We have to sanitize it before others come and become accommodated for evacuation," he added.
(We cannot use it because there are patients being quarantined there and the area is compromised. We have to sanitize it before others come and become accommodated for evacuation)
Resettlement sites for Yolanda victims, whose houses were destroyed by the super typhoon, were also converted to temporary community quarantine facilities. (READ: Pandemic exposes gaps in PH's evacuation centers)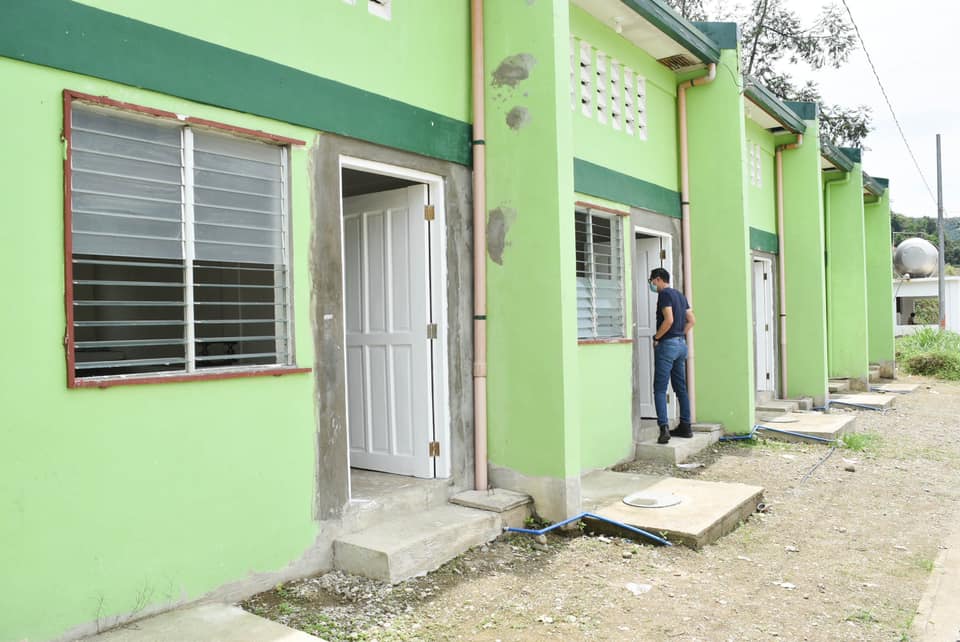 This is just one of the challenges posed by the pandemic to local government units that have to juggle both disaster preparedness for typhoons and the COVID-19 pandemic.
Coordination with barangays
Barangays are also feeling the effects of the COVID-19 pandemic on their disaster response.
In Barangay 88, the hardest-hit village in Tacloban during Yolanda, for instance, rescue operation trainings were postponed due to the pandemic.
Barangay 88 chairperson Emelita Montalban shared that these trainings were previously done out of compliance but they have since learned the value of applying it in practice after the super typhoon struck.
"Basta may anunsyo hin bagyo, nagoobserve na kami han mga alert level basta mayda tiarabot na bagyo, nagcoconduct kami hin meeting with the working committee and gniinform an mga tawo kun mayda na order," Montalban said.
(Whenever there's a typhoon announcement, we would observe alert levels and conduct meeting within the working committee, and inform our residents for any orders from the disaster management group)
The barangay has placed a premium on disaster response and preparedness after Super Typhoon Yolanda but due to the pandemic, it has had to sacrifice holding trainings for safety reasons.
The challenges posed by the pandemic reverberate across the city. To juggle typhoon and pandemic response, disaster officer Bernadas shared that some of its manpower has also been assigned to help in the COVID-19 response and would be put on call when a typhoon strikes.
He added that other disaster preparedness efforts and funding have been used to prioritize pandemic response.
"Although [in] 2015, meron na kaming ginawa na emergency medical setup [for] disaster-related health emergency. 'Yun ang ginawa namin. Kaso lang when this pandemic happened, we had to convert other preparedness towards COVID-19 response," Bernadas stressed.
(Although in 2015, we have an emergency medical setup [for] disaster related health emergency…that's what we did. But when the pandemic happened, we had to convert other preparedness towards COVID-19 response)
Taking off from their learnings from Super Typhoon Yolanda, Bernadas pointed out how coordination with different barangays within the city and other local government units play a vital role in preparing for disasters. This coordination is also especially helpful in a health crisis like the COVID-19 pandemic.
He added that barangays now have their own operational disaster risk reduction and management committee. However, others still lack basic equipment, vehicles, and ambulances used in rescue operations.
Realizing that the lack of proper communication could hamper timely and effective rescue and relief operations, they came up with an emergency public address system to inform their residents about any typhoon warnings, evacuation alert, rescue and relief management. This also helps ensure that proper health protocols are in place in barangays.
They have also organized barangay health emergency response teams (BHERTs) in at least 62 barangays out of the 113 barangays in the city, which are trained to help in the contact tracing, monitoring, and surveillance of COVID-19 carriers at the community level.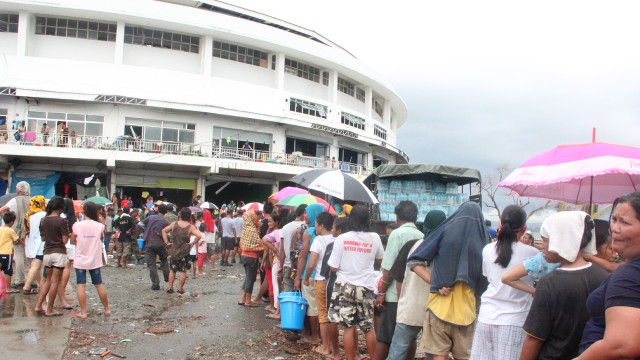 Added clusters in emergency response
One of the challenges in managing disasters, which is also true during the pandemic, is to secure the safety and security of the city.
The widespread looting became a problem back in 2013, when typhoon victims got hungry because of delays in the distribution of relief goods.
To prevent this from happening again, Bernadas emphasized that Tacloban City implemented additional clusters to the 11 emergency response clusters followed by the national and global standards, because of its experience during Yolanda.
"The ones we added are separating emergency response and retrieval to that of peace and order because of the rampant looting that we experienced, although perpetrators mostly came from nearby municipalities in search of food," Bernadas said.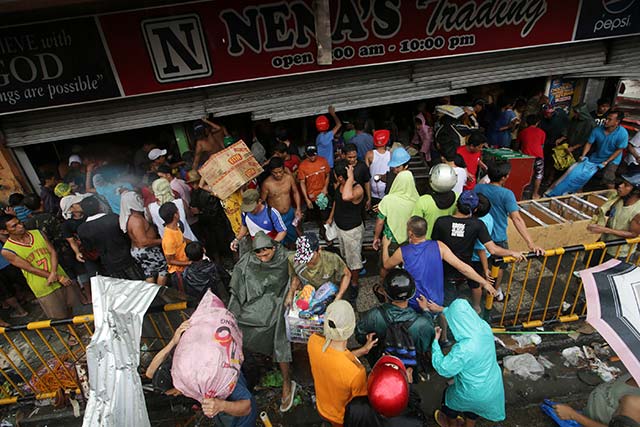 Bernadas explained that all uniform and military individuals are now tasked to focus on protecting or securing the entire city and would no longer be involved in evacuation and retrieval operations.
"Tacloban is the center in the region. It is easy to say that what happens in Tacloban during a disaster will really affect the entire region. Banks, institutions, universities, hospitals, groceries, and malls are here. We really have to protect the interest of the region by protecting our own interest also," Bernadas stressed.
Another cluster was also created to ensure price control of commodities, especially when demand for essential goods and supplies lead to overpricing during disasters.
"After Yolanda, the prices of commodities were really high, and we had to control that based on our experience. We enacted into our cluster approach price monitoring and control. That is why even the typhoons that would indirectly Tacloban in the past, we were able to control abusive pricing of commodities and others," Bernadas added.
Partnership is vital
To maximize resources in times of disasters, the DRRMO head also highlighted the importance of partnership with the private sectors in disaster management.
Private groups provide transportation assistance, relief goods and even gasoline or fuel supply. In turn, the local government would be responsible in ensuring the security of these properties from rampant looting.
"Wala namang tao expert na emergency response. You might be experienced but you're not [an] expert because emergency response for us is customized. Anong mayroon ng isang locality, iyon ang mabibigay. Anong capability meron ka, iyon lang maibibigay. But you cannot be on your own. You have to rely on partnership with other agencies, lalo na sa private sectors," he stressed.
(There is no person who is an expert of emergency response. You might be experienced but you're not an expert because emergency response for us is customized. You can only give what your locality has. You can give based on the capacity that you have. But you cannot be on your own. You have to rely on partnership with other agencies, especially with the private sectors)
Despite the challenges that the pandemic has brought to a city that was once struck by a super typhoon, the DRRMO head stressed it is now better prepared for disasters.
"We can say we are prepared better than what preparations we had during Yolanda. Because we have learned so much, we have equipped ourselves in terms of capacity, we have trained so many in terms of emergency response, so we are ready," Bernadas said.
"We are ready to face an impending disaster, even with the scale of Yolanda in terms of, say, strength to that of Yolanda," he added. – Rappler.com