'Sa panahon ng pandemya, maraming nagugutom. Ang kailangan ng mga mamamayan ay ayuda, kaya ang panawagan namin, ayudang pagkain, hindi buhangin,' says fisherman Gilbert Reyes
Gilbert Reyes has been fishing in Manila Bay for 25 years. He and many others whose livelihood depend on the area fear that this may soon end.
As part of the Manila Bay rehabilitation project, the Department of Environment and Natural Resources (DENR) made an artificial beat at the Manila Baywalk using synthetic white sand made from crushed dolomite.
Two weeks later, dead fish washed up on the Baseco side of Manila Bay in Tondo. Residents claimed the waters also turned a shade of white from the distance.
While DENR denied the connection of the Baseco fish kill to the white sand project, the Cebu provincial government recently reported that corals within 500 meters of seawater in Barangay Pugalo, Alcoy, Cebu died because of heavy siltation from the dolomite mines. This is the same town that supplied Manila Bay's synthetic white sand.
DENR Undersecretary Benny Antiporda earlier refuted speculations that the fish kill in Baseco was caused by the white sand project, given the distance between Manila Baywalk and Baseco area. He also cited the breakwater.
Despite this explanation, fishermen in Manila Bay are worried after seeing dead fish float at Baseco Beach, part of the shore of Manila Bay. Many of them claimed that it was their first time to see so many dead fish wash up there.
"Makakasira [ang white sand project] dahil ang dagat gagawing lupa at ang tinatambak nila ay may chemical. Saan pa kami mangingisda? Tinanggal na karapatan namin mabuhay sa dagat at ano pa ang ibubuhay namin sa pamilya namin?" said Reyes, who is also the chairman of Pangisda Paraňaque.
(The white sand project could destroy Manila Bay as they are transforming the sea into land. The dolomite also contains chemicals. Where will we fish instead? They are taking away our livelihood. How can we provide the needs of our family now?)
Environmental organizations and fisherfolk groups such as PAMALAKAYA added that the dead fish in Baseco indicated that "Manila Bay is degraded as it is."
Heightened burden
As the breadwinner of his family, Reyes has been relying on his livelihood as a fisherman to cope during the pandemic.
The months-long lockdown has only worsened their financial burdens. Bills piled up, leaving Reyes with barely enough money to buy milk for his newborn baby.
According to Reyes, fishermen in Manila Bay heavily rely on the quality of its water to catch fish. With the feared environmental impact of the artificial white sand to the waters, he is concerned that this would lead to more fish kill incidents in the area and further limit his catch.
Fishermen in the area had already faced other challenges when public transportation was suspended from March to July, leaving them with limited means to sell and transport the fish they caught to major fish ports in Metro Manila.
Due to the limited income from fishing, Reyes had to find ways to make ends meet. He would wake up as early as 3 am to drive a pedicab and then fish come daylight to earn extra income for his family.
PAMALAKAYA chairperson Fernando Hicap is in the same boat. He moved to Rosario, Cavite, back in 2005 and has been fishing in Manila Bay for the last 15 years.
Like Reyes, Hicap expressed concern that the white sand project may create a domino effect that will harm the bay's ecosystem.
"Kung maaapektuhan nito ang mga isda, apektado rin ang kabuhayan ng mga maliliit na mangingisdang umaasa sa dagat (If the fish are affected, the livelihood of fishermen will be affected, too)," Hicap said.
Dwindling livelihood
Reyes also shared that many fishermen in Manila Bay have not yet received government aid to help them cope with the pandemic. Others only began receiving the second tranche of cash aid through the government's emergency subsidy program in the second week of September, even though the government promised to distribute it by July 31.
This was a blow to thousands of poor families, who saw a P389-million cosmetic rehabilitation project completed before they got their cash aid.
"Sobrang tagal [dumating ng ayuda]. Napakabagal ng sistema nila, patay na sa gutom bago [m]akakain," Reyes said.
(The aid takes so long to arrive. Their system is so slow, people would die of hunger before the aid came.)
Reyes said rather than reclamation, the government should have prioritized Manila Bay's rehabilitation.
"Ang panawagan namin ay yes sa rehabilitation, no to reclamation. Sa panahon ng pandemya, maraming nagugutom. Ang kailangan ng mga mamamayan ay ayuda, kaya ang panawagan namin, ayudang pagkain, hindi buhangin," said Reyes.
(Our appeal is yes to rehabilitation, no to reclamation. In this time of pandemic, many are going hungry. What we need is food, not white sand.)
Prior to the white sand project, there were already 19 reclamation efforts in Manila Bay in various stages of development, including one in connection to the construction of the Bulacan airport.
'Hindi kami basura'
Like many of the fishermen, several residents living along Manila Bay now fear being evicted from their homes to make way for the creation of an artificial beach that will "attract more tourists."
Baseco Seaside Neighborhood Association President Regine Nequia shared that she hopes the government would consult residents first, as they are the ones who will be directly affected by any projects in the area.
She stressed that they do not oppose these rehabilitation efforts. In fact, they planted 1,000 mangrove trees in Aplaya, Baseco, back in 2010 to help restore the bay. These trees are known to filter and store metals, preventing pollutants from contaminating coastal waters, according to Wavefarers, an environmental youth organization.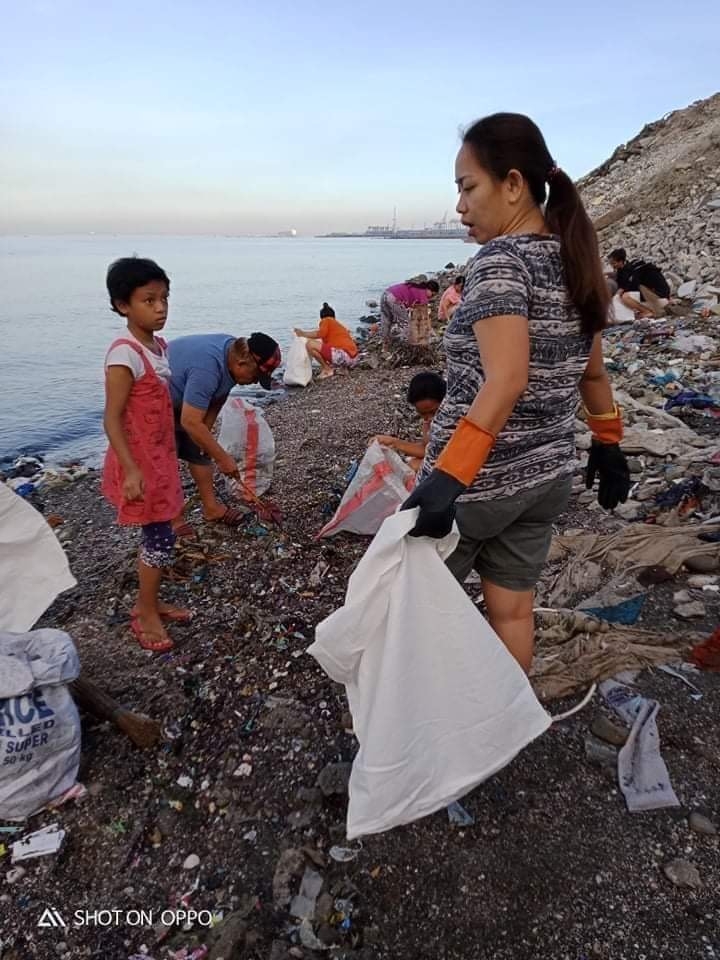 "Sana pakinggan din kami. Hindi kami mga basura lang na dahil madumi tingnan ay basta na lang itatapon sa malayo (I hope they will listen to us. We are not like a waste that they can just dispose of only because we look dirty in their eyes)," Nequia appealed.
– Rappler.com