Human Rights Watch says the Tarlac shooting shows 'many members of the Philippine police are simply out of control'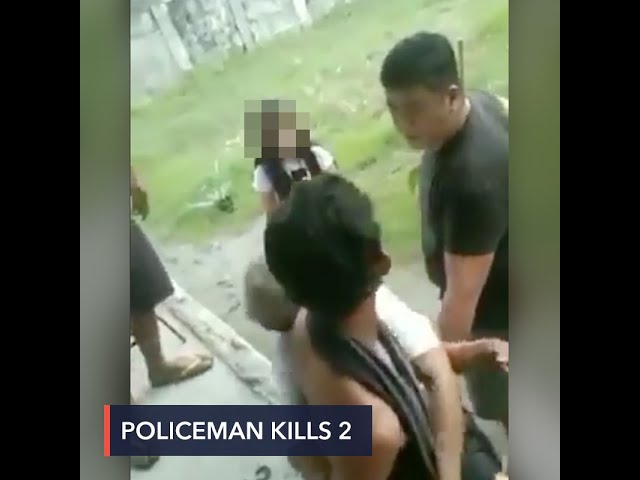 Following a cop's killing of an unarmed mother and son, human rights and civic groups on Monday, December 21, called out the "police violence and brutality" in the country.
On Sunday evening, December 20, Police Senior Master Sergeant Jonel Nuezca shot dead Sonya Gregorio, 52, and her son Frank, 25, in Tarlac. The killing was captured on video and went viral on social media with netizens using #StopTheKillingsPH and #JusticeForSonyaGregorio.
Artist-activist group Dakila condemned the killing that happened in broad daylight and with many witnesses around.
"As we express rage over this brutal killing, we also remind everyone of the reality that this is not the first time it happened," Dakila said in a statement on Monday, December 21.
"For the past years, we have seen how time and again the police not only fail to 'serve and protect' us. In many cases, they are the ones who pull the trigger at civilians," the group added.
Not an isolated case
Contrary to Interior Secretary Eduardo Año's statement that the shooting was an "unfortunate but isolated incident," groups stressed that the killing was one of the too many cases of "police brutality" in the country.
Human Rights Watch (HRW) deputy Asia director Phil Robertson reiterated that the killing was "just the latest incident" of the reality that "many members of the Philippine police are simply out of control."
"As with many incidents of recent police violence, the killing by Nuezca of Sonya Gregorio and her son Frank was brazen and underscores the impunity that prevails in the Philippines," HRW added.
Groups for one cited that the killing was a result of the government's failure to hold law enforcers accountable but enabled a culture of impunity and violence.
"Countless times, Duterte has excused police misconduct and promised to let them off the hook. Sunday's killings in Tarlac province are an inevitable result of the Philippine government's failure to hold erring law enforcers to account," HRW stressed.
Not too long ago, President Duterte defended Metro Manila police chief Major General Debold Sinas, who faces criminal raps for violating community quarantine rules, and was even promoted as the Philippine National Police (PNP) chief.
In a report, the UN rights office stated that local systems have so far failed in exacting accountability over the killings in Duterte's war on drugs. A Rappler analysis published in 2019 also found that the government has let thousands of killings go unsolved.
'Normalized system of impunity'
Dakila said this "culture of impunity" was normalized by no other than President Rodrigo Duterte himself.
"This culture of impunity and violence – normalized by the President himself – has encouraged uniformed personnel to abuse their power and use their force outside duty. Their authority doesn't give them a license to kill and violate law," Dakila added.
For Circulus Legis, a political organization from the Dr Vicente Orestes Romualdez Educational Foundation Inc (DVOREF) College of Law, the incident was a "manifestation of a system of impunity."
"Police violence and brutality are not isolated incidents but are manifestations of one system of impunity – a system of impunity that allows the lack of prosecution on state corruption, extrajudicial executions, fabricated evidence, illegal arrests of freedom-loving activists, and trampling down of our constitutional right to dissent," the organization said.
Bayan Muna also reiterated how this system has enabled the worsening state of impunity in the country.
"This is what happens when the 'kill, kill, kill' culture becomes prevalent and reigning supreme among the police and the military," House Deputy Minority Leader and Bayan Muna Representative Carlos Isagani Zarate said in a statement.
Call to stop killings
The groups also urged that the killings be put to an end and called for justice not only for the death of the Gregorios but also the other victims of police brutality whose killings weren't caught on video.
"This shameless violence is why we fight. This is why our call to #StopTheKillings should only get louder and stronger. We demand justice for Nanay Sonya and Frank. We demand justice for all the killings committed due to police brutality – whether caught by camera or not," Dakila said.
"We pray for justice and peace for the family and friends of the victims, and call for the application of law in its fullest extent. We remain steadfast in our belief that in no case are committed atrocities against civilians justified no matter who or what promises protection or compensation in exchange for blind loyalty," Circulus Legis added. – Rappler.com