#JusticeForBabyRiver also trends online as Filipinos express their indignation over what transpired during baby River Nasino's funeral procession
Various groups called for justice for baby River Nasino on Friday, October 16, the day her mother, jailed activist Reina Mae, bid her goodbye for the last time.
Baby River's burial was scheduled for 1 pm Friday at the Manila North Cemetery. Although the funeral procession was meant to pass by the Supreme Court and the Court of Appeals, the car carrying River's body suddenly changed course and sped off to the cemetery.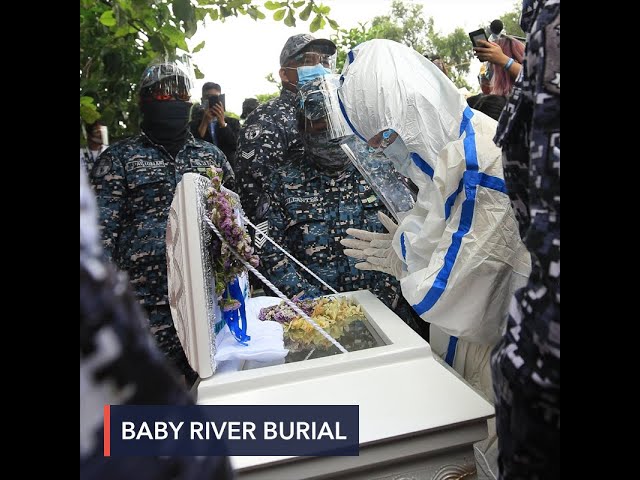 This move had cut the procession short, preventing the kin from paying their respects before the burial. Dozens of policemen at the cemetery also guarded the vehicle carrying the casket. (READ: Baby River, who died in 'cracks' of justice system, laid to rest under tight police watch)
In a statement, the Concerned Artists of the Philippines (CAP) said that the "overkill contingent of police and military" hindered the family's right to grieve in peace.
"Respect the rights of the family to a peaceful funeral and to mourn without fear of harassment. We condemn the continuing actions of state forces…to harass activists and deprive all of our rights even in such moments of grief," CAP said.
There were 43 personnel from different jail units including police who were deployed for the burial, said Bureau of Jail Management and Penology Spokesperson Xavier Solda.
A handful guarded the funeral home in Pandacan, while the other contingent waited by the gate of the Manila North Cemetery.
Reina Mae was not allowed to join the funeral procession on Friday and was only given 3 hours for the burial.
Other groups present in the funeral procession called out the injustice: "Hustisya para kay Baby River! Palayain si Reina Mae Nasino! (Justice for Baby River. Free Reina Mae Nasino!)"
Youth group Kabataan Partylist Katipunan said that the actions of the Manila Police Department were "downright illogical and inhumane," and stressed that law enforcement is supposed to uphold and protect basic human rights.
"We call for these people to remember their responsibilities and their duties not only as law enforcement officers but also as human beings," Kabataan Partylist Katipunan said in a statement.
The Sama-samang Artista para sa Kilusang Agraryo (SAKA) likened baby River's funeral to the case of Anakpawis chairman Randall "Randy" Echanis who was stabbed to death earlier this year.
Echanis' family immediately brought his body to the funeral parlor of their choice upon his death. However, more than 10 policemen "forcibly took" his body once they found out about his identity, and relocated him to a funeral home in Quezon City.
'Double standards'
On Friday, the groups also slammed the government for its treatment of Nasino since she gave birth to baby River while she was in jail for the non-bailable charges of illegal possession of firearms and explosives. Reina Mae was arrested amid a crackdown in 2019 by the Duterte government on activists.
As her daughter was buried, Nasino, who was clad in full personal protective equipment, remained in handcuffs despite her relatives' appeal that it be removed.
The Integrated Bar of the Philippines questioned this and highlighted the need "to do more, better, faster in the justice sector."
"Despite many fully armed Bureau of Jail Management and Penology (BJMP) escorts, police, and military personnel monitoring and accompanying Reina Mae, she remained handcuffed while at the wake," IBP said in a statement.
After she gave birth, Reina Mae lost her pleas at the lower court to keep her baby inside the jail for a year or for a hospital stay arrangement while she needs to breastfeed her child. A month after she gave birth, Reina Mae and her baby were separated.
The IBP in its statement also questioned why the justice system could not safeguard the needs and rights of an innocent child to breastfeeding and a better chance to survive, and why jails don't have adequate facilities to address these needs and rights of women detainees.
"Isn't there double standards when 'bigger' detainees are allowed similar or even greater privilege?" the IBP added.
This was echoed by relief and rehabilitation organization Tulong Kabataan, who stressed the "constitutional right to assistance of every child in the Philippines," which includes proper care and nutrition, and special protection from all forms of abuse, neglect, and other conditions that are prejudicial to their development.
"No child should be taken away from their mother, deprived of basic needs, and be collateral damage in the administration's unjust crackdown on activists," the group said in a statement.
"Muling pinatuyan ng kasalukuyang administrasyon kung gaanong kailap ang hustisya sa mga mamamayang Pilipino (The current administration has proven again how elusive justice is to the Filipino people)," the University of the Philippines Alyansa ng mga Mag-aaral para sa Panlipunang Katwiran at Kaunlaran said in their statement.
On Twitter, #JusticeForBabyRiver topped Friday's trending topics as netizens expressed their indignation online.
Filipinos online also appealed to #FreeReinaMaeNasino, amplifying calls for the mother's immediate release. Her story made rounds on social media after users urged for more humane treatment towards her and her newborn baby. – with reports from Lian Buan/Rappler.com