Here are ways to help secure your family when disaster strikes in the middle of a public health emergency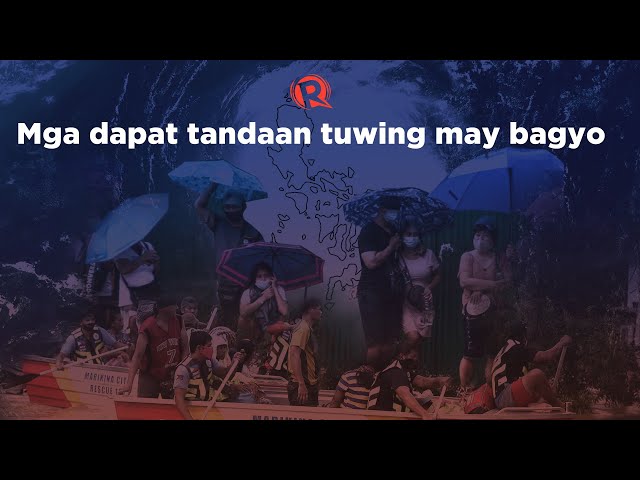 The Philippines is a disaster hotspot because of its geographic location that makes it prone to typhoons, earthquakes, and other natural disasters.
The coronavirus pandemic has made disaster preparedness in the Philippines more complex. How are groups and government agencies encouraging individuals to prepare in case of a major disaster?
The Office of Civil Defense, in partnership with the National Disaster Risk Reduction and Management Council, shared the following reminders on what individuals need to consider to prepare for typhoons, earthquakes, and other natural disasters during the pandemic.
Monitor weather updates from reputable news sources on radio, television, and the internet
News programs on free radio and television and reputable news websites are constantly updating the public about the weather situation in affected parts of the country. Make sure to check out these programs to be apprised of the latest storm signals.
Inspect your home and check for damage that needs to be repaired
An annual inspection of the structural integrity of your house helps in identifying the parts that you need to get repaired. This includes checking the roof if there are any leaks and if it is secured in place. You may also want to check the drainage around your house to make sure that these are not clogged, to prevent flooding.
Prepare a 'go bag' or a disaster kit
A disaster kit or a "go bag" contains important items like ready-to-eat food packs, water, clothes and sanitation supplies, medicine, flashlight, and other tools like rope. This disaster kit can save you some time if you need to evacuate your community immediately.
Save emergency hotlines on your mobile phone
Most barangays post their emergency hotlines on their social media pages, and even on the walls of some barangay halls. Remember to save these numbers on your mobile phone to make sure that you can contact them in case of flooding.
Know designated evacuation sites in your barangay
Community leaders in most barangays have prepared evacuation plans and designated places where people affected by typhoons can take shelter. Identify these places and plan how you and your family can get to those evacuation centers quickly and efficiently if needed.
Remember BIDA
Since we are still experiencing the dreadful effects of the pandemic, it is important to remember BIDA, which stands for:
Bawal ang walang face mask (Don't go out without a face mask)
I-sanitize ang kamay at umiwas sa paghawak sa mga bagay (Sanitize your hands and avoid touching surfaces)
Dumistansya nang isang metro (Observe one-meter physical distancing)
Alamin ang totoong impormasyon (Check out verified sources of information)
By keeping in mind these reminders and putting them in practice when disaster strikes, you will be able to secure your family's safety during typhoons even in the middle of a pandemic. – Rappler.com