Senior high school students, farmers, housewives, and a call center employee comprise the first batch of graduates of the short course on organic farming at the El Miro De Shei Integrated Farm School
James Moraleda, a 19-year-old senior high school student of Malabog National High School in Daraga town, belongs to the first batch of students at a farm school in Albay that offers short courses on organic farming under the Technical Education and Skills Development Authority (TESDA).
Moraleda and 49 others who took Organic Agriculture NCII at the El Miro de Shei Integrated Farm School graduated on Wednesday, January 20.
The course offered at El Miro De Shei Integrated Farm School is a pet project of Albay 2nd District Representative Joey Salceda in partnership with TESDA. The owners of the El Miro De Shei Integrated Farm are Salugan village chief Shiela Dino and her husband Edmiro Dino.
Moraleda learned about organic farming during the day and attended the modular classes at Malabog National High School at night.
When asked why he enrolled at the farm school even if he was attending regular classes Moraleda said in Bicolano that while he aimed to work in the automotive industry, he "realized that farming and food security are critical during a pandemic."
The organic farming graduates who took the 29-day course from December 13, 2020 to January 20, 2021, include senior high school students, farmers, housewives, and a call center employee. The training is free, and the students were given P160-allowance her day.
Arley Pielago, is a 41-year-old farmer who has been tilling the two-hectare rice farm of his parents for the last 6 years. He enrolled in the course to learn new techniques and environmentally sound crop production.
"We are spending at least P50,000 for a single rice planting season but more often than not, our expenses are bigger than our income as the prices of palay is very low and is aggravated by a series of disasters affecting our farming and productivity," said Pielago.
The Bicol region was struck by strong storms in the last quarter of 2020 that claimed lives, and destroyed crops and infrastructure.
Pielago hoped that he can improve his farm's rice yield through his new skills. He said he learned how to make "safe fertilizer" using recycled materials, fruit and vegetables peel, and animal manure.
"I enrolled in this training course not to get an NC 11 certificate but am interested in the new knowledge and techniques so farming becomes profitable but will not sacrifice our environment. With this training ,I can now make my own organic fertilizer than using synthetic fertilizer which is more expensive and harmful than organic fertilizer," he added.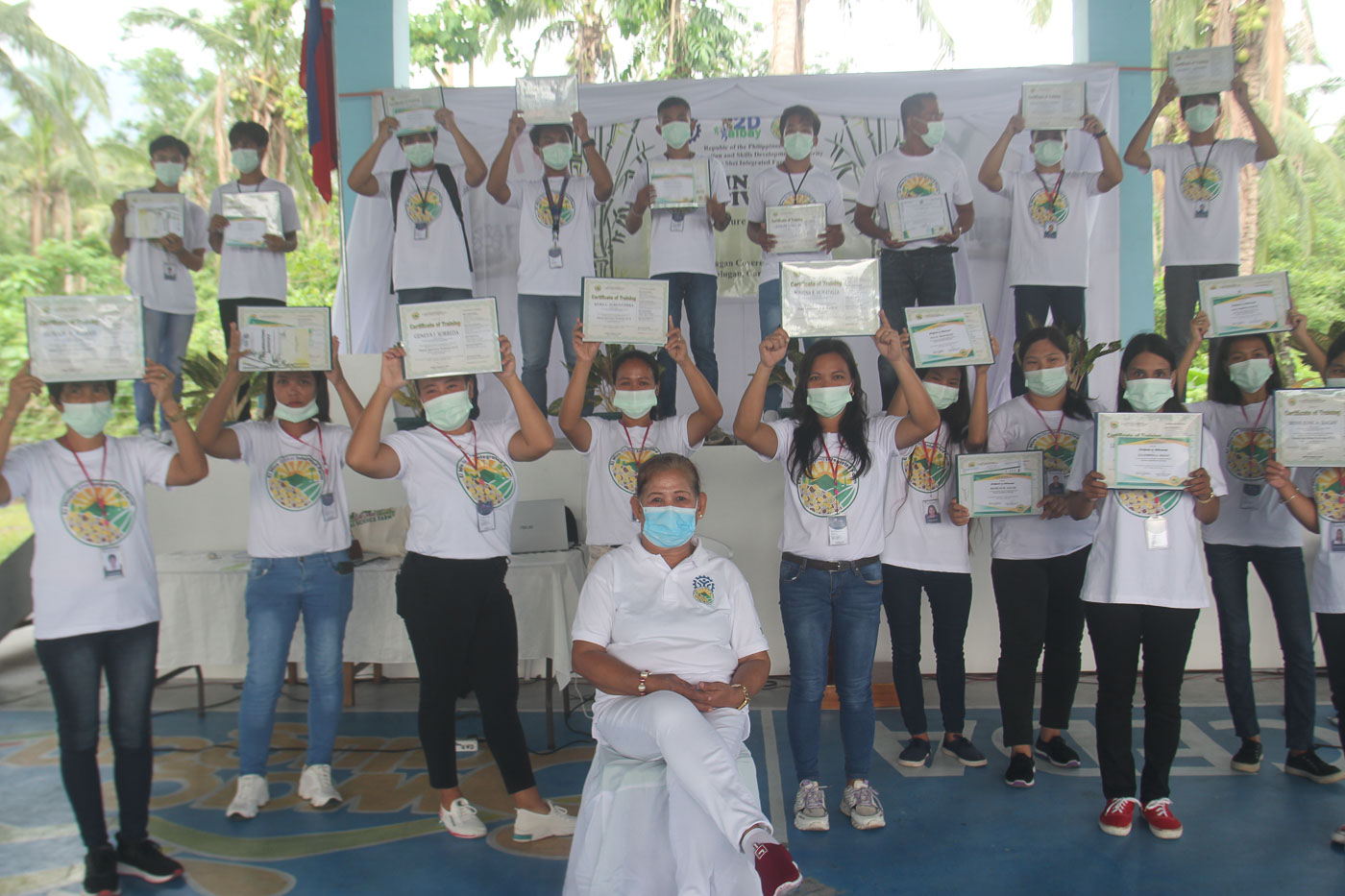 Jenica Antiquiera is a 29-year-old call center employee at Sutherland, Legazpi City. The class president of the first batch at the El Miro De Shei Integrated Farm School, Antiquiera said the short course has generated a new breed of farmers.
Because of the pandemic, Antiquiera has been working from home. She is on night shift, allowing her to enroll in the short course.
"I saw the importance of farming due to the pandemic that agriculture is vital that we can no longer sustain food with fewer and older farmers tilling our lands. Agriculture is important and would support us in the middle of a pandemic," she said, adding that she's grateful to all those behind the organic farming course led by Salceda.
More farmers needed
Salceda said in a message read at the simple graduation rites that of Bicol's nearly 60 million population, 75% are dependent on agriculture but "the irony is that only 25% of the population are into direct farming or farmers."
"The young generation now including the sons of the farmer tend not to engage into farming. Farmer-parents usually don't encourage their children to go farming for the reason that they know the difficult work involved in farming," Salceda said.
He noted that young Filipinos would rather get a white collar job but "the reality is that the Philippines is still an agricultural country."
"We cannot attain full industrialization if it is not based on agriculture. Agricultural industrialization is the major key in maximizing the full potential of the communities through sustainable development," he said.
Salceda said the concept of the farm school is based on the the Farm Field Schools developed by the UN Food and Agriculture Organization "to help farmers become competitive and seize advantage of the opportunities in the market by operating their farms efficiently and profitably."
"They are now equipped with technical-vocational skills that give them advantage in seeking employment for skilled works as well as the knowledge needed to start small businesses," Salceda said.
The TESDA STEP (Special Training and Employment Program) is a community-based specialty training program that addresses the specific skills needs of communities and promotes employment, particularly through entrepreneurial, self-employment and service-oriented activities. – Rappler.com