Are we doing enough to solve the plastic crisis by 2030? Join Rappler's roundtable discussion with WWF-Philippines on Friday, December 4, at 4 pm.
Photos of sea creatures trapped in single-use plastics have become viral online: a sea horse carrying an earbud or a turtle eating plastic. With the amount of waste humans generate every year, it is not surprising to see marine life carry, eat, and live among our trash.
By 2030, the amount of plastic waste in our oceans can reach 300 million tons if plastic production and consumption continues at its present rate, according to the World Wide Fund for Nature (WWF).
In response, advocates are pushing to stop plastic leakage into nature by 2030.
Plastic pollution is mainly attributed to ineffective waste management, lack of responsibility from companies and manufacturers, and the failure to reduce waste by lessening consumption and changing the design of packaging.
One of the proposed solutions to tackle the crisis is the legislation of the Extended Producer Responsibility scheme. Advocates say the scheme should oblige companies to reduce waste and take responsibility for the collection, treatment, and recycling of their products.
At least two bills lobbying for the EPR are still pending at the committee level both in the Senate and the House of Representatives.
Join the roundtable discussion
To better understand the plastic crisis and the possible solutions to this problem, Rappler will hold a roundtable discussion with WWF-Philippines on Friday, December 4 at 4 pm.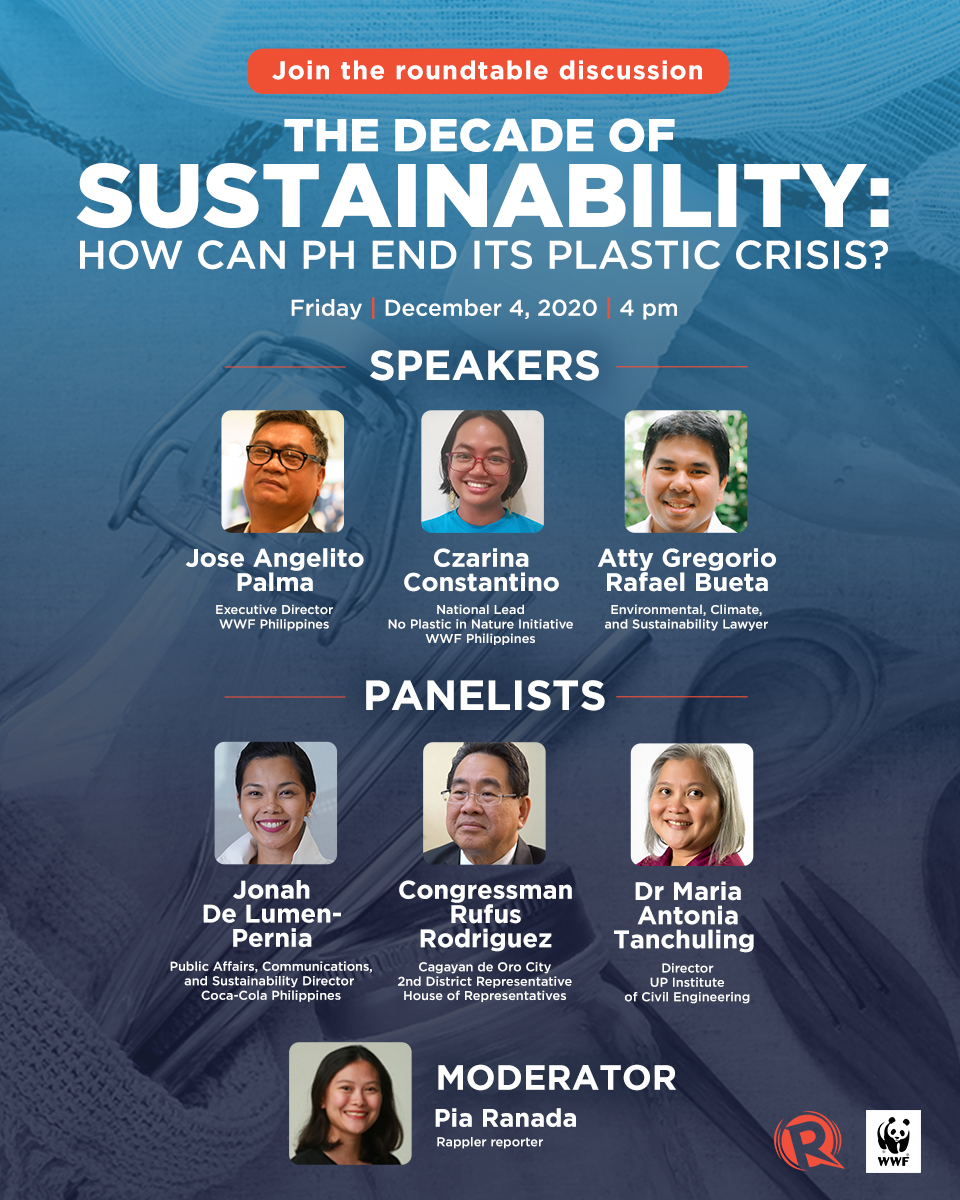 Experts, advocates, and stakeholders will join the discussion moderated by Rappler's Pia Ranada to tackle the responsibilities of every sector in waste reduction and management. Among the speakers are WWF-Philippines Executive director Jose Angelito Palma, No Plastic in Nature Initiative national lead Czarina Constantino, and environmental lawyer Gregorio Bueta.
To join in the discussion are Coca-Cola Philippines Public Affairs, Communications, and Sustainability director Jonah De Lumen-Pernia, Cagayan de Oro D2 Representative Rufus Rodriguez, and UP Institute of Civil Engineering director Maria Antonia Tanchuling.
You can sign up for the event here.