Although Environment Undersecretary Benny Antiporda has since apologized, the Geographic Society of the University of the Philippines maintains he must retract his statements fully and resign from his post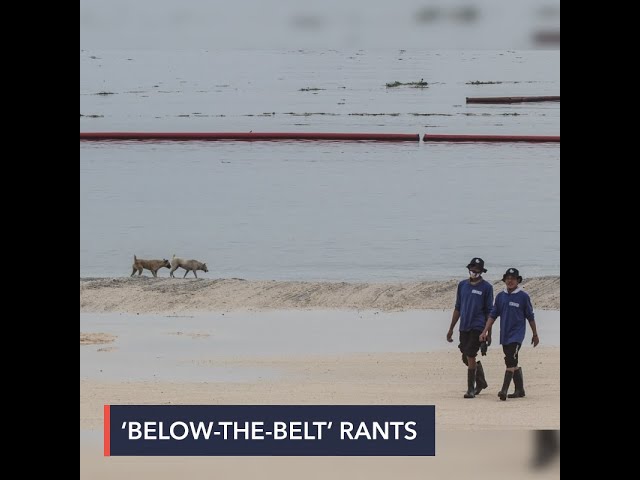 Several scientists and practitioners of marine science, along with geography students in University of the Philippines (UP), decried the "below-the-belt rants" of Department of Environment and Natural Resources (DENR) Undersecretary Benny Antiporda.
The Philippine Association of Marine Science (PAMS), a national organization of scientists and practitioners interested in marine science, emphasized the roles of scientists in assisting the government by doing research and public service in partnership with national government agencies.
Antiporda earlier called experts from the University of the Philippines "bayaran" in a Laging Handa press briefing on Wednesday, October 14. This was his response to the statements released by the UP Marine Science Institute (MSI) and the UP Institute of Biology that criticized the Manila Bay white sand project and outlined steps forward to rehabilitate the area.
The Environment Undersecretary further added that experts from state universities should not be paid for research work in relation to government projects.
'Fit of passion'
Antiporda has since apologized to the UP community. In an interview with ANC's Headstart on October 15, Antiporda said his statement was "not intended to destroy the good name of the university itself but this is just to send the message to UP MSI that we're partners here."
Antiporda said he was carried away by his emotions because the UP experts' criticism was "painful." He told UP MSI that they should have directed their sentiments to DENR directly.
"But in this situation kung saan partners po kami, we could have been flagged kaagad as early as possible, saying, 'mali kayo,'" he said.
(But in this situation where we are partners, we could have been flagged as early as possible and informed of mistakes.)
PAMS earlier took offense at Antiporda's remarks, asserting that any comments made by scientists on relevant issues are "constructive in general and are aimed at providing science-based inputs" to the issue on Manila Bay white sand project.
"We do not deserve the malicious accusations of USec Antiporda that scientists are 'bayaran'. We need funds to do research," PAMS added.
The Geographic Society of the University of the Philippines (GSUP) echoed the sentiment, finding his behavior "unacceptable for a government official," especially considering the office he represents "has to make scientifically-based decisions in its mandate to protect the environment and not cause its further destruction."
"This anti-science sentiment is disappointing, as the statements from these institutes are not personal attacks towards you nor the DENR, but rather an effort to present the truth and alternatives for better policy-making decisions," GSUP said.
Call for resignation
Given Antiporda's "disregard" for the opinions of other Filipino scientists, GSUP urged the Environment Undersecretary to resign from his position "as both a form of accountability and to give way for other, better qualified candidates to work in the Department."
They also urged him to formally retract his statements against UP MSI.
"The DENR needs a spokesperson who, instead of antagonizing homegrown scientists, articulately expresses and explains the department's goals and policies; moreover, this country deserves a DENR Undersecretary who is credible, responsive, and committed to protecting, conserving, and managing our environment and natural resources," GSUP stated.
Aside from dismissing the contributions of UP experts, Antiporda had also accused UP MSI of having charged the DENR "half a billion pesos" in consultation fees. This was met by a clarificatory statement, this time from the UPMSI.
"Specifically, the correct amount is P364,073,909.40 total for the last decade, spanning ten collaborative projects between the UPMSI and the DENR as well as co-sponsorship support for a scientific symposium. This is hardly the half a billion the Undersecretary has been claiming," the institute said.
Despite Antiporda's comments, UPMSI stood by their long-standing partnership with DENR.
"The UPMSI remains willing and open to extending its services to the DENR, no matter the passing opinions of the day," they said.
Although Antiporda has already made a public apology, GSUP noted that the DENR Undersecretary did not completely address his statements against UP MSI. With that, they remained firm in their stance, urging Antiporda to resign from his position.
"While he explained his 'fit of passion', his unfounded accusations against UP MSI were not. We maintain that Usec. Antiporda must retract his statements against the UP MSI fully, and resign from his post so that a better person can take his place," stated GSUP. – Rappler.com