Citizen report cards are a useful way to evaluate government performance. What grade would you give the Duterte administration?
How would you grade President Rodrigo Duterte's performance throughout the past five years?
For a number of Filipinos and organizations, the President left much to be desired in addressing the pressing issues that the country is facing today.
In light of Duterte's final State of the Nation Address, a broad coalition of human rights groups named #CourageON: No Lockdown on Rights coalition created a blank report card which Filipinos could fill out to share their thoughts on the performance of the current administration.
In this report card, people were able to reflect on different aspects of the Duterte administration using 6 categories for grading: Health (Kalusugan), sovereignty (Kasarinlan), human rights (Karapatan), livelihood (Kabuhayan), gender (Kasarian), and environment (Kalikasan).
The report card also used a scale of one to five, with the former being a failure (Palpak) and the latter being excellent (Panalo).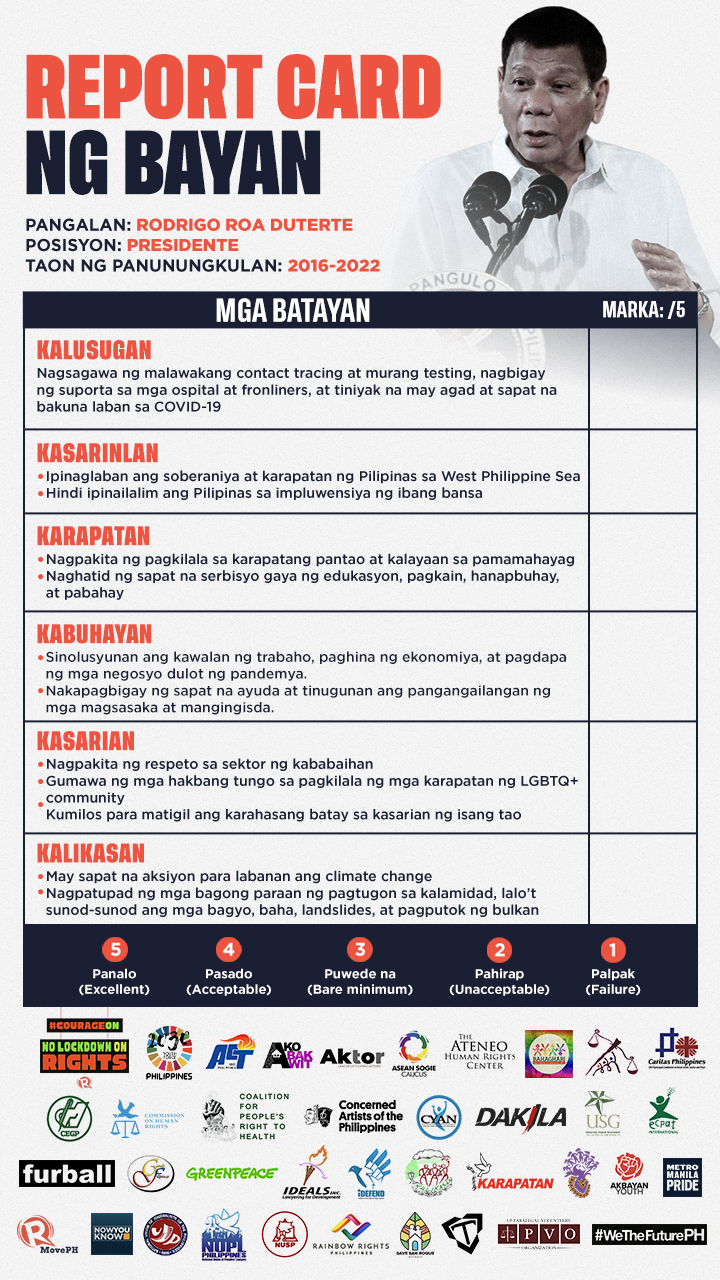 The report card was released on the social media pages of Rappler and MovePH on July 17, with other members of the #CourageON coalition following suit throughout the week. Among the members of the coalition that posted their report cards online were Karapatan, University of the Philippines Paralegal Volunteers Organization, and DAKILA,
#DutertePalpak
Assessing Duterte's performance throughout his term, at least 50 voluntary respondents from Rappler+ (Rappler's membership program) answered the report card. Sovereignty (kasarinlan) got the most number of failure (palpak) ratings, with 88% of the respondents giving the administration a score of 1, while 86% gave the lowest possible score on the report card for human rights (karapatan), followed by 64% for health (kalusugan).
One respondent explained: "Palpak (Failure) on sovereignty. Not only does the government fail to assert the Hague ruling. It has not defended Filipino fishermen harassed by the Chinese in the WPS (West Philippine Sea)."
In his final SONA, Duterte remained defeatist and stuck to what experts called a misplaced argument that asserting the country's rights in the West Philippine Sea would court "war" with China.
Another Rappler+ member said, "This government ruled by trampling on human rights, the stifling of dissent, by red-tagging and instilling fear – so that rampant corruption and injustice could go on unhindered" which resulted in "no true service to the people."
Livelihood got the least number of FAILURE scores with 48% giving a score of 1 and 46% giving a score of 2 or unacceptable. This was followed by environment which got a 52% failure rating, 28% unacceptable, and 18% bare minimum.
Feedback about Duterte's governance style was dismal with one respondent saying: "The President seriously lacks managerial competence to be an effective leader. His choices of appointees are not based on merit or qualification resulting in poor governance."
Another even mentioned that Duterte's performance would not cut it in the private sector, saying, it was "Below par. If performance standards of a private company were to be used, the Duterte government should have been placed on PIP (performance improvement plan) after Year 1. And after Year 2 should have been dismissed."
Many questioned his loyalty to the Filipino people, with one Rappler+ member saying, "The Duterte government performed based on its stakeholders' interests. China is its primary stakeholder, next are the cronies and the President's new oligarch friends, and the Filipinos are the last."
According to one member, if there's one thing we can learn, it's that "His popularity offers a lesson to everyone who belittles certain concerns…[he] ran a murderous and criminal regime, one that appealed to our nation's worst prejudices, setting back our own freedoms, perhaps forever, and succeeded at almost nothing of consequence. "
Report card ng bayan, SONA ng bayan
Meanwhile, over 70 organizations, including the #CourageON: No Lockdown on Rights coalition, slammed the administration for not addressing people's needs and gave a resounding failure rating for the Duterte government in all categories of the report card.
The coalition consists of partners from the same sectors cited in the report card, with the most number of failure ratings for gender (Kasarian), followed by human rights (Karapatan).
Though an important topic for many, gender issues were not at all addressed in this year's SONA. Duterte had promised in 2019 that he would certify the the SOGIE (sexual orientation and gender identity expression) equality bill as urgent. However, the bill continued to languish in Congress for more than two decades, with Metro Manila Pride asserting how there was no policy yet that "will justly account for the violent crimes" faced by LGBTQ+ persons..
Metro Manila Pride also pointed out that not only did Duterte respond with inaction, but he also gave a presidential pardon to convicted US soldier Joseph Scott Pemberton, who killed transgender woman Jennifer Laude.
Although Duterte claimed in his last SONA that he was able to deliver university healthcare, inclusivity group Advocates of Inclusion said hospitals and clinics, particularly in Metro Manila, are not accessible for persons with disabilities. They added how hospital capacity, especially in provincial areas, was in need of improvement.
Meanwhile, Move as One Coalition pointed out that a lot of jeepeney drivers have not been able to go back to work and ply the very streets that Duterte claims he improved under his flagship Build, Build, Build infrastructure program
Aside from that, militant group Bahaghari emphasized how the administration was sparse in its distribution of relief not only to individuals but also to micro, small, and medium enterprises struggling during the pandemic..
Overall, many of the problems could be traced to the administration's disregard for human rights, according to Gender and Development Advocates (GANDA) Filipinas in its answers for the report card.
"Sa buong 5 taon ni Duterte ay 'demonized' ang human rights dahil kapalit daw ito ng 'human life.' Isang kabalintunaan ito dahil ang pekeng kampanya laban sa droga niya ay nagdulot ng libo libong kamatayan. Sa pagpasa ng anti-terrorism act, patuloy ang pandarahas ni Duterte sa iba't ibang minorya kasama ang mga aktibista, lumad, pesante. Lahat ng marhinalisadong sektor ay may karapatang pantaong yinurakan ng pamahalaang Duterte," the group said.
(Throughout the five years Duterte has been in power, human rights were demonized because these allegedly are exchanged with human life. This is a paradox because his war on drugs has resulted in thousands of killings. With the passing of the anti-terror law, Duterte's atrocities continue to affect different minorities including activists, Lumad, and peasants. All marginalized sectors have human rights that were impeded on during Duterte's term.)
Following the results of the report card, members of the #CourageON coalition urged Filipinos to continue holding government officials accountable and register to vote in the coming elections to avoid a repeat of Duterte's brand of leadership. – Rappler.com