Some brought with them deliberately designed props while others amplified their call while staying safe by wearing statement masks
Protesters joining the United People's SONA, dubbed online as #SONAgkaisa, on Monday, July 27, made sure to mix humor with their expression of dissent for the day.
Some attended the protest in cosplay attire. Others brought with them deliberately designed props. Not a few amplified their call while staying safe by wearing statement masks. (READ: IN PHOTOS: Makabayan bloc wears protest art to SONA 2020 rally)
Hours ahead of President Rodrigo Duterte's 5th State of the Nation Address, various progressive groups held a massive protest action at the University of the Philippines – Diliman University Avenue to strengthen their calls to junk the anti-terror law and for government to improve its coronavirus response.
Below are some of the witty statement attire and banners that caught our eye during the SONA rally:
Remember activist-artist Mae Paner who made headlines after impersonating National Capital Region Police Office Chief (NCRPO) Debold Sinas? At this year's People's SONA, Paner surprised protesters by dressing up like Presidential Spokesperson Harry Roque, bringing with her 3 huge inflatable dolphin toys.
Paner mimicked Roque when he went to Subic for a dolphin park visit amid the implementation of community quarantine in the country.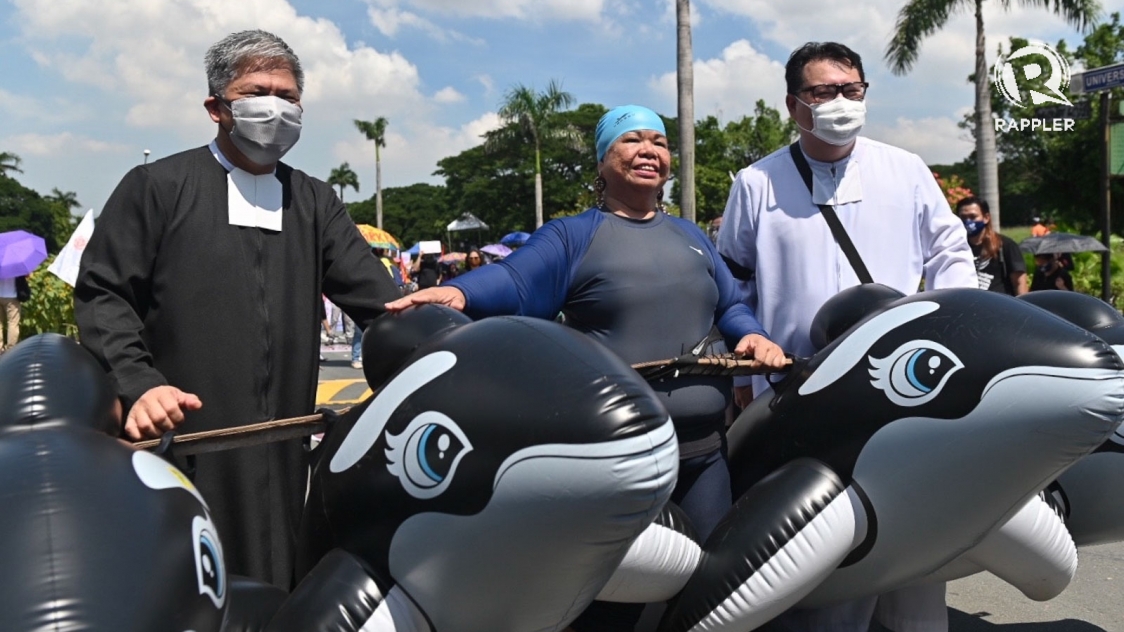 Meanwhile, a protester gave away statement masks that tackled calls for press freedom. According to Dawn Po Quimque, she thought of this initiative to help protesters realize that, while they are wearing masks, they are not silenced.
While observing minimum health standards, other protesters came with statement masks they designed themselves.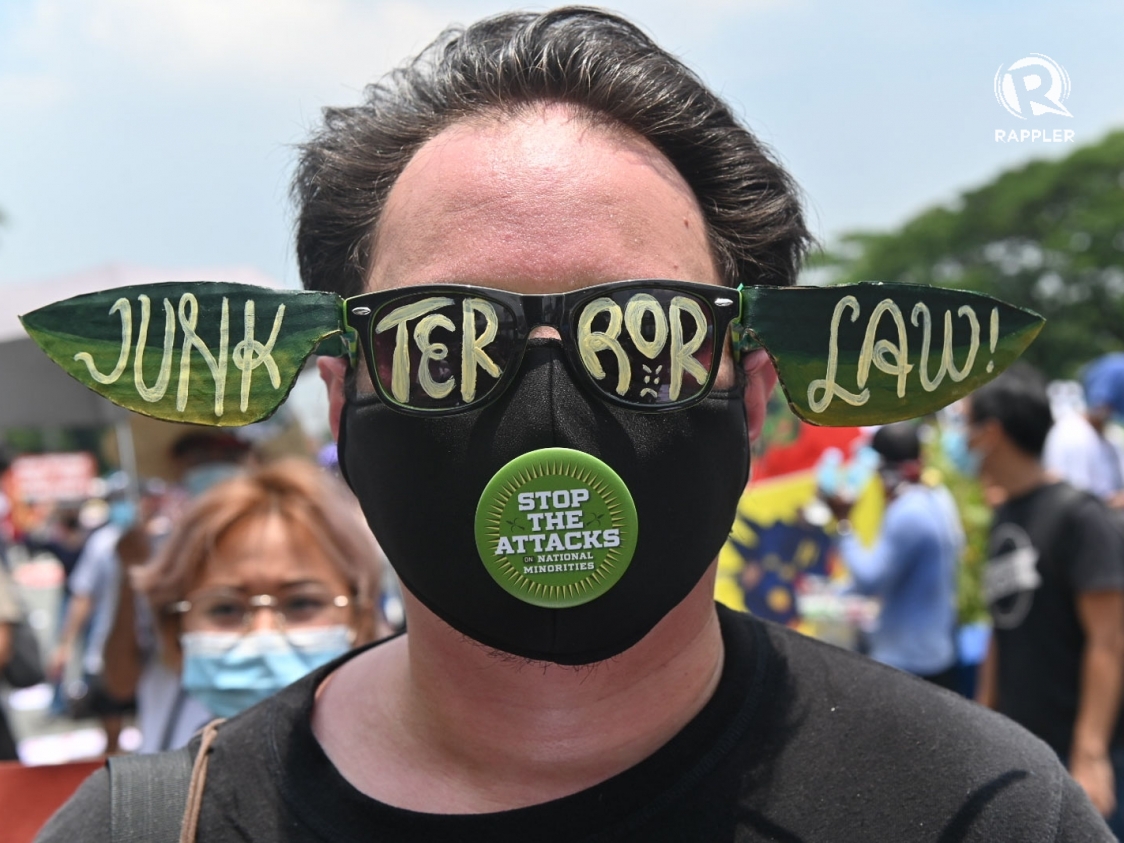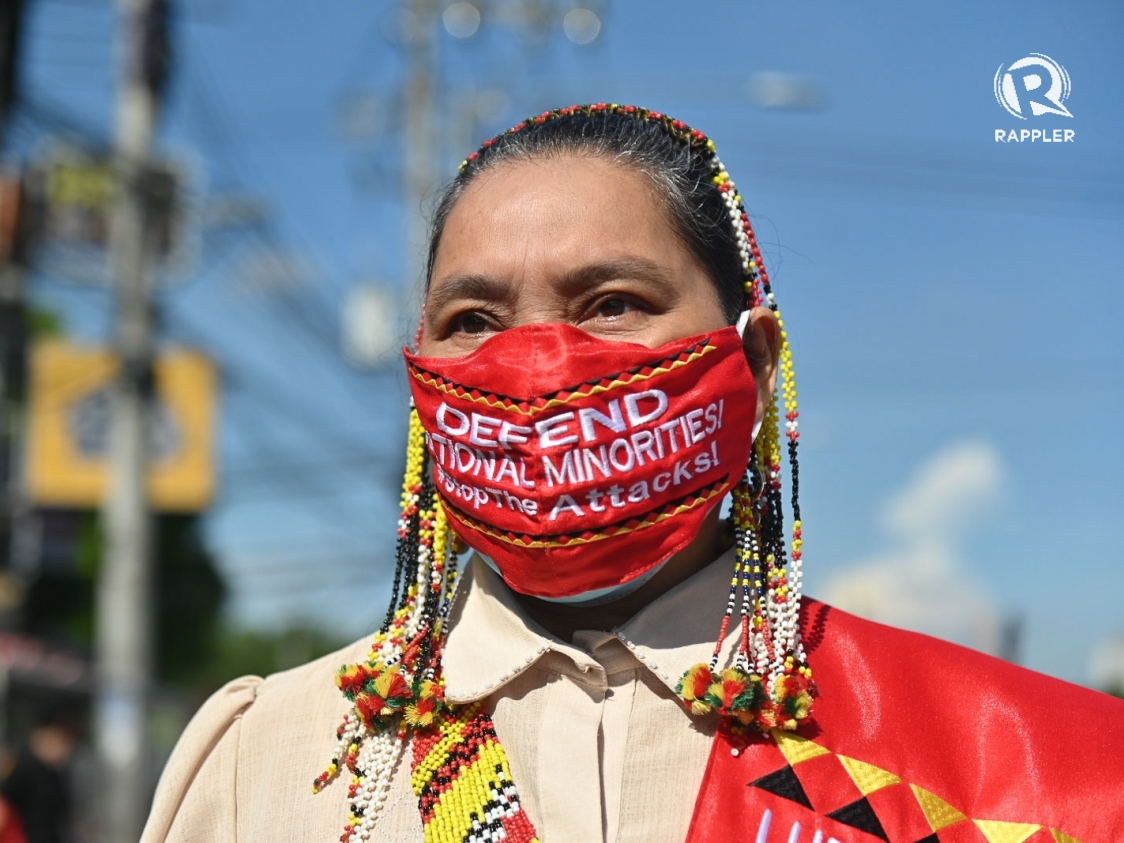 Youth Resist PH also assembled creative trash bins at UP Diliman's University Avenue to criticize the government's supposed misplaced priorities in the middle of the health crisis.
On a transparent canvas, Akabayan Youth painted black and red crosshairs on their banners to emphasize that anyone could be a target with the passage of the anti-terrorism law.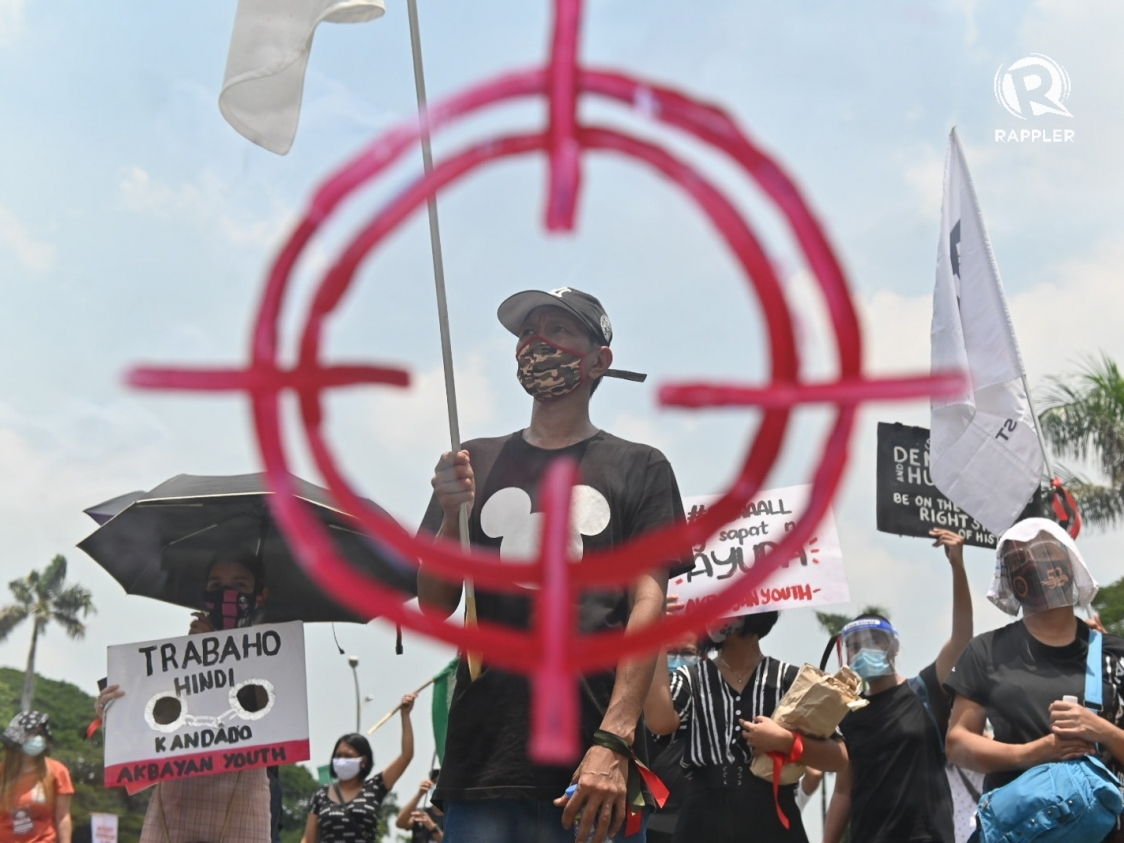 Public and private school teachers also joined the protest action with umbrellas they designed, calling for the safe resumption of classes and financial assistance for those who became jobless during the pandemic. The government is eyeing to resume classes on August 24 despite calls for an academic freeze.
Another protester included a complex mathematical equation on his banner. Can you solve this equation?
What are your favorite banners from the SONA 2020 protests? – with a report from Lance Mejico/Rappler.com