The opening of classes on October 5 is unlike any other for public school teachers. Far from the traditional setup, teachers tirelessly prepare to get used to distance learning during the pandemic.
"Kakayanin ko ba?" (Can I handle it?)
This was the question 50-year-old teacher Evangeline Gagarin kept asking herself in the months leading up to the first day of classes on Monday, October 5.
Teacher Evangeline, or Vangie for short, is a public school teacher in Ramon Magsaysay Cubao High School in Quezon City. In her 23 years of teaching, never had it occurred to her that the classroom set-up as she knew it could change so drastically.
For her assigned grade level, 9th grade, online classes will be conducted for 14 out of 19 sections, while the rest will employ the modular method. Vangie was assigned to facilitate online classes, which necessitated a huge shift from her traditional teaching methods.
"Sanay kami sa tradisyonal: nasa classroom, may libro, kaharap ang mga bata. Hindi ako sanay na magturo gamit ang teknolohiya. Mas sanay pa rin ako sa harapan," she shared.
(We are used to the traditional method: inside the classroom, with books, in front of the kids. I am not used to teaching using technology. I am still more used to face-to-face classes.)
52-year-old teacher Gladys Cruz feels the same way. Gladys has hardly used technology for teaching throughout the 27 years she spent working as a public school teacher in San Rafael Elementary School, Rodriguez, Rizal.
To acquaint themselves with online teaching, Gladys shared that she and her co-teachers were encouraged by their school to attend Department of Education's (DepEd) webinars. These taught them how to facilitate online classes via Google Classroom.
The teachers also conducted dry runs with the students a week before the first day. Still, Gladys felt anxious, citing her lack of experience in teaching online classes, and the unpredictability of the internet connection in the area.
Aside from being unused to technology, Gladys could not help but worry about how her students would be able to join online classes, given that many come from impoverished backgrounds. Prior to the pandemic, many of her students were already struggling to catch up to their classmates with relatively stable internet access.
"Ang naging problema namin noon, kahit nung face-to-face, ay hindi sila nagiging member ng GC (group chat), kaya 'yung may announcement kami, hindi sila nakakasunod," Gladys said.
(Our problem before, even during face-to-face class, was that some children did not get to become members of our class group chats, so if we had announcements, they were unable to catch up.)
Even with these stringent preparations, Gladys said that a number of her students have backed out from online classes at the last minute. She said this is likely because many faced issues with internet connectivity.
"'Yung wi-fi, kadalasan sa mga area dito nag-ffluctuate. Kahit kami (teachers), na-eexperience namin dito sa bayan 'pag may webinar at sabay-sabay pa," Gladys recounted.
(The wi-fi often fluctuates in the areas here. Even we, teachers, experience it in our town center when we conduct webinars all at the same time.)
Vangie disclosed a similar experience. On the night before the opening of classes, she was on the brink of tears because she had trouble turning on her laptop.
As Vangie dealt with technical difficulties, she could only think of her students. "Paano na yung klase ko? Paano na ang mga bata? (What will happen to my class? What will become of my students?)" she thought.
Thankfully, her co-teachers were able to help her resolve the problem shortly after.
The logistical preparations
Although not all schools will be turning to online classes, the modular learning approach still poses different hurdles to teachers.
Altavas National School in Aklan is one of the public schools that decided to almost fully employ the modular method – with a single subject as the exception, Informations and Communications Technology (ICT).
60-year-old Clinton Candelario, the principal of Altavas National School, has been teaching since 1987, and is now marking his 3rd year as the school's head. Despite years of experience under his belt, he was daunted by the shift to modular learning. It will be his, and his fellow teachers' first time to use this method.
"Kaya parang may fear, parang may anxiety, parang hindi pa kami preparado kasi wala pa kaming experience sa modular learning," said Clinton.
(We don't have experience in modular learning. That's why there's fear, anxiety, and a feeling of being unprepared.)
In order to train his faculty members, they attended webinars that taught them how to come up with modules per subject. They also conducted dry runs for the distribution and retrieval of modules on-campus.
While the use of modules is more accessible to students, the production of these documents require a lot of work. Clinton said that their teachers participated actively in refining self-learning materials through weekly learning action cell (LAC) sessions. In these LAC sessions, teachers virtually discuss problems that they or their students encountered upon using the modules, and look for possible solutions.
The printing of these modules also took a toll on the school's budget. Clinton lamented how Altavas National School teachers had to personally seek solicitations from the school's stakeholders, specifically their alumni, eventually generating sufficient funds to print SLMs for every student.
Hard work pays off
Even with these challenges and the looming uncertainty, Teacher Vangie, Teacher Gladys, and Principal Clinton, along with over 800,000 public school teachers, carried through on the first day of classes on October 5, coinciding with National Teachers' Day.
While Vangie initially planned to conduct an asynchronous class, she decided to hold a 5-minute session on the first day of classes to give a few pointers and reminders to her students. Even if it was a short meeting, she was glad she got to meet her students with no problems.
"Masaya ako. Pakiramdam ko ay nasa klase nga ako, kausap kong muli ang mga mag-aaral (I am happy. I feel like I am really in class since I was able to talk to my students again,)" said Vangie.
Meanwhile, the teachers of Altavas National School began the school year in full force by being physically present in campus to distribute modules to parents. If it were not for the face masks and physical distancing, it would have seemed like a typical school day, as they started out with a flag ceremony and assembly.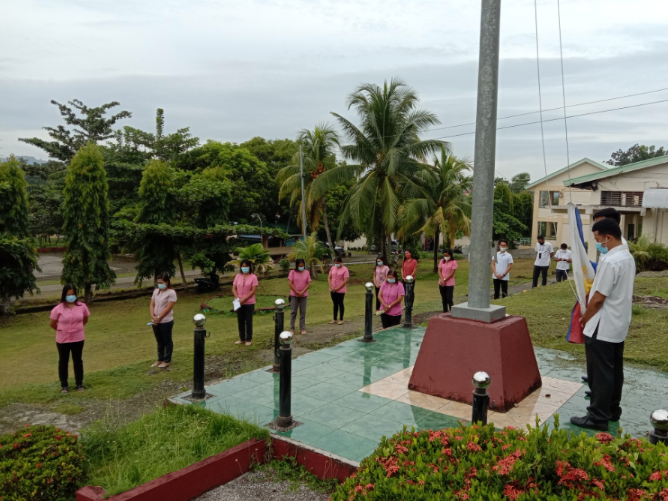 Because of the dry runs that the school conducted prior to the opening of classes, the day went by smoothly, with all health protocols enforced.
Handwashing and temperature check stations were in place, while teachers diligently distributed SLMs to the parents of students from grades 7, 9, and 11 behind clear plastic barriers.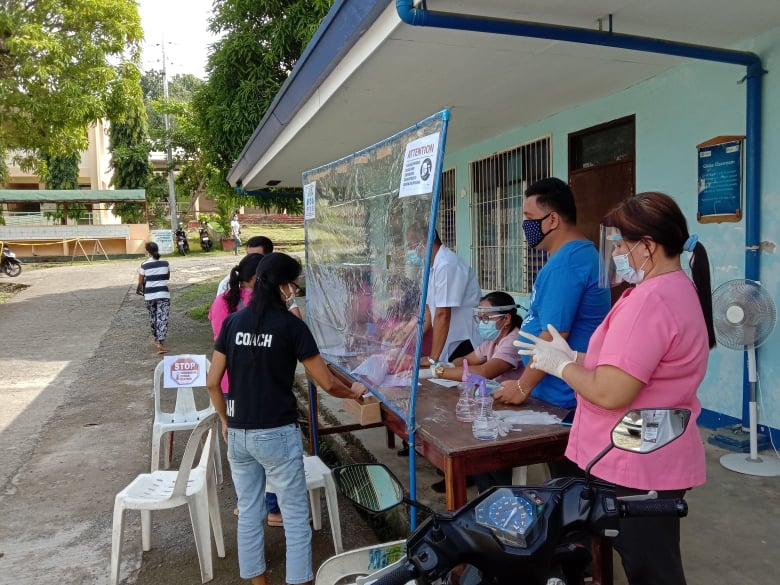 Despite the unconventional set-up, Clinton explained students could still communicate with their teachers through the contact information provided in their modules.
Teachers keep teaching
Although their first day did not face many problems, these 3 teachers know they still have a long way to go to help provide education during the pandemic.
"Mahirap sa part ng mga teachers ang pandemic na ito, lalo na sa amin na mga tradisyunal na teachers. Pero nagsisikap kaming pag-aralan ang technology para maka-cope…Mas hihirap pa sa darating na araw. Kasi ngayon pa lang, parang isang taon na nakalipas sa dami ng tanong ng students na paulit-ulit lang," said Gladys.
(This pandemic is difficult on the part of the teachers, especially for us traditional teachers. But we work hard to learn about the technology so we can cope. This will become more difficult in the coming days. It's only the first day, but it feels like a year has passed from the number of redundant questions from the students.)
While these teachers are trying to rise above the hurdles in the way of the Philippines' shift to distance learning, they called on the government to provide stronger support, as well as recognize their struggles.
Various issues have hounded the preparations for the school year. Alliance of Concerned Teachers, for instance, has been calling for safe, accessible, and quality education. Several teachers have raised how they fear they might possibly contract the virus when they go out to distribute and retrieve modules, among other concerns.
"Kailangan po ng suportang pinansyal mula sa mga nakatataas. May naibibigay [ang gobyerno], pero kinakapos. Bago pa man magkaganito ay kapos naman talaga para sa mga guro," said Vangie.
(We need financial support from those in positions of authority. They are able to provide, but it is not enough. Even before this happened, teachers didn't receive enough.) – Rappler.com