Sexual harassment, distance learning, red-tagging. These issues mobilized students in a pandemic year.
No lockdown could stem the wave of activism this year, as students and young Filipinos acted on their rage – whether to expose sexual harassment in schools, call out red-tagging government officials, or unmask the flaws of distance learning.
Most of the campaigns that students waged in 2020 targeted the government's inadequate response to the pandemic, which allowed them to immerse in related issues and make several protest hashtags trend online.
According to Jainno Bongon, chairperson of the University of the Philippines Los Baños University Student Council and convenor of Rise for Education, "once na [magsimula kang] makapagparticipate sa mga campaigns, sunud-sunod na 'yan eh. Sunud-sunod na makikita mo ang mga issues sa labas ng pamantasan." (Once you have participated in several campaigns, you'll be exposed to different issues outside the university.)
What moved the young to action this year? Let's look back.
Anti-terror law, red-tagging
The protest movement against the anti-terror law – branded as unconstitutional by lawyers and retired justices – was dominated by students. They raised awareness about the dangers of the bill through online campaigns, colorful graphics, and on-ground rallies under a single call: #JunkTerrorBill.
Lawmakers still passed the bill in July.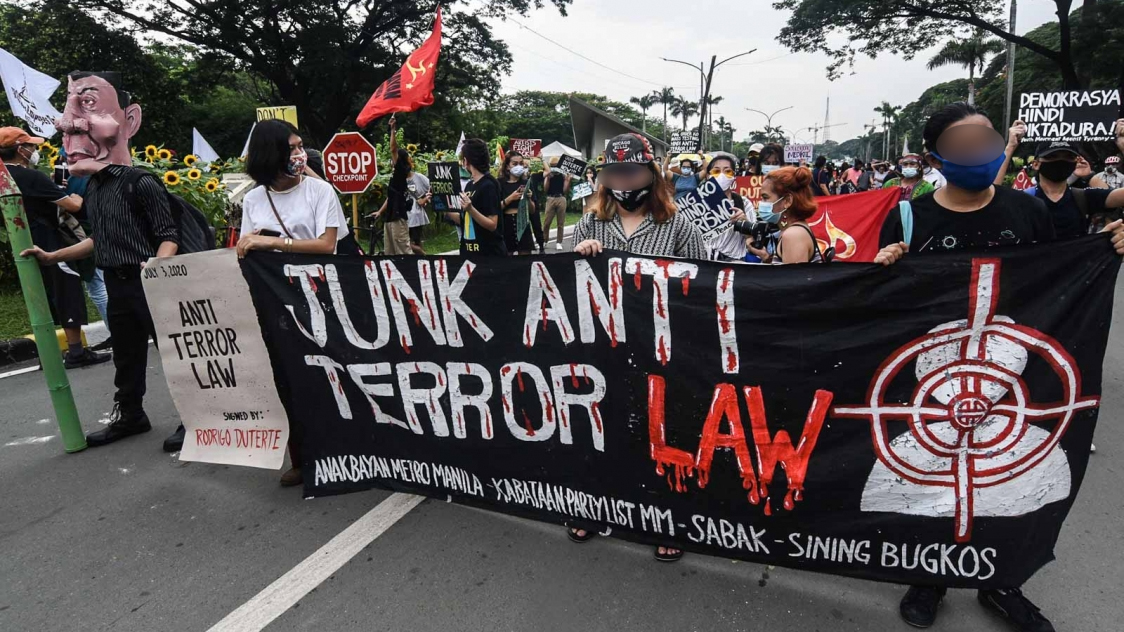 Saying this spelled the "demise of democracy," students promptly took to the streets under a new call: stop the anti-terror law. The pushback also emboldened various sectors to bring the battle to the Supreme Court via petitions that reached close to 40.
"Dahil sa Anti-Terrorism Law, nabibigyang leverage ang AFP at PNP na mang-redtag at i-brand as terrorist  'yung mga progresibong kabataan," Bongon said. (The Anti-Terrorism Law gives leverage to the AFP and PNP in red-tagging and branding progressive youth as terrorists.)
Outspoken celebrities like Liza Soberano and Angel Locsin have been targeted by these agencies, especially the National Task Force to End Local Communist Armed Conflict (NTF-ELCAC),  which has falsely accused them of being allied with communist guerrillas. Soberano once joined a youth forum hosted by the progressive women group Gabriela, while Locsin has been vocal critic of government.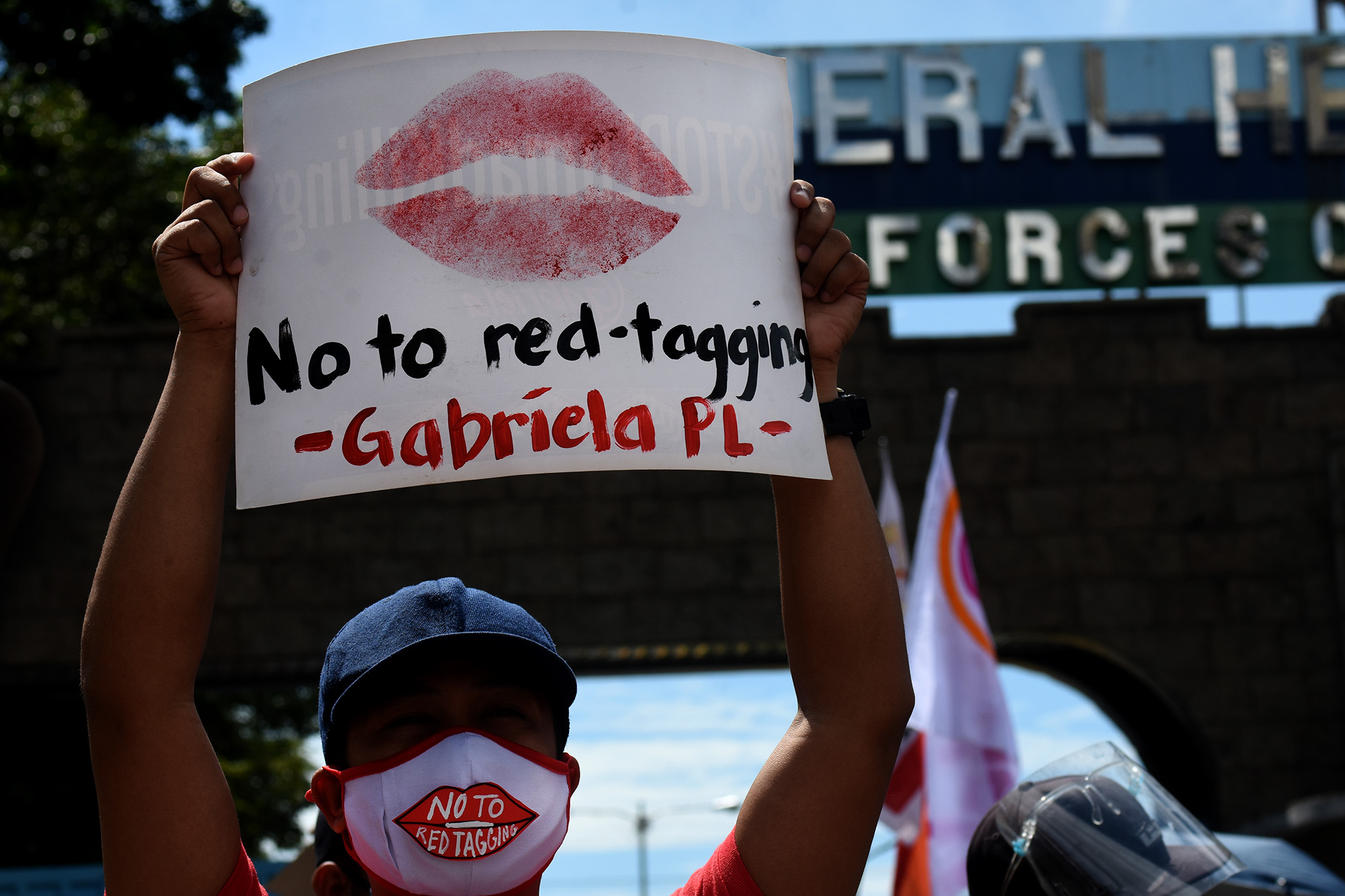 Student activists became easy targets for red-tagging, too. In a webinar hosted by the Cavite State University (CvSU) on October 24, 2020, a military officer red-tagged some progressive groups and student activists, warning the estimated 1,000 students in the webinar to stay clear of these groups that "recruits" the youth to join the New People's Army. (READ: Cavite State University under fire after military official red-tags activists at NSTP webinar)
For student organizations such as CvSU Kilos Na and League of Filipino Students, the CvSU administration should be held accountable for allowing soldiers to red-tag its students. CvSU later apologized but also argued that it's up to students to believe the military's claims or not.
Perils of distance learning
Due to the pandemic, the education department has been using distance learning as its main method for class delivery. This shift has always been controversial as the country struggled with the new system that demanded new protocols, infrastructure, and knowledge.
Students were quick to point this out. They took the discussion of #LigtasBalikEskwela and academic freeze to social media and onto the streets.
They also blasted the education department for incompetence and posted photos of sub-standard learning modules.
Despite the department's "no student left behind" mantra, students still feel left out. They lamented that they cannot afford to buy the tools needed for online classes, given that their parents lost income during the lockdown.
Faced with incoherent government response, students launched their own donation drive dubbed #PisoParaSaLaptop.
Anger spilled over to other non-virus related matters, as two big typhoons dislocated thousands of Filipinos and devastated towns and cities. Government's slow action to these disasters prompted students of big universities such as Ateneo de Manila University (ADMU) and De La Salle University (DLSU) to call for an academic break.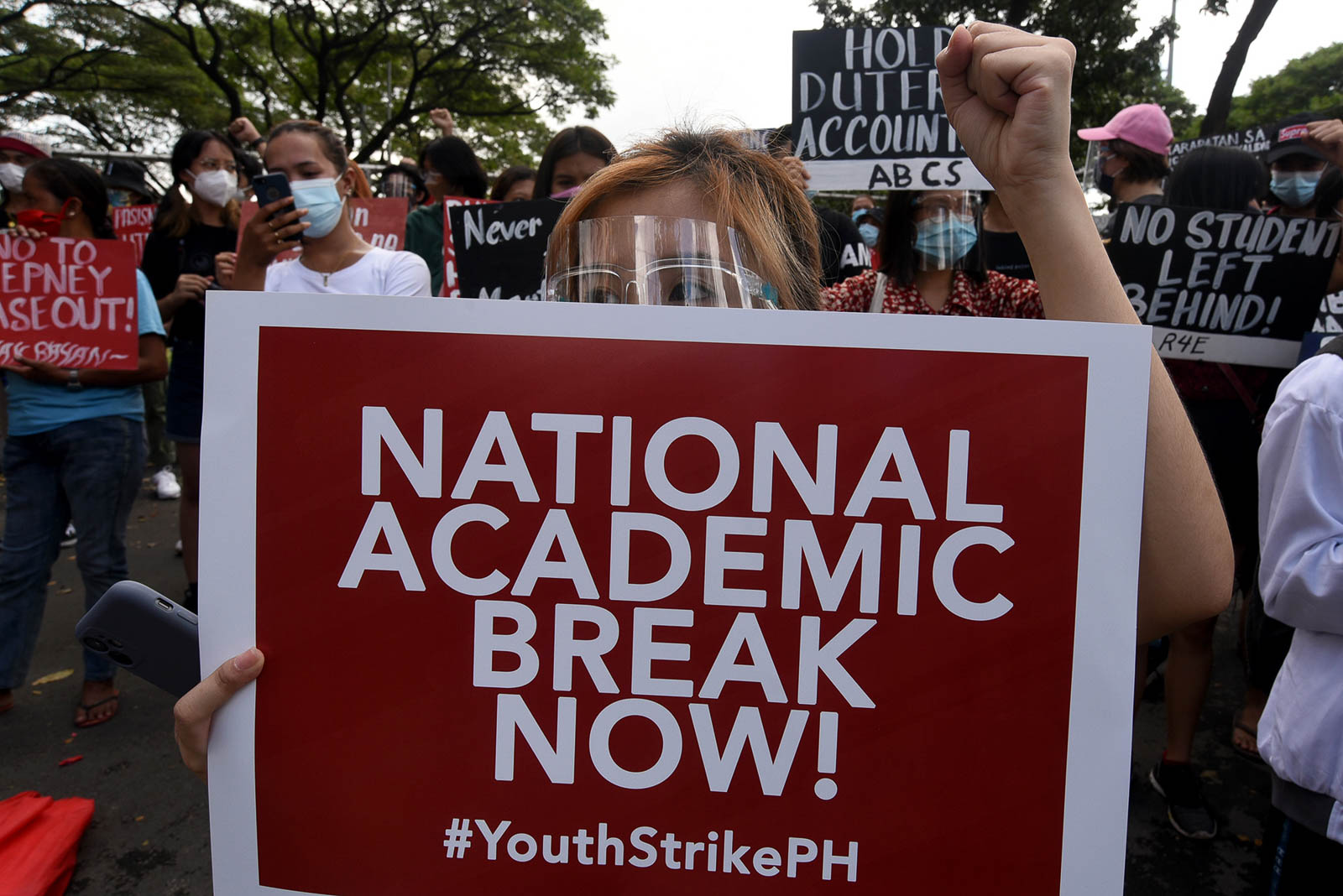 "We believe that things cannot continue business as usual. We can no longer stomach the ever-rising number of deaths due to the state's blatant incompetence. We cannot prioritize our schoolwork when our countrymen are suffering unnecessarily at the hands of those in power," Ateneo students said in their statement.
Students in other schools followed suit. "Spontaneous action siya na na-deem ng mga estudyante na necessary sa current situation at yun pa lang, yung mismong pagpapatawag ng mga estudyante at kaguruan, testament na 'yun sa tagumpay ng isang strike kasi napakahalaga ng unity ng iba't ibang sector kapag magpapatawag nito," Bongon said.
([Student protests] are spontaneous actions that the students deemed necessary, given the situation of the school community. These actions alone are a testament to the success of a strike because of the unity of the different sectors.)
The students' strike scored some victories. At UPLB where Bongon studies, the university implemented a no-fail policy as well as programs designed to assist students in their academics.
Exposing sexual predators
The Filipino youth also used social media to expose sexual misconduct they experienced in schools.
#HijaAko trended last June 2020 after a spat between the broadcaster Raffy Tulfo and Frankie Pangilinan, daughter of Senator Francis Pangilinan and megastar Sharon Cuneta. (READ: 'Inviting the beast'? #HijaAko trends as women call out victim blaming)
A domino effect followed, with students owning the hashtag #HijaAko as they exposed cases of sexual harassment in different schools such as Miriam College High School (MCHS) and Taguig Science High School (TagSci). The online movement resulted in other campaigns– #MCHSdoBetter and #TagSciDoBetterNow – to trend.
To promote a "healthy" call-out culture, Bongon said the objective of a mobilization or a campaign on social media must be clear for the students and the rest of the school community. "Gamitin din siya, hindi lang siya basta pag-cacallout, but gamitin natin siya as a form para mag-educate pa ng mga tao regarding these cases," he added. (Use it not just for the sake of "calling out" but as a way to educate more people about these cases.)
Given what young Filipinos have shown this year, Bongon is optimistic about the future of student activism in the country.
"'Yung pinakaimportansya ng dissent sa isang demokrasya ay para mabuo yung sharpest line at malaman kung ang isang decision ba ay tama o meron siyang mali," Bongon stressed. (The importance of dissent in a democracy is that it forms the "sharpest line" and helps determine whether a [leader's] decision is correct or not.)
"Kung ang dissent ay hindi pinapakinggan… then hindi na natin siya matatawag na demokrasya."
– Jainno Bongon, convenor for Rise for Education
The goal is for leaders to acknowledge the problems and hear citizens out. Otherwise, it's no longer democracy, he said. – Rappler.com