Seat belts and a parent's embrace are not enough to ensure a child's safety when inside a vehicle
At least three children die every day in the Philippines from road crashes, according to 2017 data from the Philippine Statistics Authority. To improve road safety in the country, several laws on speeding, seat belt and helmet use, and drunk driving have already been put in place. Among the most recent laws is Republic Act (RA) No. 11229 or the Child Safety in Motor Vehicles Act which is supposed to take effect in 2021.
Under RA 11229, all children up to the age of 12 years and below 4'11" in height are required to be secured in a child restraint system or child car seat when inside a motor vehicle. This child car seat should be appropriate for a child's height, weight, and age. The law also requires that children must not be seated in front or be left unattended while inside the vehicle. 
Child car seats were initially required starting February 2 but the Department of Transportation (DOTr) deferred the implementation of the new rule, in response to the complaint of many Filipinos who noted that the policy would be an additional expense to cash-strapped households during a pandemic.
The DOTr postponed the enforcement date of the law to allow both parents and enforcers more time to prepare. Besides, pandemic-driven lockdowns have largely kept children at home.
With COVID-19 vaccinations now underway, mobility restrictions could be lifted sometime soon. When that happens, are families ready to go back on the road safely?
Is an embrace enough?
While many adults often secure young children in cars by holding them or using regular seat belts, there's more that can be done to keep a child safe.
According to the World Health Organization, a child restraint system can drastically reduce the risk of injury for children zero to four years old. When these children are in a rear-facing car seat, the risk of injury is reduced by up to 80%, and for those with only a seat belt, by 32%.
"The need for child restraints inside vehicles is based on World Health Organization data on road fatalities, and is confirmed by our own experience as physicians," said Dr. Ramon Severino, a member of the Philippine Pediatrics Society (PPS) and the Philippine Medical Association's advocacy committee.
Severino and other PPS members were also part of the technical working group that finalized the implementing rules and regulations (IRR) of the Child Safety in Motor Vehicles Act.
"At East Avenue Medical Center where I work, we see a lot of trauma cases resulting from failure to use seat belts or harnesses for children which could have protected their fragile bodies, especially the head and spine," he said. 
Asked whether a parent's embrace is enough to protect the child, Severino said the simple answer is no.
"Our arms are not enough to sustain the force of the impact during a crash. The tendency of the arms upon impact is to release hold, so the child will most likely get thrown off," he explained.
"Imagine if the collision happens while you are feeling sleepy, or had actually fallen asleep. So, no, our embrace cannot substitute for the protection offered by a proper CRS," he added.
How about seatbelts?
Seat belts won't do the job either, said Atty. Daphne Marcelo, project manager for road safety at Imaginelaw, which also helped craft the law's IRR.
"Regular seat belts are designed for an adult's body. Children's physiques are not yet fully developed and the seat belt ends up loose or ill-fitting and thus will not protect the child in the event of a crash," she explained.
"It (child car seat) keeps the child from being ejected from the vehicle. Second, it directs the force from the crash toward the strongest parts of the child's body – the hips and shoulders – and then distributes this force over a wider area, thus reducing the severity of physical injuries or even preventing death. Third, it helps the occupant child ride down the crash," added Marcelo.
How to choose the right child restraint system
As with seat belts, a child restraint system's ability to protect a child depends a lot on fit. There are different types of CRS designed to best protect the child at different stages of growth.
"In general, we have the rear-facing seat for infants, forward-facing seat for toddlers, and when they grow out of that they can move to a booster seat until they are 12 years old. The booster seat is so-called because it 'boosts' the child's height so that the adult-sized seat belt fits better," Marcelo said.
"The appropriate CRS is one that can accommodate the size of your child. The age-height-weight recommendations on the table shown here are just a guide and should be read in addition to the instructions provided by the manufacturer as to the CRS's carrying limits. At the end of the day, you have to check if the child fits well and comfortably in the CRS. For instance, there should be no space between the harness and the child's shoulders," she added.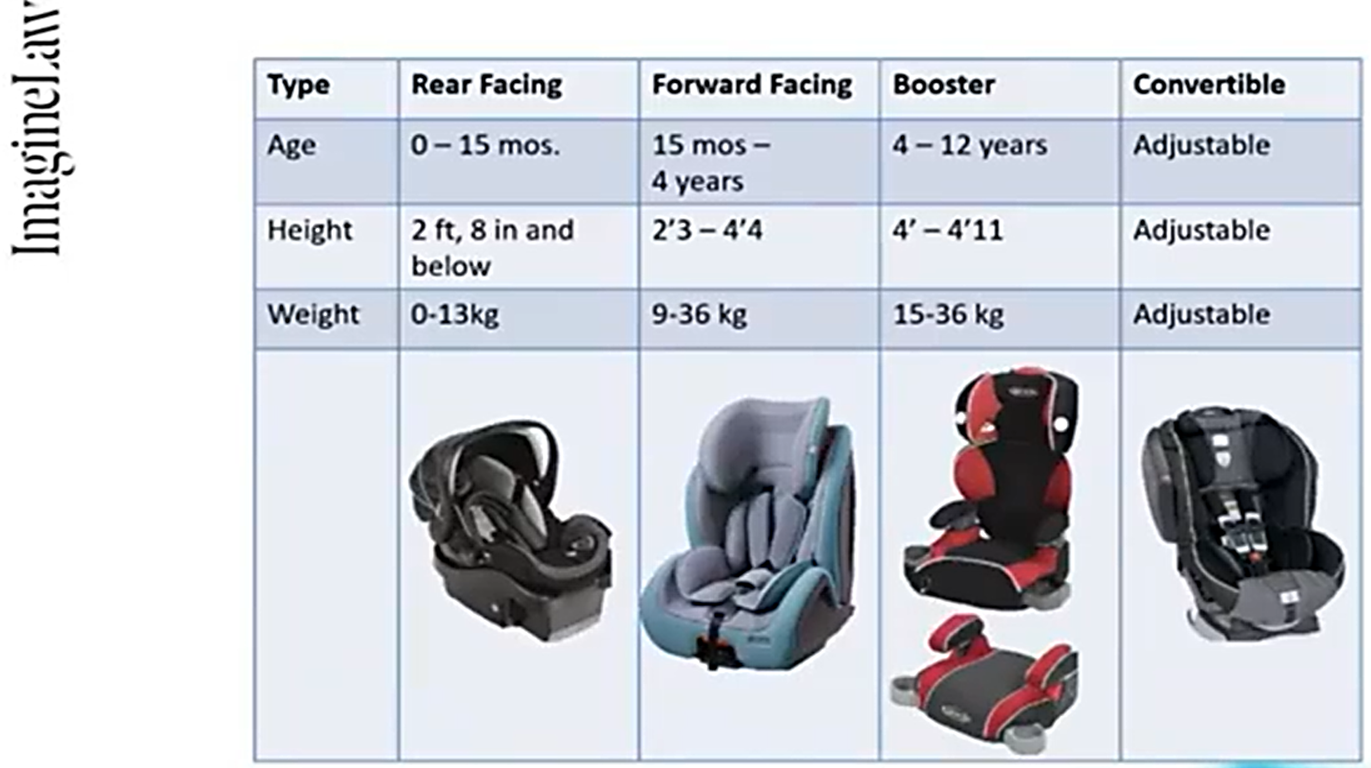 Harlene de Grano, a mother whose daughter died in a car crash in 2013, cautioned parents to prepare themselves for any scenario.
In 2013, De Grano had set out from Tanauan for Batangas City – about 40 kilometers south – for an errand.  It was the day after Christmas and anticipating heavy traffic, they decided to take the Star Tollway to cut down travel time. Harlene had sat behind the driver, and held her 10-month-old baby girl AC on her lap. 
On the expressway, AC cried for milk. Harlene put AC down beside her so she could bend down toward the bag by her foot. It took her only several seconds to make the bottle of formula, but when she straightened up again to feed AC, she saw a car hurtling toward them, causing a head-on collision.
Harlene woke up in the hospital, where she and her brother were being treated for injuries. AC, however, did not make it. Her small body was too fragile to withstand the impact that caused even Harlene to lose consciousness.
When the De Granos heard about Child Safety in Motor Vehicles Act in the February, Harlene wondered what could have happened if the law had been in place in 2013 and AC had been buckled up in a child car seat. "Malamang buhay pa si AC ngayon (AC might still be with us)," she said.
Severino encourages parents to look at CRS as an investment to protect their children, perhaps even save their lives.
"The objective is for our children not to get hurt, to keep injuries at a minimum if these cannot be avoided and, most importantly, that no one dies," he said. "You cannot put a price on that." – Rappler.com
Leah Baroña-Cruz is part of Mind The Gap Communications, a small team based in Los Baños, Laguna, that seeks to support good causes. Learn more about the Child Safety in Motor Vehicles Act via Buckle Up Kids PH and ImagineLaw on Facebook.