Despite these threats and limitations, affected campus publications try to continue operations and remain true to their mandate
Under the COVID-19 pandemic and the passage of the anti-terror law, the threats to campus publications take on a greater severity and pose serious challenges to student journalists' reportage.
This is on top of campus publications already being subjected to attacks and suppression, even by their own school administrations. The College Editors Guild of the Philippines (CEGP) has recorded almost 1,000 violations against campus press freedom since 2010.
Heightened harassment, red-tagging
Aside from universities, student publications are among the targets of the government's red-tagging spree, after several were described as legal fronts of the communist movement without basis.
Tinig ng Plaridel, the official student publication of the University of the Philippines College of Mass Communication (UP CMC), was a recent target.
In a Facebook post on March 1, Tinig ng Plaridel reported that it had received a death threat from a suspected troll account.
"Binabalaan namin kayo. Itigil niyo na ang ginagawa niyo. Kung ayaw niyong itumba namin kayo," a part of the troll's message read.
(We're warning you. Stop what you're doing already, if you don't want us to bring you down.)
In their statement, the publication emphasized its tradition of critical reportage and maintained its commitment against any threats to campus press freedom.
"We also call on fellow campus journalists to resist, hold the line, and seek the government accountable for the vicious cycle of impunity that reigns supreme in this country," the publication said.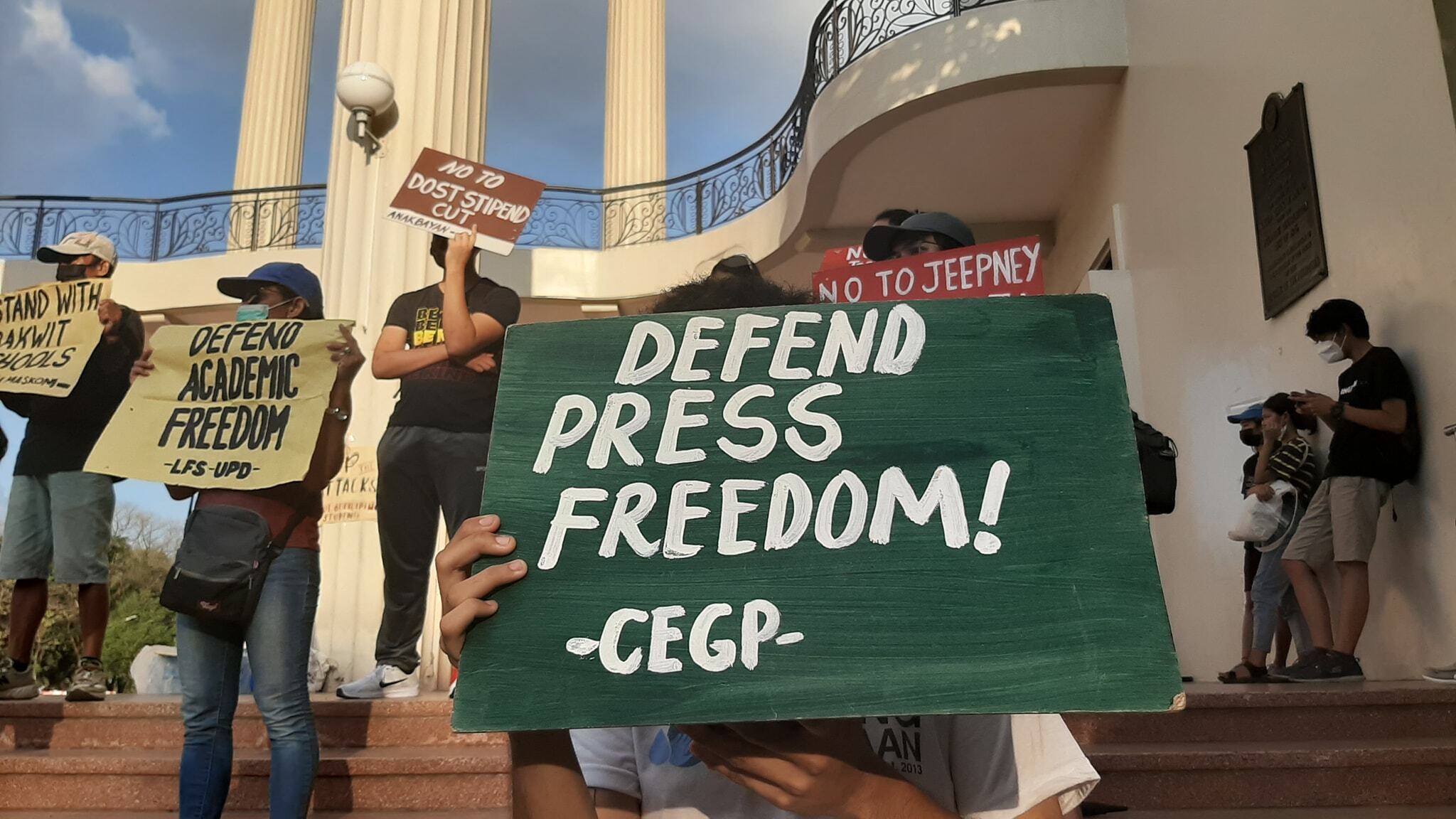 Himati, the official student publication of the University of the Philippines Mindanao has also been a subject of red-tagging on social media.
In a now-deleted February 6 Facebook post by Kalumuran Mindanao, a page backed by the National Task Force to End Local Communist Armed Conflict (NTF-ELCAC), Himati was accused of being an "ally" of the Communist Party of the Philippines-National Democratic Front-New People's Army (CPP-NDF-NPA), along with UP Mindanao alumnus Jayvie Cabajes and the United Church of Christ in the Philippines-Haran.
Prior to this, Sinag, the official student publication of the UP College of Social Sciences and Philosophy (CSSP), was also accused, by individuals claiming to be members of the Indigenous People Mandatory Representatives (IPMR), of being a legal front for the New People's Army.
On January 11, Manila Times columnist Roberto Tiglao also accused the Philippine Collegian, the official student publication of the University of the Philippines Diliman, of being a front for communist rebels.
In their statement, the Philippine Collegian pointed out that the accusations "imperil the life and safety of student journalists" and strongly denied being a legal front for communist groups.
"While none of us are wanted nor terrorists, this is not something we take lightly, especially at a time when even such implications could lead to unlawful arrest and, even worse, death in cold blood," the statement read.
UP Solidaridad, an alliance of student publications and writers' organizations in UP, strongly condemned these incidents.
"Kung pananakot din lang ang ibinabato sa amin, natitiyak din naming higit na nakakatakot, ngunit wasto at makatwiran, ang tugon ng mamamayan at mga mamamahayag na nananawagan ng tunay na hustisya at kalayaan sa lipunan," said in their statement.
(If threats are going to be thrown our way, we're going to make sure that we citizens and journalists, who call for true justice and freedom in our society, will respond just as fiercely, but in a just and proper way.)
Impacts of red-tagging
These red-tagging incidents, although already dangerous, take on a whole new meaning now that the anti-terror law is in place. Critics have long raised concerns about the highly contested law, saying this could give the government more power to arrest or detain dissenting individuals and groups due to the policy's vague definition of terrorism.
The law has made it all the more difficult for campus publications to do critical reportage and has even affected the operations of campus publications in a bid to protect their members.
Cristina Chi, editor-in-chief of Tinig ng Plaridel, said measures such as using only the initials of their writers in bylines are being imposed to ensure their safety after the attack on their publication. Chi added that she wanted to make sure that the members would be safe from personal threats.
"It's one thing for the publication to receive death threats through its FB page, it's another if someone manages to get a hold of our numbers, text us death threats, while monitoring us in person," Chi said.
Miguel de Borja, editor-in-chief of Sinag, also mentioned using pen names for the additional protection of their writers and requiring them to beef up their security on social media to protect their identities.
He added that the red-tagging incident also affected their writers' mental health. However, he also said that this had no effect on the kind of articles they wrote.
Himati's publishing of stories, in the meantime, has been slower than usual due to the anxiety and burnout faced by their staff after being red-tagged.
"The publishing of articles has slowed down due to the political climate. Though we try to stay militant with our content, this has certainly pushed a number of our contributors to go by pseudonyms," Red Masacupan, editor-in-chief of Himati, said.
A warning to others
Masacupan said that while they have already used pseudonyms to protect their writers' identities, others are still hesitant, leading to Himati working with a limited number of writers.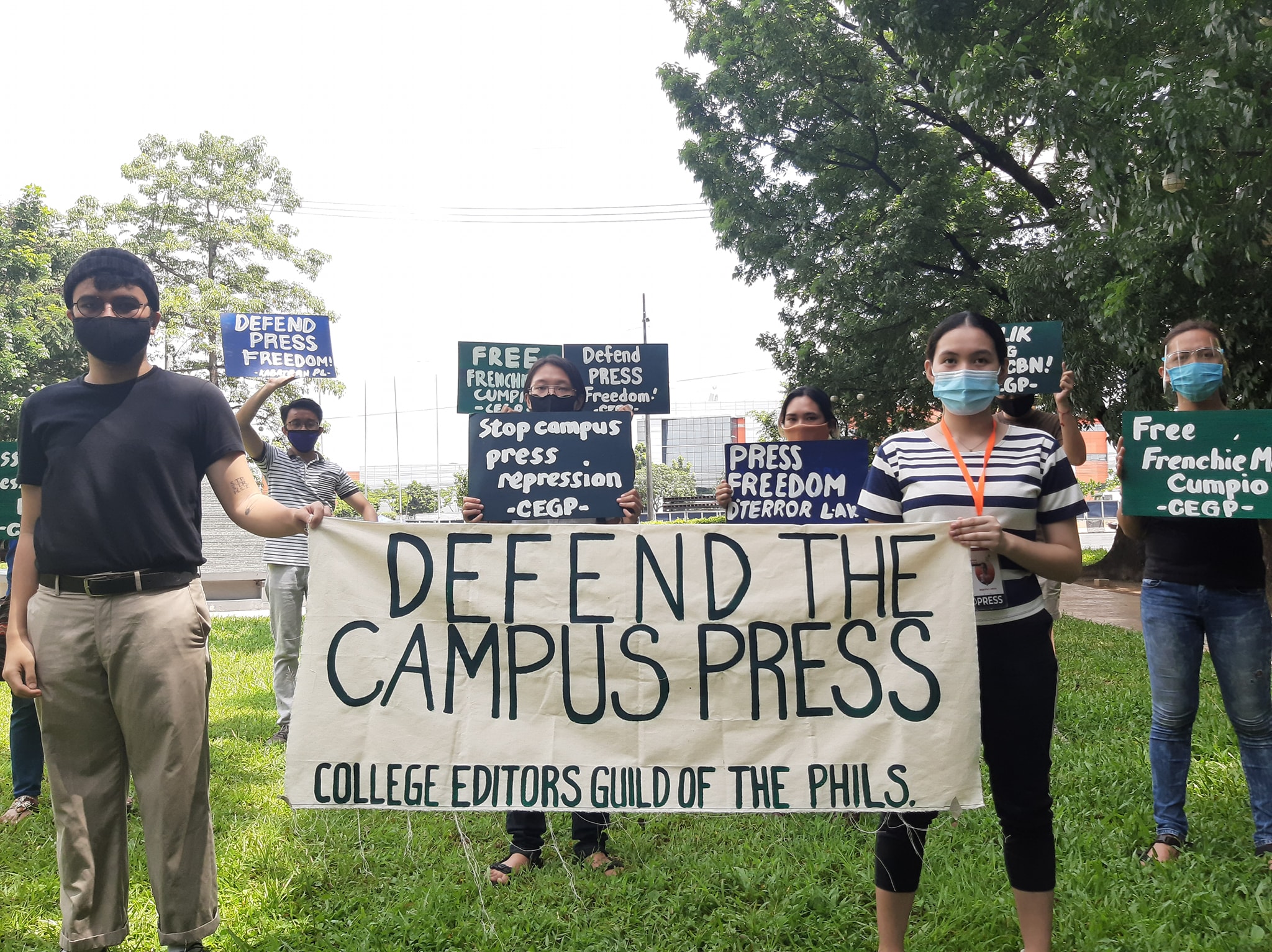 De Borja also shared that those who continued to write stories were not forced or pressured to contribute.
While others are threatened by the incidents, Chi said the attacks reminded them of their role as watchdogs.
"The red-tagging incidents made student journalists more conscious of their role as journalists, which is to provide context to [the] national issues, including red-tagging, that kept plaguing the communities," Chi added.
De Borja also emphasized the need for a law protecting campus journalists and penalizing red-tagging.
How campus journalists can be protected
Although there is an existing law to protect campus journalists, publications such as Tinig ng Plaridel, Sinag, and Himati said the current provisions did not offer them much security from red-tagging incidents.
Several campus publications from different universities, including the University of San Carlos and the University of the Philippines System, have banded together to call for the repeal of the Campus Journalism Act.
"This spineless law that promises safe spaces for campus journalists condones transgressions due to its lack of a penalty clause. It provides school administrations a leeway to commit offense after offense and get away without any punishments," the statement read.
Kabataan Partylist Rep. Sarah Elago has also renewed her push for House Bill No. 319 or the Campus Press Freedom Bill that seeks to repeal the Campus Journalism Act of 1991.
The said bill seeks to amend provisions in the current law on the non-mandatory collection of the publication fee and the non-mandatory establishment of student publications.
"The protection of campus journalists against these attacks is now important more than ever, and if that comes from the amendment of CJA, then that's a step good enough for now," Masacupan said.
As of March 2021, the bill is still pending with the House committee on higher and technical education.
Despite these threats and limitations, affected campus publications try to continue operations and remain true to their mandate.
Sinag, Tinig ng Plaridel, and Himati said that they will continue to expose cases of state-sponsored harassment in the community, adding that student journalists are especially important in amplifying issues that do not get covered much on mainstream media.
"As the continuous red-tagging spree transpires, campus publications always advocate for a free press, which starts by keeping up the flame of militancy and giving light to stories that are worth telling," Masacupan said. – Rappler.com
Jezreel Ines is a Rappler intern. He is a 3rd year journalism student at the University of the Philippines Diliman.
Angel Turiano is a Rappler volunteer under Move PH. She is a 2nd year broadcasting student at Ateneo de Naga University.