In a rally, Iglesia ni Cristo members vow they will not vote for Justice Secretary Leila de Lima when she runs for senator in May 2016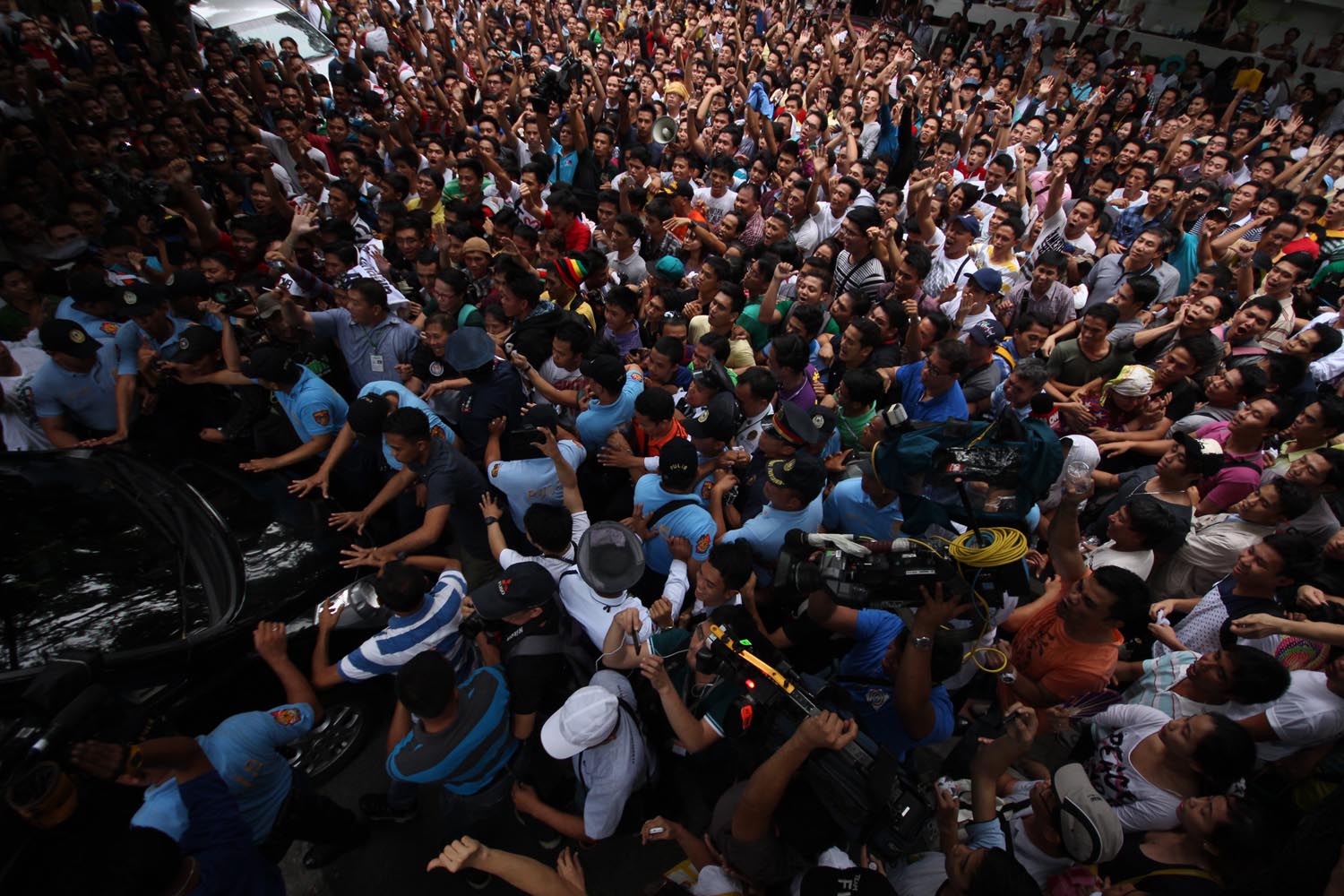 MANILA, Philippines – On the day Justice Secretary Leila de Lima announced her senatorial bid in 2016, members of the politically influential Iglesia ni Cristo (INC) slammed the justice chief in a rally in front of her agency.
To the tune of the famous song, "Why, Why, Why, Delilah," INC members chanted during their protest, "Why, why, why, De Lima?"
When asked if they would vote De Lima for senator, the INC members answered, "Hindi!" (No!)
INC members vote as a bloc, and politicians court INC leaders to win any election. (READ: INC: From rag-tag sect to influential wheeler dealer?)
Up to 1.37 million of around 52 million Filipino voters, or 2.6% of the voting population, belong to the INC.
Earlier on Thursday, which was also De Lima's 56th birthday, the justice chief confirmed she would run for senator in May 2016.
INC members in the rally in front of the DOJ, however, rejected De Lima's bid because she is supposedly interfering in INC affairs.
Their rally against De Lima comes after expelled INC minister Isaias Samson Jr filed an illegal detention case against INC leaders before the DOJ.
'Justice for SAF 44!'
Samson earlier claimed INC officials placed him under house arrest for running a blog criticizing INC leaders. 
Prompted by Samson's complaint, the protestors had a chant against "Samson and De Lima," alluding to the biblical story of Samson and Delilah.
They also blocked a van reportedly carrying De Lima. Many of them carried tarpaulins, too, that slammed the justice chief.
One of the tarpaulins said, "Malabo yata kay De Lima ang gobyerno at Iglesia." (De Lima couldn't tell the difference between the government and the Iglesia.)
Another said: "Mas maraming isyu ang dapat unahin. Huwag ang pakikialam sa amin!" (More issues need to be prioritized. Don't interfere with us!)
They said one of these issues involves the SAF 44, or the 44 elite cops who died in a bloodbath in Mamasapano, Maguindanao. 
The clash was blamed on Muslim rebels engaged in peace talks with the Philippine government. It also triggered the Aquino administration's worst crisis.
Also facing their worst crisis, INC members chanted on Thursday: "SAF 44, bigyan ng katarungan!" (Justice for the SAF 44!) 
The INC leadership has been under attack for alleged corruption and high living that is contrary to Iglesia doctrine. – Rappler.com