(3rd UPDATE) Cayetano is waiting for the decision of his dream running mate, Davao City Mayor Rodrigo Duterte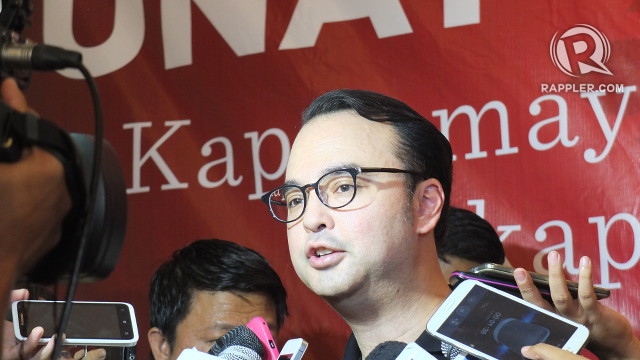 DAVAO CITY, Philippines (3rd UPDATE) – "I am running for vice president of the Republic of the Philippines," said Senator Alan Peter Cayetano from Davao City on Tuesday, September 29. 
"And I am putting my faith in God and to you our people and I'm praying for a president who will make us proud and bring us true change in Luzon, Visayas, and Mindanao," he said, alluding to his "dream" running mate, Davao City mayor Rodrigo Duterte. 
But it's not yet clear if Cayetano is running under the Nacionalista Party, another party, or as independent, given that Duterte is yet to announce his presidential bid. (READ: Duterte: Give me time to do 'final soul-searching')
"We will see if there are changes in the next few weeks. I have made a decision that, regardless who I will be in tandem with, I will offer myself to the people," he told reporters.
He said the Nacionalista Party to which he belongs, may allow a free zone, considering there are possibly 3 of them from the party running for vice president – including Senators Antonio Trillanes IV and Ferdinand "Bongbong" Marcos Jr.
Though he was clear he wanted to run as Duterte's vice president, talks between the two politicians were far from certain in cementing the tandem, he said. (READ: 10 things to know about Alan Peter Cayetano)
Like the rest of the country, he is waiting for Duterte's final decision. 
"It's really up to Mayor Duterte but I think it is the country that will lose if he doesn't file as president," said Cayetano.
Support for federalism, decentralization
In his statement, Cayetano announced his support for federalism and decentralization, issues close to Duterte's heart. 
"That is why the cause of Mayor Duterte and Senator Pimentel here in the south are getting louder…That is why I am calling on all those in government to act now. Huwag panay plano, huwag panay pangako sa eleksyon. Ipakita natin na lahat tayo na gusto ng decentralization, federalismo, decongestion o ilabas ang pondo sa Metro Manila. Kaya nang gawin yun."
(Not just all plans, all promises during elections. Let's show that we all want decentralization, federalism, decongestion or to bring funds outside Metro Manila. We can do that now.)
The senator said he has not made a formal offer to Duterte to run as his vice president if the latter decides to run for president. He was last with the mayor on August 21 when they talked of many things, but not of forming a possible tandem.
Asked about why he wanted to run with Duterte, he said he admired the changes the mayor was able to bring about in Davao City. 
Aside from figuring prominently in surveys on voters' preferences, Duterte was one politician with a solid track record in delivering on his promises, noted Cayetano.
"We want to be passionate about our president. We want a president who can look OFWS (Overseas Filipino Workers) in the eye and say 'I will fix the Philippines so you can go home,'" he said. 
Waiting for Duterte
But Cayetano is not in Davao City for nothing. 
"There's been no talks directly between me and him but tonight I hope I'll have a chance to see him. My sister (Senator Pia Cayetano) is also flying in, in a while," he said.
Cayetano was also accompanied in the press conference by his wife Lani Cayetano, mayor of Taguig City.
In the last Pulse Asia Ulat ng Bayan survey conducted September 8-14, Cayetano obtained a rating of 9%, an improvement over his previous 2% rating in the Pulse May 30-June 5, 2015 poll. He ranked 4th after Marcos (13%), Escudero (23%), and Poe (26%).
Reacting to Cayetano's declaration, Escudero said, "He is competent, capable and has every right to run for higher office. I wish him well."
Trillanes, for his part, said, "As announced by Senator Manny Villar during our NP meeting, if two or more party members are running for the same position, NP would declare 'zona libre' or where the party members would be left to decide whom to support."
Previously, Cayetano was also being eyed as among the possible running mates of Liberal Party standard bearer Manuel "Mar" Roxas II. The partnership did not pan out as Roxas still awaits the final decision of Camarines Sur Representative Leni Robredo.
Besides Cayetano, there is only one other recently declared vice presidential candidate, Senator Francis "Chiz" Escudero, who is running with close friend and Senator Grace Poe. Trillanes had also made known his intentions of running for the second highest post.
The Commission on Elections has set October 12-16 as the date for the filing of certificates of candidacy. – Rappler.com