Chief Justice Maria Lourdes Sereno has announced she would be releasing her Statement of Assets, Liabilities and Net Worth
MANILA, Philippines – The other justices of the Supreme Court should follow in the footsteps of Chief Justice Maria Lourdes Sereno and order the immediate release of their Statements of Assets, Liabilities and Net Worth (SALN).

Roan Libarios, president of the Integrated Bar of the Philippines (IBP), made this appeal in an interview with reporters after Sereno's speech at the Presidents of Law Association in Asia Conference on Wednesday, August 29.
"Since the Chief Justice started it [ordering the release of her SALN], perhaps the rest [of the SC justices] should follow," Libarios told reporters in Filipino. "This should encourage the other members of the Supreme Court to release and truthfully disclose their SALN and address concerns on transparency in the judiciary," he added.
Last Tuesday, August 28, in the first en banc session that she presided over, Sereno said she would be releasing her SALN in response, she said, to news reports about her involvement in businesses and whether she has declared these in her SALN. (Sereno however did not say when she plans to release it.)
Sereno must have been referring to a Philippine Center for Investigative Journalism report published in various media outlets which showed that  a certain "Maria Lourdes Sereno" is still listed as either a board member, incorporator of stockholder in AccessLaw Inc., SMETRIX Inc. and MRM Studios Inc. The PCIJ based this information on its records it obtained from the Securities and Exchange Commission.

In its report "SC discloses Zero SALN months after Corona trial," the PCIJ traced the nature of the business entities: AccessLaw Inc. provides law schools and law firms with digital databases of court rulings. The PCIJ reported that Sereno still has 15,840 shares or 27.55% of total common shares of AccessLaw, which is worth P1,584,000.

SMETRIX is a consultancy firm also engaged in business development and project management. MRM Studios Inc., on the other hand, provides music through wireless broadband, according to PCIJ.
The report asked if Sereno declared these financial and business interests in her 2010, 2011 and 2012 SALNs (Sereno joined the SC in 2010).
What the law says
Rule 5.02 of the Code of Judicial Conduct states that " a judge shall refrain from financial and business dealing that tend to reflect adversely on the court's impartiality," while Rule 5. 03 states that a "judge may hold and manage investments but should not serve as officer, director, manager or advisor, or employee of any business except as director of a family business or judge."

Requests for SC justices' SALN have to be approved by the en banc.
The SC, then convened by acting chief justice Antonio Carpio, approved the guidelines for the release of their SALN following the removal of Chief Justice Renato Corona from his post. Corona was dismissed from office by the Senate sitting as an impeachment court for failing to declare P183 million in peso and dollar bank deposits in his SALN.

Sereno previously released to Rappler a summary of her 2010 SALN, which showed she had net assets of P17,762,167.26–down from P17,841,353.65 in 2009.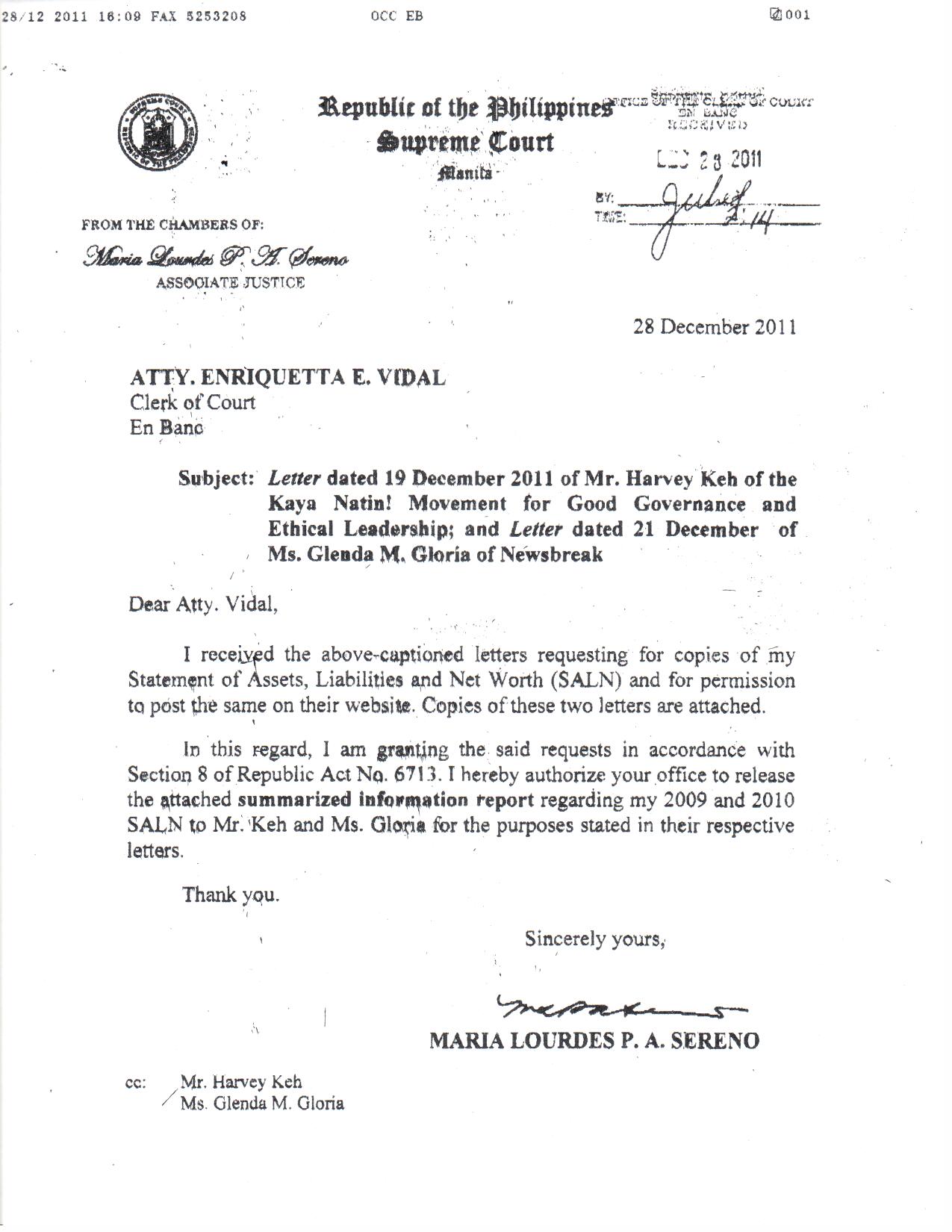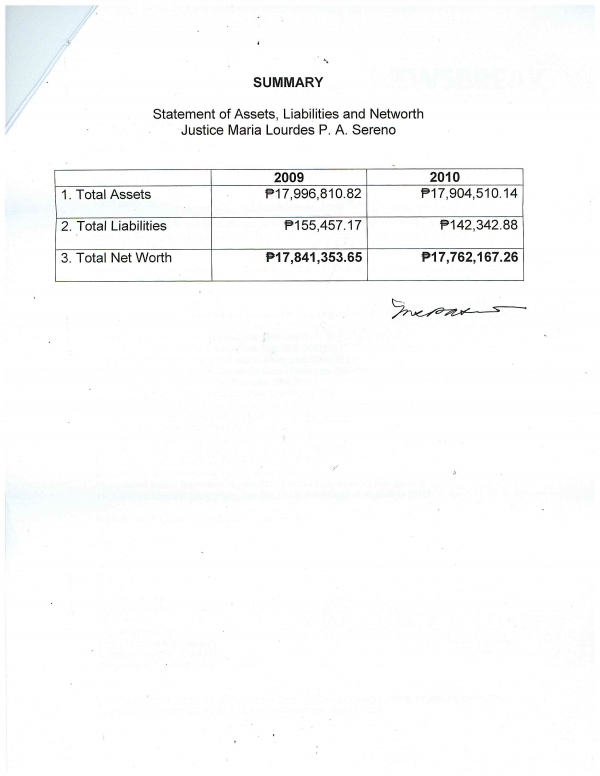 It is not clear when Sereno intends to release her SALNs. She refused to elaborate on it when asked by reporters Wednesday. "A statement will be issued that will indicate what has taken place in the en banc session and that includes disclosure of the SALN of the Chief Justice," Sereno said. – Rappler.com
More in #SCWatch: