This is AI generated summarization, which may have errors. For context, always refer to the full article.
Ronaldo Geron takes his oath as new immigration chief barely 2 weeks after Malacañang put Siegfred Mison under investigation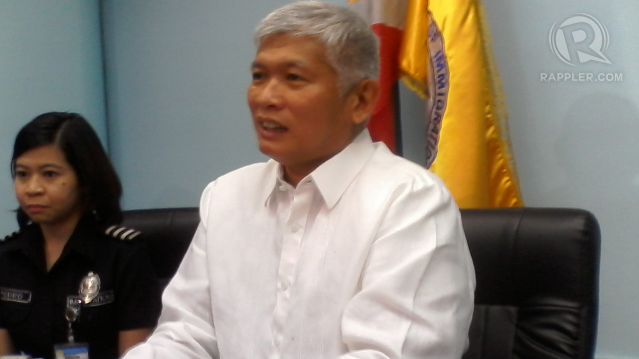 MANILA, Philippines – Barely two weeks after Malacañang started investigating allegations against him, immigration chief Siegfred Mison was replaced with a Malacañang official, Deputy Executive Secretary Ronaldo Geron Jr.
The justice department announced Geron's appointment as new immigration chief on Wednesday, January 6, saying he took his oath that day.
A deputy of Executive Secretary Paquito Ochoa Jr, Geron is a 1987 graduate of the University of the Philippines College of Law and had served as provincial administrator of Batangas under the late Governor Armand Sanchez.
He is said to be closely associated with Ochoa.
Complaints
On December 20, Malacañang announced that it had asked the Department of Justice to investigate Mison following complaints he misused government funds.
Former BI Intelligence chief Faizal Hussin accused Mison of violating Republic Act 3019 concerning overtime pay and bonuses for employees from the Express Lane Trust Fund, saying Mison is not eligible to receive them as he is the Chief Executive Officer of the bureau.
Another ex-BI official, Ricardo Cabochan also alleged that Mison and other officials of the bureau are involved in the sudden disappearance of fugitive Chinese national Fu Gaofeng, arrested for not having a working visa or permit.
Mison has repeatedly said these charges were concocted by sectors opposed to the reforms he has initiated in the bureau. (READ: 'Exciting times' for the Bureau of Immigration)
The Inquirer reported that the National Bureau of Investigation (NBI) found Mison guilty of grave misconduct for allowing the detention of a Korean in a cell in the Intelligence Service of the Armed Forces of the Philippines (ISAFP), a move that supposedly allowed him to escape from custody in October 2015.
The bureau has been entangled in allegations of bribe-taking by top officials over the non-deportation of Koreans and Chinese fugitive Wang Bo. The Chinese embassy had sought the deportation of Wang who is wanted in China for allegedly embezzling $100 million.
Mison voted in favor of the Chinese embassy but was outvoted by his deputy then, Gilbert Repizo, and Deputy Commissioner Abdullah Mangotara. There were allegations of a P100-million bribe given by Wang to secure his release but these were unsubstantiated. Wang was eventually deported in August 2015.
As early as November, Mison was reportedly being eyed for suspension over the allegations. But other sources said he may have been the victim of power play as one group in Malacañang wanted full control over the DOJ and subsequently, the BI.
He was appointed to the bureau by then Justice Secretary Leila de Lima in July 2013. De Lima quit the DOJ to run for the Senate in the May 2016 race.
Others who knew Mison said the former BI chief had no pending administrative cases when De Lima was still justice secretary. He had her full support.
Mison's statement
In a statement, Mison said he welcomes Geron and encourages everyone in the bureau to extend to him as much cooperation and teamwork as they had extended to him during his 4-and-a-half years as Commissioner.
"As I leave the Bureau, I thank President Aquino for giving me the opportunity to serve in his administration and the Filipino people….On my part, I did what I could to follow the straight path with much dedication expected from any public servant," Mison said.
On the NBI report about the escape of a Korean fugitive, Mison said he would answer "all such allegations in the proper venue and at the proper time."
A West Point graduate, Mison joined the Philippine military shortly after his graduation in 1987. While assigned in the intelligence community, he took up law and eventually retired as a major after passing the bar.
He is a son of Salvador Mison Sr, a longtime customs bureau chief and retired general.
He replaced Ricardo David Jr, a retired Armed Forces chief of staff who was appointed to the bureau in 2011 by Aquino. David quit last July 12 following persistent problems in the bureau. – Rappler.com