Some believe that Senator Juan Ponce Enrile's bid to re-open the Senate probe into the Mamasapano clash is not motivated by 'new evidence' but by something closer to his heart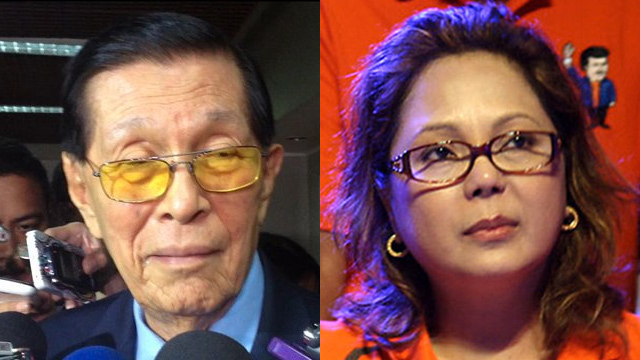 A lot of motives have been tossed around following the Senate's decision to re-open its probe into the controversial Mamasapano clash. There's the 2016 national elections, politics, personal vendettas, and for the more pure of perspectives, a genuine desire to know the truth.

But there might be a more personal reason behind Senator Juan Ponce Enrile's move to re-open the committee probe: his former chief-of-staff, supposed paramour and alleged pork barrel scam accomplice Jessica Lucila "Gigi" Reyes. (READ: 'The Boss' and Gigi Reyes)

Enrile has claimed "personal knowledge" and "new evidence" as basis for his moves. But if police and government officials in the know are to be believed, the senator is reportedly hoping he can use the probe as a means to bargain for Reyes' release on bail.

Reyes, Enrile's co-accused in the pork barrel scam, is currently detained at a facility in Camp Bagong Diwa, Taguig City. The shared cell, with only basic amenities, is a far cry from her life of comfort prior to her detention. In fact, just hours after she was brought to the Taguig jail on July 9, 2014, she suffered a panic attack and was rushed to a nearby public hospital.
Enrile was under hospital arrest at the Philippine National Police (PNP) General Hospital until he was granted bail in August 2015, supposedly because of his health and old age. (READ: TIMELINE: Enrile and the pork barrel scam)

When the Senate first probed the bloody Mamasapano clash, Enrile was still in the police hospital. Also confined at that time were survivors of the clash, whom police officials said Enrile talked to several times.

Police doubt Enrile truly has "new evidence" on the matter, saying almost everything about the controversial clash has been said in public or private through congressional probes and investigations by the PNP and the justice department.

Although he has yet to reveal what the "new evidence" is, Enrile's media interviews have made it clear that the senator is deadset on discussing Aquino's failures before, during, and after the clash. Aquino's approval ratings plummeted to their lowest after Mamasapano, the biggest crisis to hit his administration.

An operation that targeted terrorists wanted by both the Philippines and the United States, more than 60 people died in clashes following the operation, including 44 elite cops. In its aftermath, cracks in the police leadership, tensions between police and the military were exposed, alongside many legislators' withdrawal of support for the Bangsamoro Basic Law, the product of years of negotiations between the administration and the Moro Islamic Liberation Front (MILF).

MILF fighters were among those who exchanged fire with the Special Action Force (SAF) troopers, alongside fighters from the breakaway Bangsamoro Islamic Freedom Fighters (BIFF) and private armed groups.

Both Enrile and Reyes allegedly pocketed millions of pesos in kickbacks by allowing Enrile's Priority Development Assistance Fund (PDAF) to fund bogus projects of non-governmental organizations ran by alleged pork scam mastermind Janet Napoles. – Bea Cupin/Rappler.com