This is AI generated summarization, which may have errors. For context, always refer to the full article.
The senator wants the Thought Leaders piece 'Magnanakaw' sa Senado by Dr Sylvia Estrada Claudio taken down within 10 days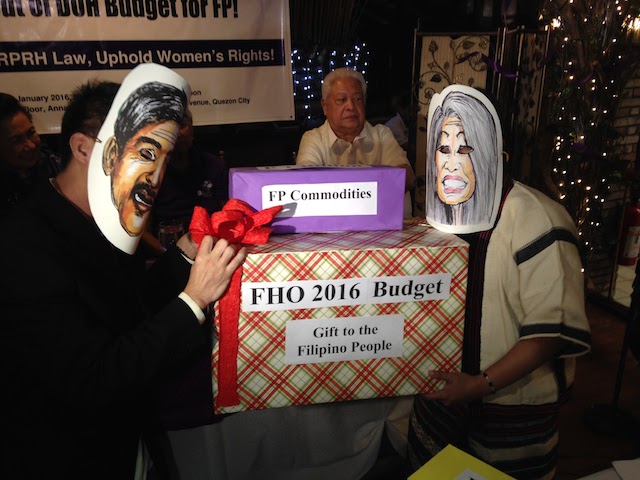 MANILA, Philippines – Senator Vicente "Tito" Sotto III has threatened to sue Rappler and one of its columnists if the news site does not take down an opinion piece on the P1 billion allocation for contraceptives that was removed from the national budget.
In a letter dated February 2, Sotto also asked Rappler to "sanction" Thought Leaders writer Dr Sylvia Estrada Claudio "for her libelous statements" in her January 18 piece, 'Magnanakaw' sa Senado.
Advocates of the RH law blame Sotto and fellow Senator Loren Legarda, chairperson of the Senate committee on finance, for the removal of the allocation that was meant to purchase family planning commodities for millions of Filipinos, especially women.
Sotto said that it is the opinion of his lawyers that Claudio's column maligns and falsely accuses him. The letter quoted the following lines: 
"Hindi matanggap ni Senator Tito Sotto na tinalo siya ng mga maralita at mga kababaihan nang maipasa ang reproductive health law, kaya't ninakaw niya ang P1 bilyong pondo nito sa bicameral committee."
"Ang problema ay ubod ng yabang nitong si Senator Sotto. Hindi niya matanggap na tinalo siya ng mga maralita at mga kababaihan. Hindi matanggap ang demokratikong pasya ng karamihan."
"Kaya't nagmistulang akyat-bahay gang ang senador. Tulad ng magnanakaw, hinintay niyang natutulog tayo matapos ng mga kasiyahan ng Pasko at Bagong Taon. At habang tayo ay mahimbing na natutulog, ninakaw niya P1 bilyong pinag-ipunan natin."
In his letter, Sotto said Claudio is wrong.
"The truth is that the P1-billion DOH reduction was a 'Finance Committee amendment,' and I had nothing to do with it. My proposed reduction from the Family Health and Responsible Parenthood of the DOH was less than P200 million based on the Commission on Audit's Report, as well as the Temporary Restraining Order issued by the Supreme Court."
Sotto also echoed Legarda in saying the health department has enough funds in 2016 to purchase family planning commodities even without the P1-billion allocation. (READ: RH budget cut exposes problematic lawmaking in PH)
His lawyers, he said, found that "there is an action for libel against the author and other responsible parties" since "there is a defamatory imputation against an identified person that was caused to be known or read by a third person and there was malice on the part of the accused."
He gave Rappler 10 days from receipt of the letter to take down the article and sanction Claudio.
Rappler's response
Rappler, through its managing editor Glenda M. Gloria, replied to Sotto's letter assuring the senator that the news site "means no harm or malice" when it publishes stories such as that of Claudio's.
In a separate letter to Sotto, Claudio said she and other advocates were convinced that the senator and Legarda "held the joint responsibility for that budget cut." She maintained that even if Sotto disagrees with this perception, "disagreement with you is not tantamount to libel."
Claudio wrote: "It is my opinion that you refused to follow the will of the people that enacted a law that mandates funding for contraceptives. That you also set yourself above your colleagues who obeyed the mandate of the law and funded contraceptives to the tune of P1 billion."
Rappler will not take down the article and has asked the senator to write a piece in response to Claudio, which Rappler will publish.  – Jee Geronimo/Rappler.com