'I was probably born to detest corruption, to condemn corruption, because I'm not corrupt myself,' Ombudsman Conchita Carpio Morales says in a Rappler Talk interview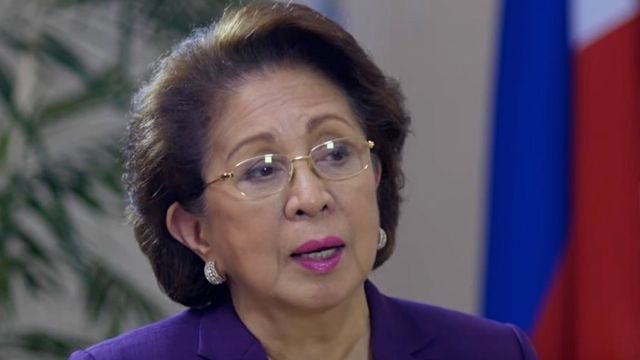 MANILA, Philippines – From her years in the judiciary to her latest role investigating and prosecuting erring public officials, Ombudsman Conchita Carpio Morales has sought to stamp out corruption – calling it the "reason" for her life. 
"I was probably born to detest corruption, to condemn corruption, because I'm not corrupt myself. I could see that corruption is rearing its ugly head, but I hate corruption and I vowed that I'll never, ever allow corruption to rule," Morales said in a Rappler Talk interview.
For the past 4-and-a-half years, Morales has led the agency mandated to probe and hold public officials accountable. She has gone against prominent officials such as Vice President Jejomar Binay, his son, dismissed Makati Mayor Jejomar Erwin "Junjun" Binay Jr, and Senator Juan Ponce Enrile, among others.
While critics have accused the Ombudsman of being under the "remote control" of the ruling Liberal Party, Morales has shrugged off allegations of selective justice and even dared her critics to impeach her.
Morales was appointed Ombudsman in late July 2011, after 9 years serving as Supreme Court associate justice. 
Culture of corruption
For Morales, the challenge is to minimize – not eradicate – incidents of corruption, adding that it will take "strong and honest men with integrity" to do the job.
"If there are a lot of opportunities for people to commit corruption, and there is no monitoring of the actions of people, then corruption will go on," she said.
Morales added: "We cannot eradicate it overnight. You have to have the patience to look at the root of corruption, [to know] the cure you're going to apply."
Much of the reason why corruption continues to plague the ranks of government service, Morales said, is because of the kind of leaders elected to power.
"If the leaders are corrupt, what will prevent the underlings from committing corruption? You give them greener pastures where there are more opportunities for corruption. If they remain undetected, or uncontrolled, or they're not checked at all, they will be at liberty to commit corruption," she said.
"But if the leader is not corrupt, the subordinate officials will have fear, or have difficulty committing corruption," Morales added.
Pace of prosecution
In recent months, Morales' office has ruled against high-profile personalities. In October 2015, the Ombudsman ordered the dismissal of then Makati mayor Binay and perpetually barred him from holding public office.
Two months after that, the Ombudsman filed criminal charges against former Metro Rail Transit 3 general manager Al Vitangcol III and several others over an alleged anomalous contract. The Vice President himself has also been indicted over the alleged overpricing of a Makati city building.
The Ombudsman has also contested a Supreme Court decision granting bail to the 91-year-old Enrile – a ruling that Morales considered the "lowest point" of her career.
Despite the indictments and cases her office has filed, Morales said there is still public perception that her office is not doing enough to get corrupt public officials convicted.
But she clarified that once cases have been filed in court, the Ombudsman no longer has any control over the pace of the proceedings. 
"They should not blame me. We only present evidence. It's the courts which determine whether or not the accused is guilty or acquitted," she said.
"It's now the courts who would have control but our prosecutors see to it that they oppose all dilatory tactics of the defense," she added. – Rappler.com