The latest Pulse Asia survey shows 3 senators leading the list: Loren Legarda, Chiz Escudero, and Alan Peter Cayetano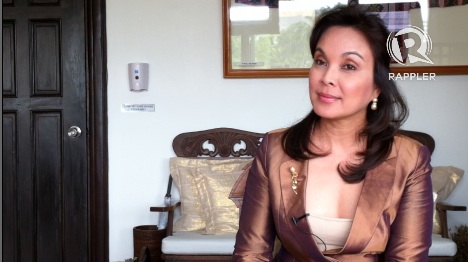 MANILA, Philippines – Sen Loren Legarda is the solo first placer with 67.3%  saying they would vote for her in the upcoming senatorial elections, according to the latest Pulse Asia Ulat ng Bayan survey.
In second place is Sen Francis "Chiz" Escudero with 61.2%. Those sharing 3rd to 5th place are Sen Alan Peter Cayetano with 49.9%, San Juan Rep JV Ejercito Estrada also with 49.9%, and Cagayan Province Rep Juan Ponce Enrile Jr with 47.4%.
Three other incumbent senators occupy the 6th to 10th slots – Antonio Trillanes IV  (41.2%), Gregorio Honasan (40.6%), and Aquilino Martin "Koko" Pimentel III (39.2%).
Sharing 6th to 11th places are former senator Juan Miguel Zubiri who got 37.4% and Aurora Rep Edgardo M Angara who rated 35.9%. Former Las Piñas Rep Cynthia Villar, with her 32.7% rating, now ranks 9th to 11th. 
The 12th and last slot is being fought over by 4 individuals who are considered out of the winners' circle because of their lowest statistical ranking (landing in the 15th to 17th slots). The 4 are  Ma. Lourdes Nancy Binay (27.4%) occupying the 12th  to 15th slots, former senator Richard Gordon (26.2%) currently  occupying 12th to 16th places, former senator Ramon Magsaysay Jr (25.2%) occupying the 12th to 16th slots, and former senator Ana "Jamby" Madrigal (23.2%) now on the 12th to 17th places.
The 15, according to Pulse Asia, have a "statistical chance of winning." Their names emerged out of the 36 probably senatorial candidates who were included in the August 31-September 7 survey.
In a statement, Legarda said, "I thank God and I thank the Filipino people. The result of the recent Pulse Asia Survey inspires me to work harder and do more especially for the poor and needy because people appreciate the work that I am doing." 
She added she will continue championing her advocacies which include environment protection, climate change adaptation and disaster risk reduction; protecting the rights of women and children; providing better opportunities for the poor through viable rural livelihoods; and protecting the welfare of Filipino workers.
Made up minds
Pulse Asia also said that 4 out of 10 or 40% of Filipinos have a complete senatorial slate for the May 2013 elections. Those who have made up their minds are Kapampangans (52%), from Mindanao (53%-56%), vocational school graduates (53%), Muslims (53%), INC members (66%), and Pangasinenses (76%).
Ilonggos (20%) and Visayans (28%) — specifically 23% of rural Visayans — have a complete senatorial slate. The figures indicate that voters in these areas can still be persuaded to choose their preferred candidates.
During the survey period, Interior and Local Government Secretary Jesse Robredo died in a plane crash, the Reproductive Health bill was being discussed in the Senate, a 7.9-magnittude earthquake hit near the coast of Eastern Samar, and tax evasion charges against former Supreme Court chief justice Renato Corona were filed, and tension in the West Philippine Sea erupted between the Philippines and China.
As a result of Robredo's death, then Transportation and Communication Secretary Manuel Roxas II was named as his replacement, while Cavite Rep Joseph Emilio Abaya was appointed transportation secretary. – Rappler.com
View the Elections 2013 Microsite here. 
More from #PHVote, Rappler's 2013 Election Coverage: