This is AI generated summarization, which may have errors. For context, always refer to the full article.
Will voters elect leaders capable of long-term planning? Or will they fall for empty promises again?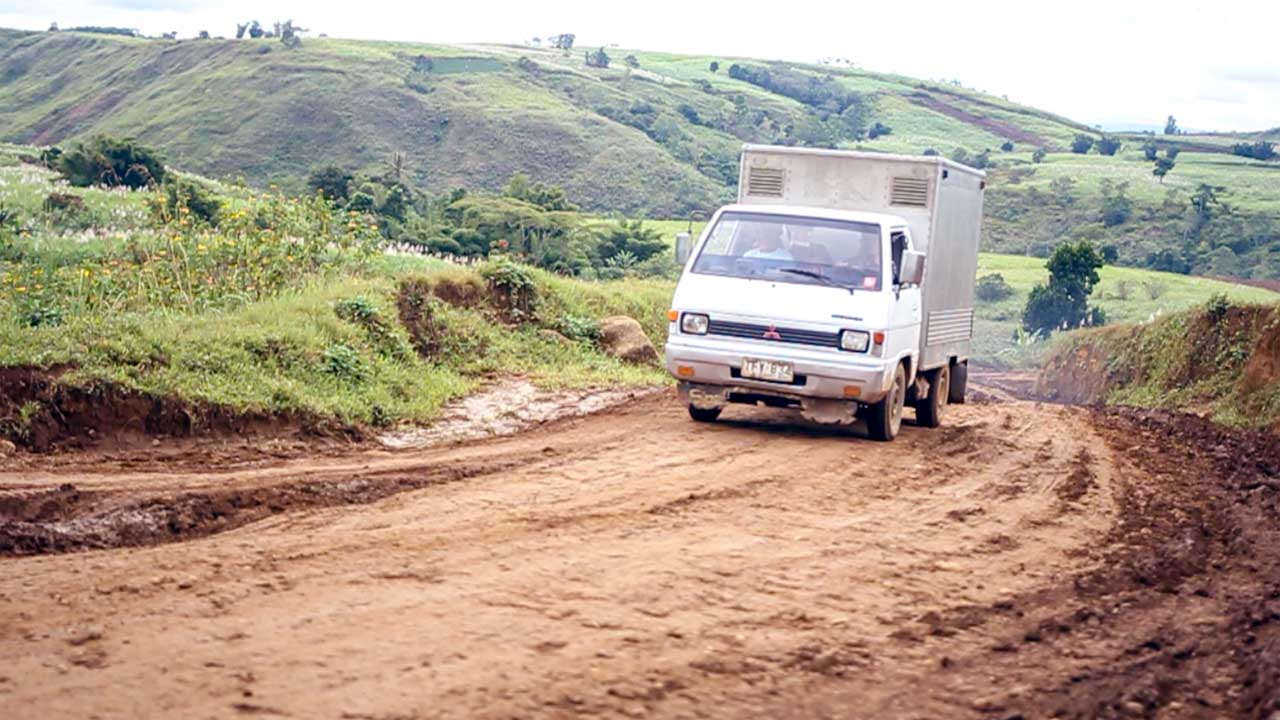 MANILA, Philippines – Crossing bumpy, sometimes muddy, dirt road is an everyday reality for some.
These roads, no matter how unforgiving, are used by farmers to bring their products to the market, students use them to go to schools, patients, to health facilities. (READ: Roads, poverty and the 2016 elections)
In the Philippines, most barangays, on average, are linked to the national road network. Being connected to the core network ensures that basic services can be accessed even by those situated in remote destinations.
In rural areas, however, about 20% of 42,000 Philippine barangays are not linked to national roads. How do basic services reach their villages then?
Recently, the national government implemented programs that local governments can tap to upgrade and rehabilitate their road networks if they perform well.
Filipinos will elect on May 9 some 18,000 leaders to posts that will determine the state of the country's road infrastructure in the following year. Will voters elect leaders capable of long-term planning? Or will they fall for empty promises again?
Missing middle, politics
In rural towns, road trips are characterized by long, bumpy kilometers with occasional smooth drives. Some road sections are unpaved in the middle of concreted networks.
In general, Philippine roads remain "poor" compared to most countries as ranked in the 2015-2016 Global Competitiveness Report by the World Economic Forum.
Of 140 countries, the Philippines is 97th among nations in terms of quality of road infrastructure. Most countries that belong to the Association of Southeast Asian Nations (ASEAN) fare better than the Philippines.
Why are Philippine roads so bad?
The sorry state of our road network can be traced to several decades ago when corruption was extremely high, as confirmed by Commission on Audit Chairperson Michael Aguinaldo.
According to the chief auditor, kickback from road projects eat as much as 40% of the allotment.
"You can imagine the quality of roads there. You spend 60% of it. Accounting for the profit of the contractor, they might have spent about only 40% of the actual budget for that road," he said.
The COA chairperson also acknowledged ghost projects were even prevalent. "Considering our geography, it's very difficult to check sometimes. In some places, there are no roads," he added.
Core network access
According to the Local Government Code, the responsibility of improving the local road network is under the mandate of LGUs.
It is the local leaders who determine which roads are to be constructed, when and where. But which roads are to be prioritized?
The map below shows 2010 World Bank data on all barangays in the Philippines, classified according to their distance from the nearest national road.
Those highlighted in light green are barangays with direct or less than 2 km access to the national road.
Those in dark green are situated between 2-5 kilometers from the core (national) road network while yellow-green barangays are more than 5 kilometers away.
Barangays in yellow do not have direct access from the core network but can be connected through neighboring barangays. Those in red are barangays that do not have access at all.
The 2010 World Bank data on national road access suggest that on average, Philippine barangays are connected to the core network.
The country has 41,914 barangays and is inhabited by about 92.3 million residents, according to the 2010 census.
Of the 81 provinces, only the barangays in Batanes and Marinduque are completely connected to the core network.
A small island up north, Batanes has 29 barangays only. 27 of which have direct access to the core network while the rest are only within 2-5 kilometers away.
Meanwhile, more than half of the total barangays in Marinduque are less than 2 km away from the nearest national road. Some 27 barangays are within the 2-5 kilometer range while the rest are situated more than 5 km away.
Looking at the map, however, about one-fifth of the total barangays, or 7,776, have no access at all to national roads.
Most areas highlighted in red are found in the Visayas and Mindanao. The graph below shows the summary of national road access per province.
Among the provinces with the least access, 3 Autonomous Region in Muslim Mindanao (ARMM) provinces top the list with Tawi-Tawi, Sulu, and Lanao del Sur.
Tawi-Tawi has the least access to the national road network. A total of 132 barangays out of 203, or 65%, do not have access to the core network.
Sulu follows suit with 189 barangays of 411, while Lanao del Sur is at 494 of 1,156, or at 46% and 42.7%, respectively.
It comes no surprise that some of these provinces have equally high poverty incidences.
According to the Philippine Statistics Authority, Lanao has a poverty incidence of 51.4% in 2009.
In Tawi-Tawi, 48 of 100 families are poor, while 38 of 100 families belong to poor households in Sulu.
Limited funding?
If the roads are not connecting, why not build new ones?
Easier said than done, as most local governments do not have enough budget to construct roads.
The Local Government Code mandates that only 20% of the Internal Revenue Allotment of LGUs is to be spent on development projects such as roads. (Check our local election pages to see IRA per province)
This amount is small compared to the cost of constructing and upgrading roads that follow set standards prescribed by the DPWH.
In an earlier interview with Planning Services Director Constante Llanes of the DPWH, he told Rappler that most local governments "make do with what they have."
According to him, local government units (LGUs) construct roads in places where there are people. Some road projects are merely fragmented sections due to financial constraints.
Llanes explained some sections are constructed from the end of a national road while the other end is from the community. Instead of building the entire stretch, there are gaps in between.
"Because they cannot fund it one time, they have to decide. They cement 500 meters of roads each section, instead of a kilometer, for example," the director said.
National gov't aid to local roads
Rolyn Zambales, head of the Department of the Interior and Local Government project development office, confirmed that many communities are not yet linked to the core network.
She said that it takes huge funding to pave the entire local road network. "In our estimates alone, if we're just talking about provincial roads, we would be needing almost P200 billion," said Zambales.
Given lack of funding at the local level, the Aquino administration implemented programs which LGUs can take advantage of.
KALSADA or "Konkreto at Ayos na Lansangan at Daan Tungo sa Pangkalahatang Kaunlaran" is a local roads rehabilitation program by the national government that funds local road projects.
The P6.5-billion program aims to transfer these assets permanently to local governments for maintenance. It first piloted in 74 provinces and targets to expand to cities as well. (READ: LIST: 74 provinces qualify for P6.5-B budget on road rehab)
For the next year, it aims to cover all 81 provinces and city governments. Proposed funding for KALSADA stands at P39 billion, a six-fold increase of the current appropriation. 
The table below shows provincial road projects that are currently funded by the national government.
As of the end of March, 24 KALSADA projects in 9 provinces are ongoing, 32 projects in 13 provinces have notices to proceed, and 74 are undergoing procurement.
Similarly, local governments and civic groups can also propose road projects under Bottom-Up Budgeting, a program under the Aquino administration. The groups, usually led by society organizations, consult with the community and pick from a list of projects to implement.
While the KALSADA program is available for roads which are usually in business districts, BUB is for cities and municipalities to provide local access to communities.
For this year, BUB funds 2,027 road projects nationwide, amounting to P5.55 billion of its P24.7-billion allocation in the national budget. Proposed 2017 funding for BUB is higher by P10.3 billion.
"In the past, the national government is focused on making sure that the national roads are okay. The next phase is to help the local governments," said Zambales.
According to her, the interior department helps provincial leaders craft their road network development plan. It started this year.
Zambales said newly-elected officers will get training from the Local Government Academy, which will help them draft their plans for the next years.
This will ensure, according to her, that resources reach supposed outputs.
Choosing beyond 2016
The importance of roads cannot be an understatement.
According to COA Chaiperson Aguinaldo, the key to making sure that road funds are not being spent elsewhere is to elect leaders who are not corrupt.
"It is important to have a regime where the leader is not corrupt, and most importantly, is perceived not to be corrupt," the state auditing chairperson emphasized.
Meanwhile, World Bank economist Kai Kaiser affirmed that the Philippines needs medium-term planning to be more competitive globally in terms of road infrastructure.
"That's how countries have made progress in their infrastructure. They made steady and significant progress to the extent that certain countries now are seen in the competitiveness of having done it," the World Bank economist said.
He said connectivity of communities to the national highway should be a priority for candidates, especially in far-flung areas.
With a few days left before the May 9 polls, will voters choose a leader who will not waste government funds and spend them wisely and efficiently? – Rappler.com