Your trash contributes to climate change. It's time to clean up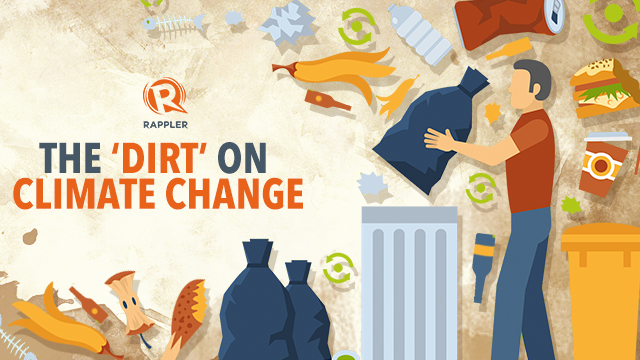 MANILA, Philippines – Think about all the items you dispose of every day: that styrofoam coffee cup, the leftover of the meal you had for lunch, the pile of used paper on your desk, and the plastic packaging or cardboard box that came with your newest gadget.
The more trash you produce, the more you contribute to climate change.
Those trash or garbage are considered solid wastes, which may be organic or biodegradable, and non-biodegradable. Organic waste produces methane when it decomposes, while burning non-biodegradable waste releases carbon dioxide – both of which are examples of greenhouse gases. Greenhouse gases drive climate change.
This year, the Philippines is projected to generate 40,087 tons of solid waste each day, a fourth of which comes from Metro Manila alone.
If we don't do anything, the volume of garbage we dump will grow and grow, and it only means more toxic emissions. That goes against our commitment to cut emissions by 70% over 15 years under the Paris Agreement on climate change.
We need to literally clean up our act. Check out the infographic below to understand our solid waste problem and how you can help. – Rappler.com