(3rd UPDATE) Senator Bongbong Marcos, who lost the vice presidency to his rival Leni Robredo, says his camp will file an electoral protest on June 28. Robredo counters, saying his statements continue to 'divide our country'.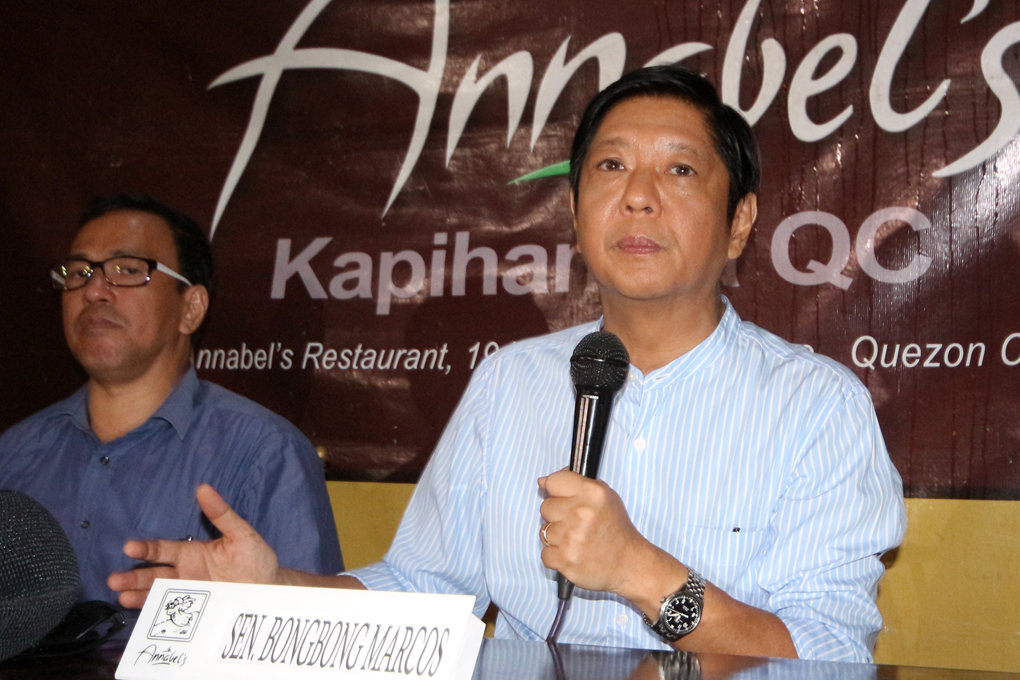 MANILA, Philippines (3rd UPDATE) – The camp of vice presidential candidate Ferdinand "Bongbong" Marcos Jr is set to file an electoral protest on June 28 – two days before his Senate term ends.
Asked what he plans to do after June 30, Marcos said his days will be busy even after stepping down from office.
"I will eventually take my seat that is being kept warm for me," Marcos said in a press conference on Saturday, June 11.
It has been a heated vice presidential race between Marcos and his rival, administration bet Leni Robredo, who snatched the lead from him in the partial, unofficial canvassing of votes.
The senator's camp had since alleged electoral fraud, even filing several complaints against the Commission on Elections (Comelec) and Smartmatic officials in the days leading to the official canvassing of votes.
After the canvassing, Robredo was proclaimed vice president-elect of the Philippines.
Marcos, on Saturday, said the votes he lost because of undervoting is "in the magnitude of 3 million votes."
"The mistake that we made – my campaign made – was we could not possibly imagine that this would be done. Napaka-garapal, napaka-walang-hiya, binale-wala boses ng tao. At hindi namin akalain na may kayang gumawa ng ganyan, na ganyang kabastos ang pagtrato sa boses ng taumbayan," he explained.
(How gross, how unconscionable to disregard the voice of the people. We did not imagine anyone could do that – that brazen treatment of the voice of the people.)
According to the Comelec transparency server, with 96.14% of precincts reporting, there were at least 2.9 million undervotes in the VP race.
Poll watchdog groups have pointed out that many voters may have intentionally left the position blank, choosing not to vote for any vice-presidential candidate.
They also observed that voters' behavior with regard to undervoting in the VP election has been essentially the same in the last two elections.
To claim that Marcos "lost 3 million votes" due to undervoting also assumes that all the undervotes in the VP race would have been for Marcos. 
Conditioning
Reacting to his statement, Robredo said she is concerned about the weekly statements coming from the Marcos camp which, she said, are meant to "condition" the people. 
"

Ito'y salungat sa mga nagpahayag na malinis ang ating eleksyon tulad ng Compact for Peaceful and Democratic Elections-International Observers Mission na isang dayuhan at 3rd party na institusyon, ng Comelec mismo at PPCRV. 

Pati ang ating kapulisan na rin ang nagsabi na mapayapa ang ating halalan," she said in a statement on Saturday. 
(This is contrary to groups who have said elections in the country were clean – groups like the Compact for Peaceful and Democratic Elections-International Observers Mission, a foreign, 3rd party institution, and even the Comelec and PPCRV. Even the police have said our elections were peaceful.)
Robredo said Marcos' statements "continue to divide our country".
'Many violations'
Aside from undervoting, Marcos complained about other "violations", including:
He also lamented how the Comelec has not acted on their request to be given access to information, including transmission logs.
On June 2, Marcos' legal counsel wrote the poll body to "earnestly reiterate" the request to open the election servers for a system audit by their camp's IT experts. The Comelec received the letter on June 6; the media got a copy on Monday, June 13.
"Ang problema talaga ng mga abugado (The problem of my lawyers is really) which grounds will the protest be based on because there are so many violations," Marcos added. 
While the problems lie with Comelec and Smartmatic, he alleged only people from the administration can "institutionalize this kind of cheating."
Asked if he thinks the President himself is behind any cheating, Marcos answered:
"I will go this far: 'Pag sinabi ng Pangulo na gagawin ko ang lahat para 'di makaupo ang isang kandidato – kahit wala na siyang gawin, 'yung mga boys niya, gagalaw na 'yang mga 'yan. 'Uy sinabi na ng boss natin. Sige na, tirahin natin.' Palagay ko may ganyang pangyayari, parang binigyan mo na ng permiso: 'Sige gawin niyo na lahat, 'yan utos ko.'"
(I will go this far: If the President says I will do anything so that one candidate does not get elected – he doesn't have to do anything. His boys will take their move. "Our boss has spoken. Let's move." I think something like that happened, it's as if you gave them permission: "Go ahead and do anything you can, that's my order.")
In April, President Benigno Aquino III said he would do his best to prevent the family of late dictator Ferdinand Marcos from returning to power. (READ: Bongbong Marcos: My father's burial will bring closure for the country)
Marcos, for his part, said he is not filing the electoral protest just to run after anyone.
"In my mind, the most important thing is to honor those who voted by recognizing their vote…. Ito hindi na para sa akin lamang, para sa pagiging tama ng ating electoral system, at lumabas ang katotohanan," he added.
(This protest is no longer just for me, but meant to correct our electoral sytem, and for the truth to come out.) – Rappler.com